---

---
Fox News: Trump plan will collapse personal income tax into three brackets: 10%,
25% and 35%; current top rate is 39.6%; business tax will drop from 35% to 15%;
couples to earn $24,000 before paying tax; eliminate ObamaCare and death taxes
---
Washington Beacon: Trump tax plan to be biggest cut, largest U.S. tax reform in history
---
Globe and Mail: O'Leary drops out of Conservative Leadership race, endorses Bernier
---
Washington - AP: Trump to propose massive tax cuts for businesses, big and small
---
NASCAR: Dale Earnhardt Jr. to retire; most popular driver 14 of his 18 Cup years


Dale Earnhardt Jr., one of the biggest names in NASCAR (National Association of Stock Car Auto Racing), has surprised the racing world by announcing he will retire at the end of the 2017 season. The decision was announced by Hendrick Motorsports, Earnhardt's team, on Tuesday morning. Earnhardt, a two-time Daytona 500 winner and the son of seven-time NASCAR champion Dale Sr., has consistently been one of NASCAR's best-loved drivers, but has suffered multiple concussions over the past few years, and missed the final 18 races of last season after crashes in Michigan and Kentucky. He returned to racing this year with no lingering effects from the concussions, but admitted there were times during his rehabilitation when he wondered if he would race again.
---
CBC: Canadians Farah Mohamed Shirdon and Tarek Sakr
named as 'Specially Designated Global Terrorists' by U.S.


The U.S. Department of State has designated former Calgary resident Farah Mohamed Shirdon, left, and former Quebec pharmacy student Tarek Sakr, right, as Specially Designated Global Terrorists. ~ YouTube Radio Canada
---
Paris - France24.com: Macron 23.7% and Le Pen 21.7% head 11-candidate field
---
Paris - Telegraph LIVE: Macron, Le Pen win 1st round for Presidency; run-off May 7th
---
Reuters/CBC: North Korea says ready to strike USS Carl Vinson aircraft carrier;
Pyongyang detains another U.S. citizen, bringing to 3 the number of Americans held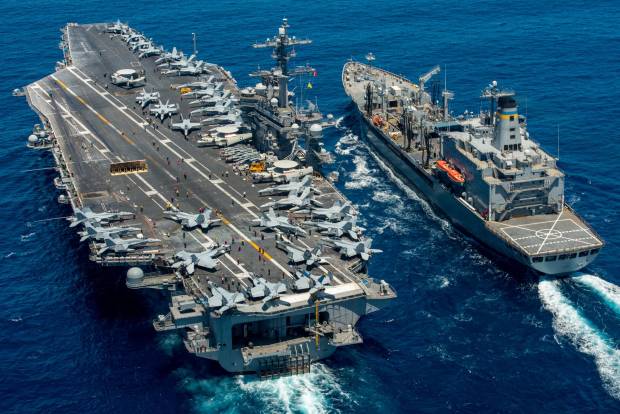 The nuclear-powered Nimitz-class USS Carl Vinson aircraft carrier is one of 10 Nimitz-class U.S. aircraft carriers, the largest warships in the world. It was commissioned in 1982 and has begun drills with two Japanese destroyers in the western Pacific.
---
Paris - AP/MetroNews: Long lines in Montreal as French nationals vote
---
Paris - Telegraph LIVE: Marine Le Pen & Emmanuel Macron said to lead as polls open
---
Steve Milloy calls out the charlatans who lack actual science cred

---
Financial Post: Canada's air getting cleaner despite more cars, industry and people


Highway 401 in Toronto. ~ Peter Redman National Post
---
Lawrence Solomon - Financial Post: How city politicians
are helping Amazon destroy your favourite local retailers
---
Paris - Telegraph: Late polls and security fears give Le Pen a boost
---
Paris - Bloomberg: Analyst who predicted Trump's ascendancy bets on Le Pen win
---
Paris - Telegraph: Anger and questions over how Champs-Elysées
gunman was left free after 'threats to kill police officers'
---
France - Reuters: Paris shooting puts security in focus ahead of French election


French Police officers patrol Champs Elysees near Arc de Triomphe monument in Paris on April 21, 2017 ~ Philippe Lopez AFP
---
updated Paris - AP: One police officer dead, 2 more seriously
wounded on Champs-Élysées; single attacker killed by police
---
Monica Showalter - American Thinker: The sickening
violence at Venezuela's 'mother of all marches'
---
Seoul: North Korea official media threatens "super-mighty pre-emptive strike"
as Tillerson seeks talks and wants "regime in Pyongyang to re-engage with us"
---
Sydney - Reuters: New 'Australian values' test for those wanting citizenship
---
Tourist trap? CBC: Massive iceberg on Newfoundland's southern shore attracts shutterbugs


The view of the iceberg from Ferryland on Newfoundland's Southern Shore on Sunday. Traffic on the highway was at a standstill as people have been stopping to take photos with the beauty berg. ~ Jo-d Martin Facebook
---
CBC: 3 out of 135 recent asylum seekers deemed danger to the public, detained
in Manitoba; but govt doesn't track those with criminal backgrounds not detained
---
National Post: RCMP stopped 887 people trying to illegally
enter Canada in March — nearly tripling January numbers
---
Telegraph: French intel foils 'imminent' terror attack 5 days before Presidential elections
---
updated London - Mirror: UK PM Theresa May calls snap election for June 8th
---
CBC: Mystery solved: first NHL game was in Montreal in 1917; Dave Ritchie of
host city's Wanderers scored league's first-ever goal against visiting Toronto squad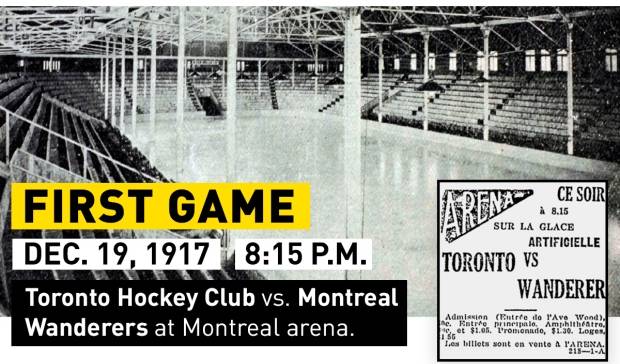 Montreal-area hockey historian Jean-Patrice Martel, president of Society for International Hockey Research and co-author of the 2014 book On the Origin of Hockey, was surprised the telltale advertisement (above) had not been discovered earlier. He also checked another French-language newspaper of the time, La Patrie, for additional evidence of the Toronto-Wanderers start time — and, within minutes, found a virtually identical game-day advertisement confirming the 8:15 p.m. faceoff. "There are situations when information is hard to find, and then there are situations where the difficulty is in knowing what to look for," he said, noting that the discovery of the Montreal start time "belongs to the second category".
---
Panmunjom - AP/CBC: Pence warns North Korea that 'era of strategic patience is over'


U.S. Vice-President Mike Pence visits the Observation Post Ouellette in the Demilitarized Zone (DMZ), near the North Korean border village of Panmunjom. The DMZ has separated the two Koreas since the Korean War in the 1950s. ~ Lee Jin-man Associated Press
---
Toronto - CTV News: Easter services cancelled after Weston church fire-bombed


Police and firefighters respond to fire at St. John the Evangelist Roman Catholic Church Sunday April 16, 2017. Firefighters responded to the church at around 8:05 a.m. after staff discovered smoke in the building when they arrived to prepare for mass. The fire was quickly put out, with no injuries reported.
---
Fox News: Latest North Korea missile a failure; blows up almost immediately
---
NY Times: The patients were saved. That's why the families are suing...
---
CP/CBC: Canada announces sanctions on 27 top Syrian officials to pressure Assad
---
Washington Post: U.S. drops 22,000-pound bomb on ISIS tunnels in Afghanistan


The GBU-43/B Massive Ordnance Air Blast bomb is the most powerful non-nucler bomb ever used by the U.S., or any other military in combat.
---
Tokyo - TIME: North Korea could load Sarin gas on a missile, Japan warns
---
Moscow - Washington Examiner: Secretary of State Rex Tillerson meets with Putin
---
Manila - AP: Filipino troops kill Abu Sayyaf commander who beheaded Canadians
---
Titanic problem: Icebergs clog North Atlantic shipping lanes, forcing ships to reroute


An aerial flight last week showed about 100 icebergs southwest of St. John's, Newfoundland.
---
Alexandria - NY Post: The horrifying moment suicide bomber blows up Egypt church
---
France: 'We must believe it: Never again': Trudeau at 100th anniversary of Vimy Ridge
---
Cairo - The Independent: At least 36 dead, 100 injured in ISIS-claimed
bombings of two Christian churches on Palm Sunday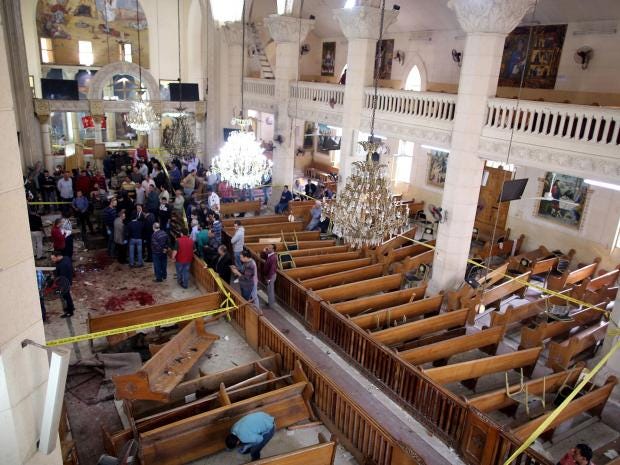 Security personnel investigate the scene of the bomb explosion inside Mar Girgis church in Tanta. ~ EPA
---
France: 100th anniversary of defining battle of Vimy Ridge honoured


The towering Vimy Ridge memorial, built by Canada in the 1930s on land donated to Canada by France is the site today of a moving ceremony marking the 100th anniversary of the battle that cost many lives and is said to have defined Canada as a country in the eyes of the world.
---
Joe O'Connor - National Post: Deep underground, Vimy carvings
tell the story of Canadian soldiers waiting for battle


Maison Blanche was a chalk cave beneath the Vimy battlefield. Canadian soldiers left their mark on the walls before the battle began. Above, some of the many detailed carvings. ~ Karen Begg Studio West
---
Norway - Reuters: Oslo police detonate 'bomb-like device', suspect in custody
---
Stockholm: One arrest, manhunt launched after Sweden terror truck attack
---
updated Stockholm - Sky News: 4 dead, 15 injured as stolen truck
used to kill in shopping district; reports of other terror attacks in city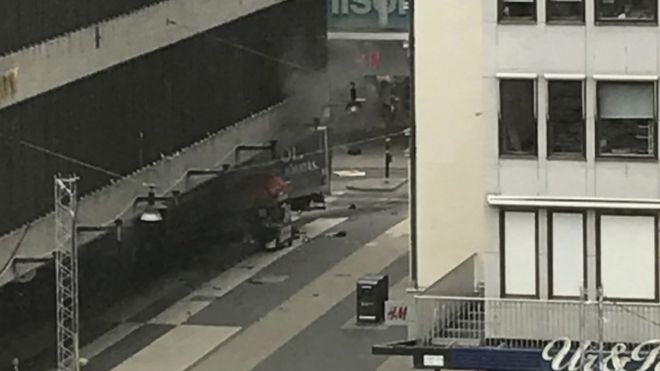 Truck that killed shoppers is shown wedged under edge of a building in downtown Stockholm. ~ AFP
---
Bloomberg: U.S. missiles targeted hangars, planes and fuel tanks at the Shayrat Airfield
---
updated Washington: Trump true to word, launches 59 Tomahawk
cruise missiles at Syrian air base which had launched gas attack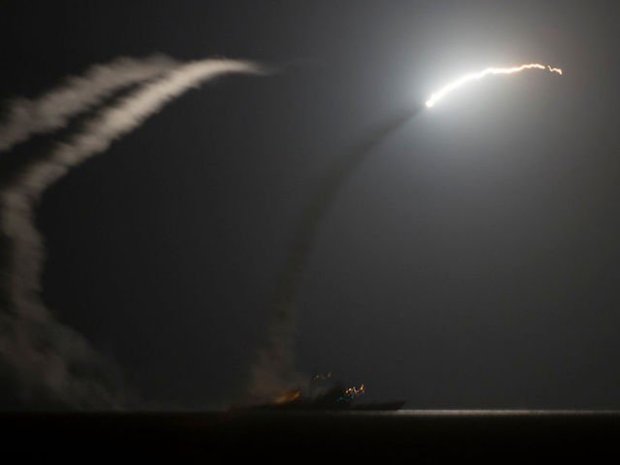 Tomahawk missiles are launched from U.S. Navy destroyers in the Mediterranean Sea.
---
Toronto - City News: American man charged in Pearson security breach identified
---
Toronto Star: Fake bomb in suitcase stalls Chicago-bound flight at Pearson for 5 hours
---
Toronto - CBC: United Airlines FLT 547 held at Pearson airport for U.S. Customs probe
---
NY Times: Trump's UN Ambassador Haley tells Security Council U.S.
may 'take our own action' on Syrian chemical attack if UN doesn't act
---
Medical Express: Man moves paralyzed legs using device that stimulates spinal cord


The case, the result of collaboration with UCLA researchers, appears this week in Mayo Clinic Proceedings. Researchers say these results offer further evidence that a combination of this technology and rehabilitation may help patients with spinal cord injuries regain control over previously paralyzed movements, such as steplike actions, balance control and standing. "We're really excited, because our results went beyond our expectations," says neurosurgeon Kendall Lee, M.D., Ph.D., principal investigator and director of Mayo Clinic's Neural Engineering Laboratory. "These are initial findings, but the patient is continuing to make progress." ~ Mayo Clinic
---
National Review: Susan Rice's White House unmasking: A Watergate-style scandal
---
CBC: Part of $127,000 cost of Trudeau vacation went to 'friend' and host Aga Khan
---
Ottawa - CBC: Investigation: Parliament Hill, foreign embassy cell phones being spied upon
---
updated Daily Mail: Russians believe 22-yr-old from Kyrgyzstan subway suicide bomber
---
CP/Toronto Star: Toronto doctors' discovery of new disease comes as 'real relief' to boy, 10


For years doctors at Sick Kids Hospital couldn't pin down the cause of Daniel Nevins-Selvadurai's illness. Then came a breakthrough analysis of a genetic problem with a protein production failure that so far affects 20 children worldwide. The search is now on for a bone-marrow donor for Daniel Nevins-Selvadurai, 10. ~ Hospital for Sick Children THE CANADIAN PRESS
---
St. Petersburg - CTV News: Second bomb found, de-activated, after Russia subway blast
---
updated Russia - BBC: 11 dead, 45 injured by terror blasts in St. Petersburg subway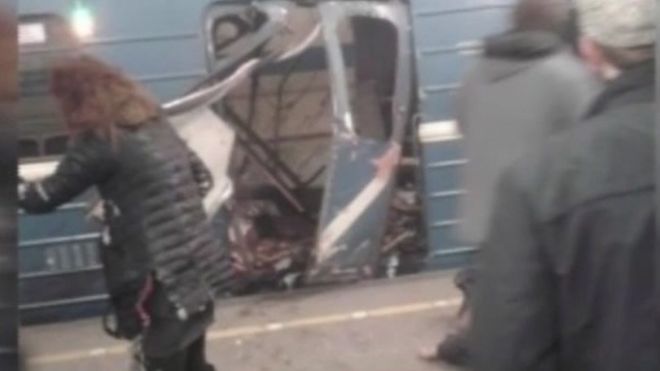 Russian news agencies initially reported that blasts hit the Sennaya Ploschad and nearby Tekhnologichesky Institut stations in the centre of the city. Images posted on social media showed a carriage in Sennaya station with its doors blown out with casualties nearby. ~ AP, EVN
---
updated Mocoa: 250+ dead, 220 missing in Colombia after heavy floods


In this handout photo released by the Colombian National Army, soldiers and residents work together in rescue efforts in Mocoa, Colombia, on Saturday.
---
John Solomon, Sara Carter - Circa: Obama's rule changes
opened door for NSA intercepts of Americans to reach political hands
---
Saskatoon StarPhoenix: Provincial Court House bombed with IED; no injuries


Members of the Saskatoon Police Service can be seen outside the city's provincial courthouse early Thursday morning, March 30, 2017. At around 11 p.m. on Wednesday, March 29, 2017 police were called to the area alongside members of the Saskatoon Fire Department. A news release from police explained officers are investigating what they believe was the detonation of an "improvised explosive device." ~ Morgan Modjeski The Saskatoon StarPhoenix
---
Picton - Quinte News: Leak from barge leads to water emergency in Prince Edward County



A partially submerged barge in Picton Bay, one of the finest natural harbours on the Great Lakes, had local residents worried about environmental impact after it started sinking Friday. Tuesday, the county declared a water emergency after a substance that leaked from the barge came too close to a water intake pipe. Bottom photo shows the same barge last week as it was being hauled aggressively through heavy ice on the Bay of Quinte's Adolphus Reach about 6 miles east of Picton on its way to where it sank in the town's harbour. It appears the unusually heavy late-season ice damaged the hull and led to the sinking. The tug-pulled barges have been struggling to make their way through the hull-ripping ice for more than 10 days as they deliver gravel from Picton to Amherst Island for the erection of Algonquin Power's troubled wind turbine cluster there. Amherst Island is about 15 miles east of Picton and is situated between the Bay of Quinte and Lake Ontario. Local sources say there was no submitted Maritime Safety Plan for the project even though one was promised, and the barge route from Picton travels through one of Ontario's top recreational fishing areas just weeks before the opening of the fishing season which draws tens of thousands of anglers to the region. The sound of the barges crunching through the heavy ice, lined with gravel-filled dump trucks, has concerned local residents. No ice breaker has been involved and there is no information on how much fuel is onboard each dump truck. The empty trucks can be seen on a second barge in the bottom photo. The spill is also upstream from water intakes for Town of Greater Napanee and city of Kingston. ~ top photo Dave Tugwood Save Picton Bay/Facebook, bottom photo NewsWatchCanada.ca
---
Toronto Sun: Trudeau Liberals drop after budget; now trail Conservatives in Forum Poll;
higher taxes, end of transit user tax credit and Canada Savings Bonds a turn-off for many
---
Bloomberg: Uber suspends self-driving car program after one of its
autonomous vehicles flipped in a high-impact crash in Tempe, Arizona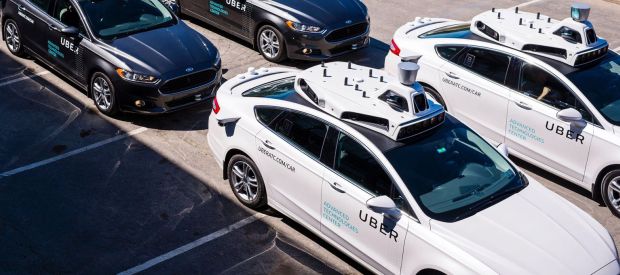 Does anyone really believe self-driving cars make sense or are safe?
---
Whig-Standard: Study shows why cancer not avoidable; 'typo' mutations just happen
---
Science Journal: Random DNA replication errors in normal stem cells cause far more cancers than hereditary and environmental factors: Tomasetti, Vogelstein
---
updated France - Daily Mail: Lille gangster shooting of 3 near metro stirred terror fears
---
updated Washington - Reuters: Trump approves Keystone XL, meets with TransCanada CEO
---
Valcourt - Reuters: Canada's BRP beats estimates; boosted by sales of
powerful Ski-Doo, Sea-Doo, Lynx and Can-Am recreational product lines


Bombardier Recreational Products, founded by Armand Bombardier in 1942, invented snowmobiles and personal watercraft, and is also a leading maker of ATVs, motorcycles and boats worldwide.
---
LIVE - The Guardian: 8 arrested in 6 counter-terrorism raids in London, Birmingham
---
London - CBC: British PM condemns 'sick and depraved terrorist attack'
---
Daily Mail: Trump calls May to offer 'full support' after London attacks
---
Washington bombshell - Politico: Nunes: Trump right, his team
WAS under surveillance during Obama Administration
---
Flashback: London mayor Sadiq Khan says terror attacks 'just part of big city life'
---
updated London - Daily Mail: Four dead, 29 hurt - some with 'catastrophic
injuries' - after 'Asian' knifeman in SUV mows down pedestrians on Westminster
Bridge before shot dead attacking police on grounds of Parliament


Members of the public rushed to help a man run down by terrorist on Westminster Bridge. ~ Daily Mail
---
LIVE - Reuters: Four dead in London Westminster terror attack
---
updated London - Reuters: Terror attacks rock Westminster district
---
Seoul: Latest North Korea missile a dud, exploding "within seconds of launch"
---
Graeme Hamilton - National Post: Quebec independence back in
spotlight as challenge of 17-year-old secession law goes to trial
---
Adam Behr: Chuck Berry: one of the only musicians
with a genuine claim to be the founder of a genre
---
Randy Bachman remembers Chuck Berry, whose every record was a guitar lesson
---
Jon Pareles - NY Times: Chuck Berry, legendary musician and
songwriter who helped define Rock 'n' Roll, dead at 90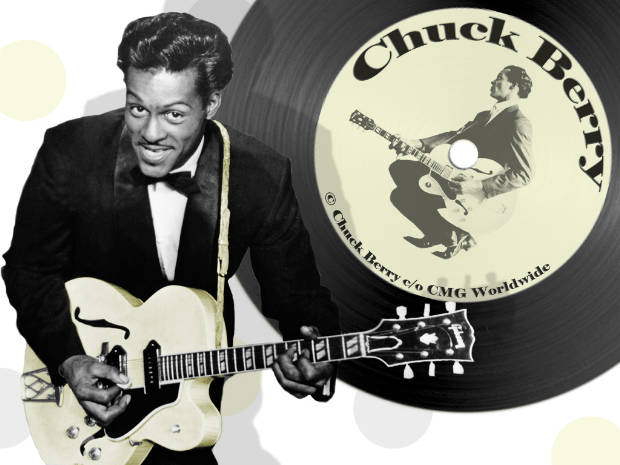 While Elvis Presley was rock's first pop star and teenage heartthrob, Mr. Berry was its master theorist and conceptual genius, the songwriter who understood what the kids wanted before they did themselves. With songs like "Johnny B. Goode" and "Roll Over Beethoven," he gave his listeners more than they knew they were getting from jukebox entertainment. His guitar lines wired the lean twang of country and the bite of the blues into phrases with both a streamlined trajectory and a long memory. And tucked into the lighthearted, telegraphic narratives that he sang with such clear enunciation was a sly defiance, upending convention to claim the pleasures of the moment. In "Sweet Little Sixteen," "You Can't Catch Me" and other songs, Mr. Berry invented rock as a music of teenage wishes fulfilled and good times (even with cops in pursuit). In "Promised Land," "Too Much Monkey Business" and "Brown Eyed Handsome Man," he celebrated and satirized America's opportunities and class tensions. His rock 'n' roll was a music of joyful lusts, laughed-off tensions and gleefully shattered icons.
---
Honolulu - AP: U.S., allies show off F-35 stealth fighter, capable
of flying into enemy territory without anyone knowing


A Joint Strike Fighter F-35 flies during the Avalon Airshow on March 3, in Australia. The country's first F-35s made their public debut at the show. ~ Scott Barbour Getty Images
---
Emerson - CBC: Canada just doesn't know how many asylum seekers have
crossed the border; different agencies count differently, don't share info


Boundary Avenue in Emerson, Manitoba, runs along the 49th parallel, the border between Canada and the United States across most of the West. Hundreds of potential refugee claimants have crossed here and in the surrounding area. ~ Gary Solilak CBC
---
Seoul - AP: Tillerson: Pre-emptive force an option with North Korea
---
Toronto - CBC: Driver injured, part of Highway 401 closed after bus flips


Police say it appears the bus driver lost control, hit a median, and rolled over on level stretch of the Highway 401 westbound collector lanes at Allen Road. ~ Sonny Subra Twitter
---
NY Post: Russian intelligence officers indicted in massive Yahoo hack
---
Toronto Star: 22-year-old Canadian charged by U.S. over
massive Russian hack of 500 million Yahoo accounts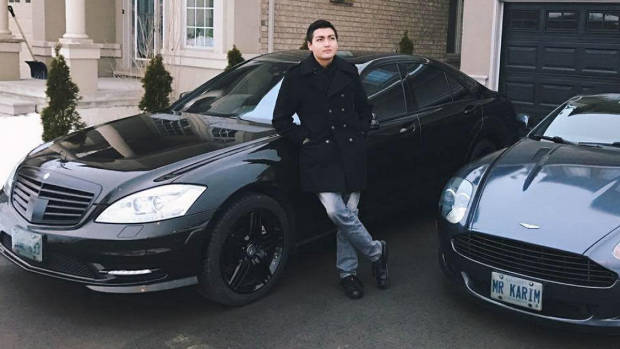 Karim Baratov, who was born in Kazakhstan, has Canadian citizenship. He was arrested in Canada on Tuesday. ~ Facebook
---
New York - AP: Snowstorm pounding NE U.S., Eastern Canada
prompts 5,000+ flight cancellations, school, road closures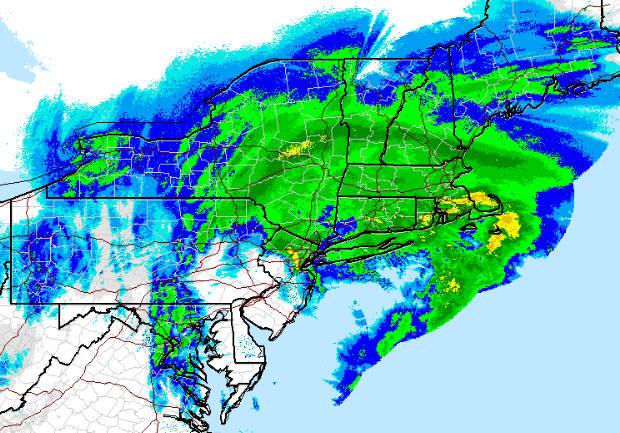 Blizzard warnings for 8 eastern states, up to 45 cm of snow expected in some regions; Ontario and Quebec solid white with double whammy to hit Montreal and Maritime provinces. Go to http://www.newswatchcanada.ca/#WL for live link to this nationwide NWS live radar feed. ~ radar at 1:30 pm EDT National Weather Service
---
National Post: Report to Congress raises spectre of
American ships challenging Canadian Arctic claims
---
Robert Tracinski - The Federalist: Scott Pruitt is absolutely right about carbon dioxide
---
New York - Globe and Mail: Canadian 9/11 musical 'Come From Away' conquers Broadway


The cast of 'Come From Away' takes a bow onstage at the Broadway opening night at the Gerald Schoenfeld Theatre in New York on Sunday. ~ Caitlin Ochs The Globe and Mail
---
Toronto: Winter storm, up to 20 cm of snow expected by Tuesday night
---
Fox News: 1968 Ford Mustang found in Mexican junkyard
is long-lost Steve McQueen car from 'Bullitt,' expert confirms


Nearly 50 years after it was last seen, a 1968 Ford Mustang found in a Mexican junkyard has been confirmed to be one of two known to have been used in the filming of the Steve McQueen movie 'Bullitt'. "I'm 100% sure it's authentic," classic Ford expert Kevin Marti said after travelling across the border to Mexicali to inspect the car last week.
---
Bloomberg: It's not just U.S. — the rent is high everywhere
---
Independent: Humanity might have received a signal from
aliens that it isn't checking, says Harvard professor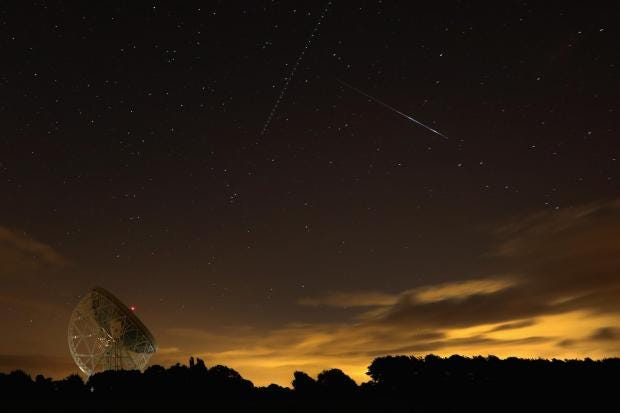 The source of 'fast radio bursts' remains a mystery but two Harvard academics believe they could emanate from 'leakage' from a planet-sized transmitter. ~ Christopher Furlong Getty Images
---
Calgary - Bloomberg: Royal Dutch Shell sells oil sands operations for $7.25B;
joins with buyer Canadian Natural Resources Ltd. in buying Marathon assets
---
Trump effect - CNBC: U.S. job creation posts blowout month in February: ADP
---
Manitoba - CTV News: Truck driver stranded for 28 hours thankful for delivery
of coffee, food on horseback by woman whose family saw him on highway camera


An image of stranded trucker Peter Douglas captured by Manitoba 511 highway cameras prompted Eileen Eagle Bears, 18, to spring into action. Here she is shown on highway camera as she approaches his truck with much-appreciated warm food. ~ CTV News
---
Paul Ryan - USA Today: Our health care plan for America
---
Editorial - Wall Street Journal: A historic health-care moment
---
Comparison: Concrete block building vs 3D printing: Technology perspectives
---
Future Shock - National Post: This San Francisco start-up will
3D print your house in 24 hours and it will cost only $10K


Apis-Cor is the first construction company in the world to 3D print buildings from the inside. It was founded by Nikita Chen-yun-tai, who invented the mobile 3D Printer able to 3D Print buildings. ~ 3dprintingindustry.com
---
---
Links formerly right here, now at http://www.newswatchcanada.ca/oldnews2017-1.html
---
For full news link archives since December 7, 2009
follow page links from
NWC Old News
Welcome to Worldwide Visitors
Send news tips to
Editor@NewsWatchCanada.ca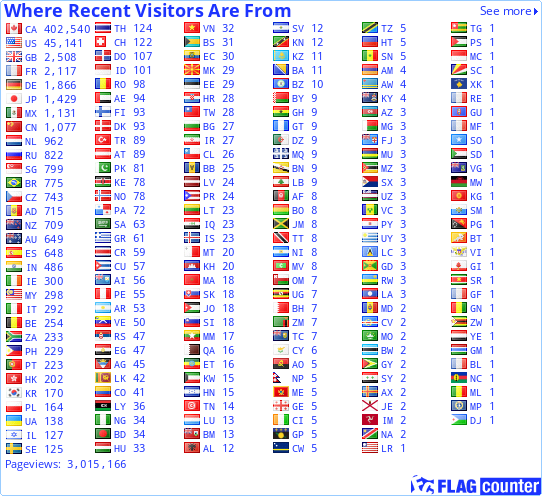 ---

---

For full news link archives since December 7, 2009
follow page links from
NWC Old News
---