---
Turkey: Pipe bomb explodes on overpass near Istanbul metro, five hurt
---
Less politics, more science: International Climate Science Coalition also holding Paris event this week -- to challenge bogus climate "consensus"
---
UN climate talks: The Ritual
---
Rio de Janeiro: Brazil's Petrobras probe widens after arrest of billionaire banker
---
Malta: Commonwealth leaders agree on tackling radicalization, extremism and terrorism
---
Guardian: Evidence doesn't support goofball contention that Syria crisis caused by climate change; just more proof AGW advocates will say anything to try to influence public
---
Turkey: Prominent Turkish lawyer/activist shot dead during press conference
---
Bamako: Suspected jihadists kill three at UN base in north Mali
---
Halifax: A Charlie Brown Christmas turns 50, but creators thought it would be a 'one-shot thing'
---
Reuters: ISIS claims responsibility for attack on Bangladesh Shia shrine
---
Berlin: German police arrest 2 men deemed terror threat
---
Dhaka: One dead, three injured as gunmen open fire in Bangladesh Shia mosque
---
Shanghai: Chinese stocks drop 5.5% after probes at 3 big brokerages
---
Jerusalem: Israel tests Barak-8 missile co-developed with India
---
London: Labour's Corbyn facing resignations as shadow cabinet members back David Cameron air strikes in Syria
---
New challenge? F1 Champ Lewis Hamilton expresses interest in racing NASCAR
---
updated New York: Port Authority Bus Terminal re-opened after suspicious package prompted evacuation
---
NATO: Russia repeatedly failed to inform Turkey of close-by bombing runs over Syria in weeks leading to Tuesday's downing of one of its jets by Turkish forces
---
Breitbart: The media is wrong, white student unions are not 'hoaxes' created by racists
---
Ankara: Turkey sent clear message they're not happy with Russia propping up Assad dictatorship in civil war which has displaced millions
---
Report: Israel strikes Hezbollah positions in Syria, killing 13
---
Washington: Police with machine guns at U.S. airports this holiday weekend
---
Tunis: Tunisia declares state of emergency after terrorist bus blast kills 12 members of Presidential Guard
---
Irbil: Under recovered Iraqi town, ISIS network of tunnels found
---
Scamster chronicles: Global warming double dipper enriches family with tax dollars
---
U.S. Ambassador Nicholas Burns: Russians were warned not to violate Turkish airspace
---
Energy and Policy Climate Summit: Marc Morano undresses the climate warming claimists and their conflicting invisible clothes
---
FBI: 900 investigations underway into suspected terrorist-related plots, majority involve ISIS
---
Buenos Aires: Opposition wins Argentine election, ending 'Kirchner era'
---
Hamtramck: In the first majority-Muslim U.S. city, residents tense about its future
---
Global trade just snapped: Container freight rates plummet 70% in 3 weeks
---
Australia: Coffee fixes the damage booze did to your liver, study finds
---
Cameroon: Female suicide bombers blow selves up in attack that kills eight
---
Hanover: German football match cancelled after French spies warned of 'five bomb plot' by five jihadists including a woman to carry out Paris-style attack on stadium
---
Syrian refugees: 80% of Canadians, 83% of Americans and 86% of Britons say refugees must be properly security screened before arrival
---
Paris: French PM warns extremists could use chemical, biological weapons
---
Global cooling? Pre-winter storm blankets parts of U.S. Midwest with more than foot of snow
---
Brussels: EU nations promise action to stanch inflow of Islamist extremists
---
France: Syrian passports available in 4 days for $2,000; non-terrorist refugees feel guilt
---
Texas: 8 Syrians nabbed illegally crossing border in Laredo sector
---
Syrian community leader: ISIS already in America; fraudulent docs easy to procure in Syria
---
Washington: Additional subpoenas may be required to pull back U.S. Govt climate propaganda curtain
---
Cooking the books: Record crushing fraud from NOAA and NASA ahead of Paris
---
Washington: Obama's taunting rhetoric -- and reality
---
Tegucigalpa: Honduras detains 6 Syrians headed to U.S. with stolen Greek passports
---
Janice Gross Stein: The order that held dysfunctional Middle East states together is over
---
Syria: Al-Qaeda affiliate says it shot down two Russian drones over the Abu Duhur military airport
---
Bomb threats: 2 Air France flights from U.S. to Paris diverted
---
Paris: France says one more attacker is on the loose, as soccer stadium in Germany is evacuated over new threat
---
Moscow: Russians put $50M bounty on heads of airliner bombers
---
Paris: Anonymous begins leaking details of suspected ISIS accounts
---
The Guardian: ISIS hates Middle Eastern civilization too
---
Paris: France demands EU security aid, hits ISIS strongholds in Syria
---
Victoria: Earth's hidden mega-stashes of groundwater discovered
---
Moscow: Russia reveals thwarted Islamist bomb plot before Sochi Olympics
---
Express: ISIS operative says over 4,000 operatives have been smuggled into Europe
---
Washington: Top Dem: ISIS has adapted, eyeing attacks against U.S.
---
Turkey: U.S. to work with France to intensify air strikes in Syria, Iraq: Rhodes
---
Vienna: Timing of Beirut, Paris attacks 'no coincidence': Lebanon Foreign Minister
---
Belgium: Brussels-area mayor says five arrested in Brussels raids linked to Paris attack
---
Paris: France identifies one dead gunman as attacks re-ignite debate over refugees
---
Paris: Kalishnikov-wielding terrorist scum delighted in gunning down wheelchair-bound music fans at back of Bataclan
---
Paris: Stadium security stopped even greater carnage when blocked suicide bombers from entering 80,000-seat venue
---
Roger Cohen: To have Paris, defeat ISIS
---
Michael Coren: The challenges to France's intelligence and internal security are cultural
---
Euronews: France vows 'merciless' response after attacks
---
Paris: Dead Bataclan assailant had been previously flagged by French police for Islamic extremist links
---
Reuters: Dutch ramp up border security, say 'at war' with ISIS
---
Sky News: Russia banned from world athletics over doping; includes 2016 Rio Olympics
---
Beirut: Lebanon holds day of mourning after deadly Thursday blasts kill 41
---
Lebanon: Beirut suicide bombs kill dozens in Shiite suburb Burj al-Barajneh
---
NY Times: A global chill in commodity demand hits America's heartland
---
Washington: Three takeaways from the Canadian Election — as seen from America
---
Washington: U.S. identifies Oklahoma soldier killed in rescue of 69 ISIS hostages
---
Hemeimeem: Russia showcases military prowess in Syria airstrikes
---
Bordeaux: Death toll rises to 42 in horrific France's worst road crash in decades
---
Washington: Obama Machine takes over Canada
---
---
Links formerly right here, now at http://www.newswatchcanada.ca/oldnews2015-1.html
---
---
---
---

---
Boessenkool & Speer: How Harper's philosophy
transformed Canada for the better
---
PBO: Liberals mislead Canadians, omit promise costs from economic update; watchdog foresees no return to surplus before next election
---
Ottawa: Canada GDP grew 2.3% in July-August-September 3Q
---
Ottawa: Immigration Minister McCallum still unclear on refugee timeline
---
Nanton: 'We want safety': Farmer combines,
tractors line Alberta's Highway 2 to protest Bill 6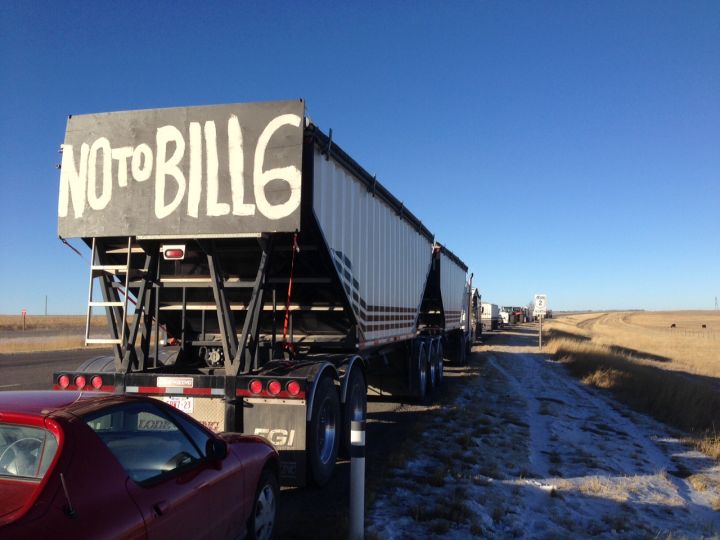 Farmers and ranchers across Alberta held protests Monday, saying Alberta Govt is moving too quickly on Bill 6, which will endanger family farms.
---
Anthony Watts: Why scientists disagree about global warming


"Probably the most widely repeated claim in the debate over global warming is that '97% of scientists agree' that climate change is man-made and dangerous," the authors write. "This claim is not only false, but its presence in the debate is an insult to science."
---
London: China's Yuan expected to join select
group of IMF reserve currencies Monday
---
Windy Lake: Brothers take selfie with bald eagle after saving its life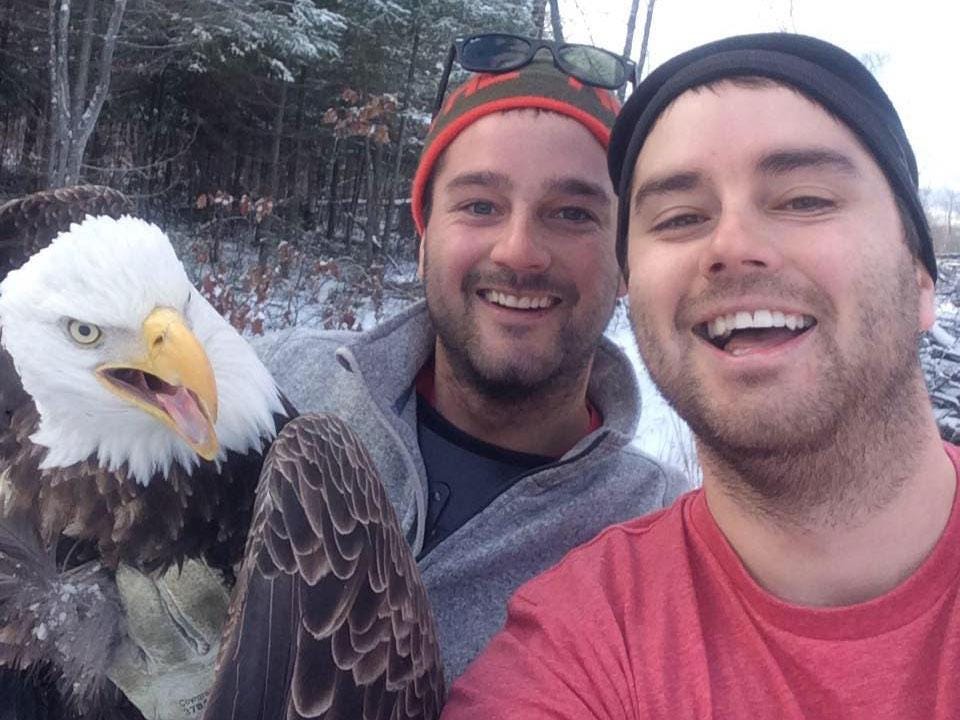 Michael and Neil Fletcher of Windy lake, Ontario, pose with the thankful bald eagle they rescued.
---
Italy: Syrians caught with fake passports
on way to Malta say they escaped from ISIS
---
Alberta: Anti-Bill 6 protests picking up steam;
NDP Govt continues to reveal its devastating hidden agenda


Alberta Legislature protest on November 27th captured tone of heated opposition to intrusive Bill 6.
---
Paris: At memorial honouring victims,
President Hollande vows to destroy ISIS 'army of fanatics'


France mourns and honours those killed in the Paris terror attacks that took the lives 130 people.
---
Brussels: Belgium charges sixth suspect over Paris attacks
---
Toronto: RCMP seeks help finding pair who acted suspiciously


RCMP are seeking help identifying these two men, who were observed near the Rogers Centre 'exhibiting suspicious behaviour' in August. ~ Royal Canadian Mounted Police
---
Another backflip: Trudeau tells BBC
he's not against bombing ISIS after all
---
London: Justin Trudeau's vacuous stance on Syria an embarassment
---
London: UK PM Cameron calls for airstrikes on ISIS in Syria:
"very direct threat ISIS poses to our country and our way of life"
---
updated Roubaix: Hostage-taking in north France ends; not terrorists
---
Matt Gurney: Putin the bully just got a bloody nose. Now, we wait
---
Ankara: No ISIS targets in area where Russian jet shot down
---
Ankara: Turkey says Russian plane warned 10 times
in space of five minutes before downing
---
Ankara: Moscow denies Su-24 Turkey airspace violation
---
Turkey crisis: NATO emergency meeting called at Turkey's request;
Putin threatens "significant consequences" for downing of plane
---
updated Turkey shoot: Russian jet destroyed, Syrian rebels fire at pilot


Burning Russian Sukhoi Su-24 after being hit by air-to-air missile fired by Turkey near the Turkish-Syrian border after multiple air space incursions.
---
ISIS cowards still on the run: 'Belt of explosives'
found in litter bin in town south of Paris
---
Thanksgiving: U.S. issues worldwide travel alert citing terrorism threat
---
Brussels: Five more terror suspects arrested; lockdown continues
---
Kingston: Troops and RMC students being forced out of military
accommodations for incoming Syrian refugees; exams be damned
---
Brussels: 16 arrested in Belgium raids; manhunt continues
Canada shuts embassy amid high alert
---
Syrian refugees: Private contractors to help protect Canadians going overseas; Canadian Forces to provide "hostile environment training"
---
'Anonymous' says ISIS planning 'worldwide day of terror' tomorrow;
events in France, U.S., Indonesia, Italy & Lebanon to be targeted
---
Brussels: U.S. Embassy warns citizens in Belgium: 'Stay home'
---
Brussels: Belgium in 'shut down' as terror scares grip Europe
---
Belgium: Brussels at highest alert level; subway is closed


Belgian soldiers patrolled a nearly deserted street on Saturday in central Brussels, after the government raised the country's threat level to its highest. ~ Youssef Boudlal Reuters
---
Ottawa confusion: Liberals keep even refugee-processing public servants in the dark
---
updated Bamako: 150 freed as security forces in Mali capital swarm Radisson;
at least 3 sought, 22 dead after siege; U.S. & French helped local police
---
Mali: At least 3 dead as Islamist gunmen attack Radisson hotel, take 170 hostages;
Malian special forces have responded and freed some hostages; situation 'fluid'
---
Ivison: Trudeau spending $500K on ad campaign promoting flawed refugee plan
5,000-6,000 refugees to be airlifted from Amman, Jordan, every week in December
900 passengers a day will arrive on flights to Montreal and Toronto
---
Washington: U.S. nervously watches Trudeau's massive refugee plan


Close watchers of the Canada-U.S. file in Washington say they are unsurprised by the added U.S. scrutiny, given how border security dominates American political conversation. ~ Marcus Oleniuk Toronto Star
---
Operatives already in place: ISIS threatens New York City attack
---
Paris: Female suicide bomber cried out "help me, help me" to lure police
before intense firefight that ended with Friday the 13th mastermind dead
---
France strikes back: Bullets, bombs and body parts fly in heavy raid
---
Paris: At least two die in police raid on group planning new Islamist attack
---
Justin Trudeau ignores: Majority of Canadians wisely oppose
naive plan to bring 25,000 Syrian refugees in just 5 weeks
---
Paris: Suspected architect of Paris attacks dead: two senior European officials
---
Ottawa: Yasin Ali arrested on Parliament Hill with concealed meat cleaver;
bought tour ticket; arrested at screening area outside Centre Block
---
France: Heavily armed French SWAT teams neutralize cell planning to launch
new attacks, at least two dead, including woman who exploded explosives belt


French special police forces are seen shortly after disturbances were heard in the area after 4:30 a.m. local time. ~ Christian Hartmann Reuters
---
Shock and Awe: Russian warplanes destroy 140 terrorist targets in Syria
---
Syria: Putin orders Russian missile cruiser to support French forces
---
Moscow: Russia confirms 1kg bomb downed its passenger plane
over Sinai; Egypt to 'take findings into consideration'
---
Paris attacks: France seeks global coalition against ISIS
---
Paris: Anonymous declares war on ISIS in online video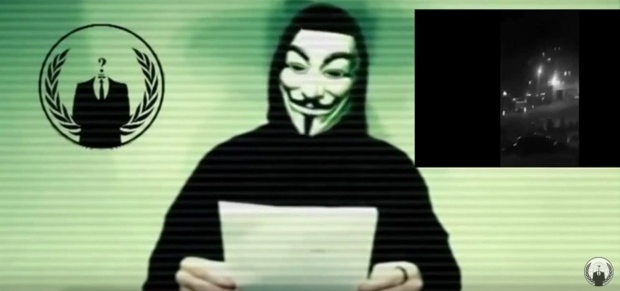 "Watch every one of your propaganda sites disappear ISIS... When we are done with you there will be nothing left." says Anonymous tweet. The online activist group Anonymous has declared war on ISIS, pledging to launch a massive attack against the terror group in the wake of the deadly Paris bombings and mass shootings. Speaking in French, the man warned that the group's operations against ISIS will include cyber-attacks. "War has been declared," he said in French.
---
Paris: French police conduct 168 raids, identify 2 more suspects
---
Paris: François Hollande says attacks "planned in Syria, organized
in Belgium and perpetrated on our soil with French complicity"


Police officers during a raid in the Molenbeek neighborhood of Brussels on Monday in a manhunt for Salah Abdeslam, a suspect in the Paris attacks. ~ Yves Herman Reuters
---
Raqqa: France strikes back; pounds ISIS targets in Syria
---
Baghdad: Iraq warned coalition countries of imminent assault before Paris attacks
---
NY Times: Manhunt for 8th terrorist underway as Paris investigation widens
---
Turkey: G20 leaders vow to fight terror; Paris attacks take centre stage
---
Paris update: Terror toll now 129 dead, 99 of 352 wounded in critical condition
---
NY Times: Three teams of co-ordinated attackers carried out Paris assault;
"including one who travelled to Europe on a Syrian passport" as a refugee
---
Strasbourg update: 11 dead as French high-speed train derails Saturday;
5 still missing, children among those aboard as it crashed at 350 km/h (217mph)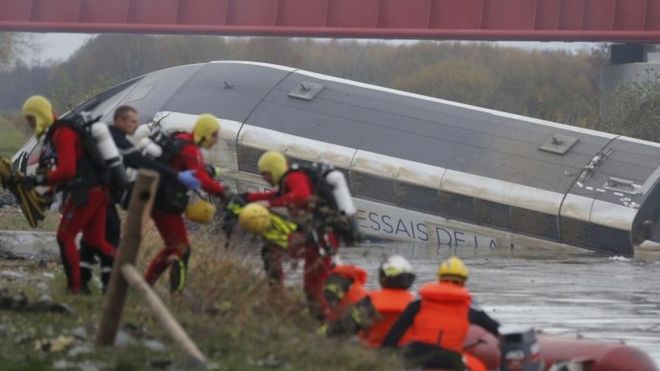 The TGV locomotive partly submerged in a canal alongside tracks after the crash. The crash happened during a test run in the town of Eckwersheim, on a new Paris-Strasbourg line. Reports say technicians and children were on board the train. The injured have been taken to hospital by helicopters. The AFP news agency is quoting sources as saying the derailment happened due to "excessive speed". Wreckage was also scattered in a field beside the track. ~ Reuters
---
Amsterdam: Air France flight AF1741 to Paris grounded after Twitter threats
---
Paris timeline: 127 killed, 80 critically wounded; six sites hit mercilessly
with guns, genades and suicide bombs; ISIS claims responsibility


Simultaneous shootings and explosions take place across Paris starting at 3:20 pm EST (9:20 pm Paris time). It all begins as three explosions take place near the Stade de France stadium during a friendly match between France and Germany attended by 80,000 spectators, including French President François Hollande, who was immediately evacuated. ~ AFP
---
Paris: 118 killed in Bataclan concert hall, 3 hostage takers among dead
---
Live link to France24: "Over 100 dead" so far in multiple ongoing terrorist attacks;
President closes national borders, acts to "vanquish these terrorists"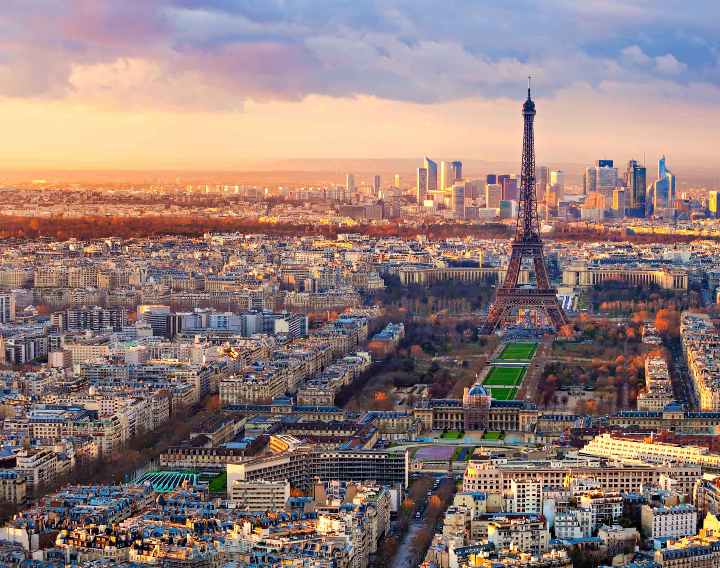 Multiple attacks have taken a heavy toll as gun-wielding terrorists unleash murderous rampage tonight in Paris and suburbs. At least 100 hostages were held at Bataclan concert hall. This is a live TV link to France24 coverage.
---
NY Times: Calls grow at UN for Security Council to do its job
---
Foreign Affairs: ISIS as revolutionary state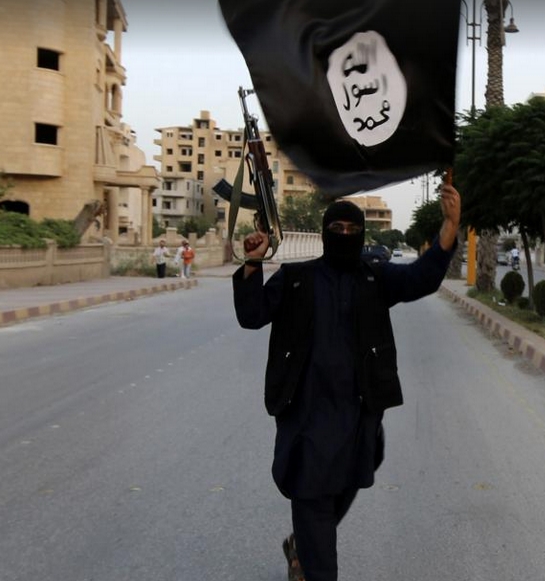 ---
Kansas City: Blue Jays eliminated after Game 6 ALCS loss to Royals
---
AFP: Russia says ready to provide air support
to moderate Syria rebels fighting ISIS
---
Cliff Kincaid: Obama takedown of another U.S. ally

---
Reputation Institute: Canada 'most admired' country in world; praise for
"effective govt," "absence of corruption", "friendly & welcoming people"

---
---
Links formerly right here, now at http://www.newswatchcanada.ca/oldnews2015-1.html
---
For full news link archives since December 7, 2009
follow page links from
NWC Old News
Welcome to Worldwide Visitors
Send news tips to
Editor@NewsWatchCanada.ca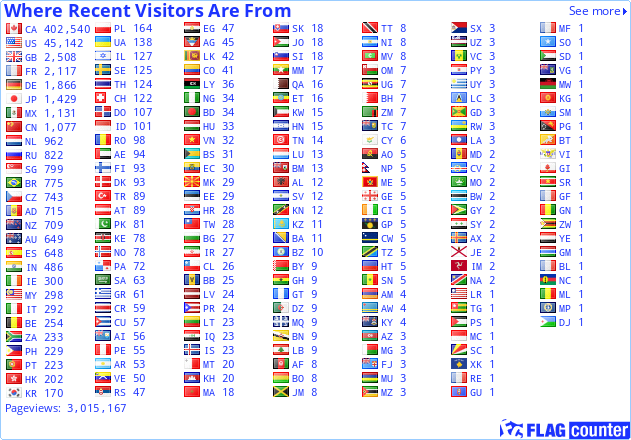 ---
Boondoggle Dept: Sacre bleu! B.C. has big carbon footprint at the UN climate-change conference
---
Toronto: Wind Mobile offering free phones, service to Syrian refugees
---
Latest Trudeau backflip: Nannygate: Justin's children's nannies paid for by taxpayers — by order of cabinet, three weeks after they were hired
---
Les MacPherson: Cloak of crapola spoils Paris climate fest
---
Don Braid: Contentious farm Bill 6 catches Alberta NDP in rural brushfire
---
St. John's: Liberals win big in Newfoundland and Labrador; will province now lose big like other Liberal Atlantic provinces?
---
Andrew Coyne: Any role Canada might play in Paris is strictly for show
---
But not retiring: MP Mauril Belanger, diagnosed with Lou Gehrig's disease, withdraws from Speaker race
---
Dillon Hillier: My experience fighting ISIS shows Trudeau is wrong
---
Liberal connections matter: Tax agency kept charges/conviction against high-profile Liberal quiet during election
---
Liberals fly three cabinet ministers for photo-op in ME on latest boondoggle: Canada opens refugee processing centre in Jordan; 90 applicants line up
---
Liberal connections matter: Syrian refugee coordinator in Montreal to make $1800 a day to welcome the newcomers to Canada
---
Most dangerous man in the world: Maurice Strong dead at 84
---
Vancouver: Canadian health and social services gearing up for refugee influx; experienced and have a realistic plan and perspective to give these new citizens TLC and integrate them into Canadian society
---
Peter Loewen & Daniel Rubenson: These 3 charts help explain how Trudeau won upset victory
---
Philip Cross: Sick sick leave benefits; federal government employees take average of 10.5 sick days per year, while private sector employees average 6.4 days
---
Edmonton: Farming is a 24/7 lifestyle, not a 9-5 job; NDP doesn't get it in Bill 6 bid to unionize and kill family farms
---
Alberta: Petition launched to save Alberta farms from Bill 6; sign it to support farmers who feed Canada
---
Ottawa: New Health Minister using her children as chief advisers on marijuana; says it scares her
---
Andrew Coyne: Whacking the top one per cent with a tax hike not the bonanza Liberals hype
---
J.J. McCullough: Trudeau refugee policy trainwreck offers glimpse of his reckless, deceitful governing style; muzzling civil servants, claiming dog ate his homework
---
Law and order: Firebombing north of Toronto adds urgency to warnings of brewing mob war in city
---
Ottawa: Public servants 'gaming the system' — take twice as many sick days as private sector workers: report
---
Rex Murphy: Ujjal Dosanjh — a truly admirable Canadian
---
Andrew MacDougall: Sometimes breaking a promise can be good politics; Trudeau Liberals "hugging substance-free talking points with more ardour than even the most hardened Harper minister"
---
Malta: Trudeau doubles Harper Govt 5-year commitment to help poor nations battle climate issues in another display of crass oneupmanship requiring govt borrowing; once again spouts "Canada's back" when it was never 'away'; sees it as bribe for Commonwealth support
---
Vancouver: One-punch attacks leave 3 dead in violent 'trend' blamed on alcohol, drugs
---
Ottawa: Canada job vacancies rise in second quarter, best opportunities in west
---
Toronto: Trudeau Govt rejection of Toronto's Billy Bishop airport expansion becomes ammunition for Opposition in Ontario
---
Ottawa: Cities are going to need federal and provincial financial support very soon if they are to house 25,000 refugees over the next few months: Mayor Watson
---
London: Daily Mail takes Trudeau to task for 'insincere, patronizing handshakes'
---
Chinese officials intercept Miss World Canada en route to pageant; no comment from Ottawa
---
Tacky Dept: How much did Birks pay Sophie Grégoire-Trudeau so it could hype its diamonds being seen by Queen?
---
London: Trudeau uses BBC interview to re-write history of roller coaster 2015 election campaign; ignores mentioning Liberal attack ad campaign
---
Peter Foster: Posturing toward Paris with good hair; nobody appears to have been briefed on fact CO2 is plant food, and that greater concentrations boost agricultural production
---
Toronto: Farming may be expensive victim of Ontario Liberals cap-and-trade nonsense
---
Global warming bloviation: Wynne, Murray, can't fix weather
---
Lorrie Goldstein: Liberals wasting billions on 'green' energy we don't need
---
Ottawa: Liberals risk penalties and missed deadlines by putting hold on emergency supply ship contract; Seaspan, Irving want shot at ship despite full plates
---
Liberal follies: Nova Scotia Premier's chief of staff resigns after releasing confidential health information on MLA to media
---
Immigration mega-fraud: The rich Chinese immigrants to Canada who don't really want to live here
---
Ottawa: Liberals change tune on refugee answers; most elements not like election promise, including sponsorship, timelines, security checking
---
Ottawa: Liberals give priority to trans-gendered and gay Syrian refugees; first 10K will be privately sponsored, keeping with original Conservative plan
---
Ottawa: Liberals back down at last minute under pressure of public, deadlines; 25K Syrian refugee deadline extended to end of February; most to arrive on chartered aircraft
---
Lost control: Alberta PC MLA Manmeet Bhullar killed after stopping along highway to help driver in distress
---
Joe Oliver: Deficits as far as the eye can see; but we left the new government with a surplus, not a deficit; reduced government tax revenue only accounts for $600M of the total; most of the difference relates to increased expenses
---
Lost control: Man, woman robbed 3 businesses before deadly Winnipeg crash, police say
---
Vancouver: Ontario Premier Wynne slammed by Liberal, ex-BC Premier Dosanjh over tarring thoughtful Canadians as racists
---
Telegraph: Canada sends patrol aircraft to join U.K.'s hunt for Russian submarine spotted lurking off Scotland
---
Backtracking? Canada's Syrian refugee plan limited to women, children and families; no single men due to security concerns
---
Nova Scotia: Turkish Airlines plane grounded by bomb threat leaves Halifax
---
Ottawa: How most Canadians will be left out in the cold by Trudeau's proposed tax cut
---
Crux of the Matter: Conservatives should stop apologizing for the Harper Govt; they got things right
---
Montreal: Trudeau's refugee gamble: Time — and most Canadians — aren't on his side
---
Ottawa: Canada Post reports $13M loss before tax in third quarter
---
Supreme Court: Alberta's English-only laws are constitutional
---
After weekend polling? Liberals to finally announce details of their Syrian refugee plan Tuesday
---
Chantal Hébert: Trudeau loses his post-election shine after Paris attacks, with juvenile antics, arrogance
---
Montreal: Mobs hit big in police raids after 34-month investigation
---
Who will Trudeau blame? World oil below $40, Canadian dollar under 75 cents
---
Paul Wells: Why Justin misses Harper; the days when he gave Trudeau opportunities to just say no are over
---
Experience matters: Rona Ambrose names Andrew Scheer as Conservative House Leader
---
Liberal rift widens: Trudeau wrong to end ISIS combat mission, former Liberal Minister Ujjal Dosanjh says; sending wrong message to allies after Paris attacks
---
Lorrie Goldstein: On issues that matter, Harper was right
---
Manila: Trudeau to remove warplanes from ISIS fight in Iraq and Syria, instead will boost ground troops training Iraqi forces
---
Ottawa: Quebec, Saskatchewan and British Columbia tell Trudeau to slow up on his "25K by the end of the year" refugee rush; have been asked to take refugees but have been given no plan
---
Toronto Star editorial: Honour pledge to resettle 25,000 Syrians, but take the time to get it right
---
Turkey: Trudeau insists Canada will stop anti-ISIS air role, refuses to say when; tries to have it both ways, shows weakness; others stepping up fight
---
Lorne Gunter: Liberals fail Canada with Syrian refugee pledge
---
Hamilton Spectator: The Spectator's View: Public safety before election promises
---
Crisis coming here: Ontario prepares for refugee influx: timing and magnitude unknown
---
CBC insight: Paris-style ISIS attacks could hit anywhere, including Canada; security experts warn civilian soft targets are 'jihadist fantasy'
---
Montreal: In wake of Paris attacks, Quebec Premier Couillard urges world leaders to act; no comment on Trudeau withdrawal from engaging ISIS
---
Turkey: Trudeau warplane pull-out celebrated; "ISIS claimed it as a victory on all the websites. They were saying 'the first crack in the coalition, it's a major victory for ISIS, Canada has been defeated"
---
Lawrence Martin: After Paris attacks, Trudeau's soft power already under fire
---
Anthony Furey: Trudeau must reconsider ISIS fight
---
Ottawa: RCMP and CSIS brief Trudeau on Paris terror attacks
---
NOT 'Government by Cabinet': Liberal cabinet puppets get detailed marching orders from Trudeau in Mandate Letters
---
Holly Nicholas: How the U.S. Tides Foundation funded Leadnow.ca's anti-Harper campaign -- and helped give Trudeau a majority
---
Andrew Coyne: Fair Elections Act produces highest turn-out in 20 years; NDP sinks like rock
---
Ontario: Wynne Government's payments to teacher unions top $3.7M
---
Anne Jarvis: Sandals should resign over secret union payoffs
---
Ballots on the floor, mismatched tallies and frazzled clerks refusing to recount: Judge grants judicial recount in federal riding of Edmonton Mill Woods
---
CTV: Diane Finley on what went wrong for the Conservatives
---
Ottawa: Justin Trudeau won't move in to 24 Sussex, says Margaret Trudeau; not good enough for him without 'major' upgrades
---
Just election bait: Trudeau's Syrian refugees pledge unrealistic: immigration lawyer
---
No kidding dept: Trudeau's promises to aboriginal people feared to be unachievable
---
Judi McLeod: Obama campaign team hands Canada Over to the Lib-Left
---
Crux of the Matter: 15 economic reasons to vote Conservative, 50 tax relief reasons to vote Conservative, and 100 accomplishments from the Harper Government record to vote Conservative
---
---
Links formerly right here, now at http://www.newswatchcanada.ca/oldnews2015-1.html
---
---