---
TOP LINK
Campaign panic: Huma Abedin an editor from 1996 to 2008 at Saudi journal while aide to Clinton; hate-filled, its anti-feminist views back strict Islamic laws, roundly criticized for oppressing women; Abedin's mother, its editor-in-Chief, wrote: "'Empowerment' of women does more harm than benefit the cause of women or their relations with men"
---
National Review: Mrs. Clinton and her fixer
---
Pattani: One killed, 29 injured in car bomb blast outside hotel in Thailand
---
NY Post: Stumped by Trump's success? Take a drive outside U.S. cities
---
Washington Post: Now Hillary has a big Clinton Foundation problem, too
---
Mike Rowe: Elitist media: Pardon me, but your slip is showing…
---
AP: Pay-for-play: More than half of those outside govt who met with Hillary Clinton while she was Secretary of State gave money to Clinton Foundation
---
Katie Pavlich: Clinton's lawyers didn't have security clearance, why were they handling classified information?
---
Politico: Ohio poll shows candidates 4 points apart with an error margin of 4.9 points; in other words, dead-even to chagrin of pundits who said election was "settled" last week
---
Polls: Trump catching up to Clinton; new campaign manager Kellyanne Conway given credit for improved campaign focus
---
CNN: Trump goes hard after Clinton Foundation pay-for-play "criminality"; media finally starting to pay attention to elephant in campaign
---
Mike Pence: Trump will get 95% of African-American vote in 2020; "we're going to advance policies that cause all ships to rise, to create opportunities for every American"
---
CNBC: Clinton making huge strategic mistake in letting campaign be all about Trump; he has open road to push his plan and pummel her record
---
UPI/CVoter daily presidential tracking poll: Clinton 48.19%, Trump 47.47%; gap closed by 2.9% overnight after Trump toured flood-ravaged Louisiana, a move Democratic LA Gov. John Bel Edwards applauded for shining a light on the disaster there
---
Éric Grenier: Numbers show positive trend line for Donald Trump, Hillary's shrinking 'lead' based on only a few polls
---
Pay-for-play: Trump calls for special prosecutor to investigate Clinton Foundation
---
Hollywood dice roll: China's richest man set to seal two billion-dollar U.S. film deals
---
Manila: Beyond war on drugs, Philippines' Duterte seen setting up economic boom
---
Manila: Lawmaker wants mines closed due to export of unprocessed ores, but high power prices make domestic processing uneconomical
---
Ankara: Turkey cuts length of military officers' service, retires 586 colonels
---
Denver: Appeals arguments begin on Kansas law requiring voters to prove citizenship
---
Washington: U.S. urges Russia to stop aiding Syria regime's bombing campaign
---
Rio: Sports court confirms Russia ban from looming Paralympics
---
New Jersey: Monmouth University pollster Patrick Murray busted manipulating poll data, then lying about it…
---
People's Pundit Daily tracking poll: Trump 43.1%, Clinton 41.7%
---
A.J. Delgado: Why Latinos should vote for Trump
---
Pay-to-play redux: New Huma Abedin emails reveal Hillary Clinton State Dept gave special access to top Clinton Foundation donors
---
Washington Post: FBI uncovers nearly 15,000 more hidden documents in Clinton email probe
---
What TV didn't tell you: Brazil takes gold in death; Brazilian cities dominate list of 50 murder capitals of the world
---
Riyadh: Will Saudi women break chains of male guardianship? Social media campaign calls for dropping all forms of supervision and control from brothers, fathers or grandfathers as guardianship limits women's freedom and willpower
---
John Hinderaker: Trump candidacy reinvigorated with series of powerful 'vision' speeches
---
Chicago: Trump team talks trade, labour with U.S. farm groups; will give growers and states a say on national farm policy
---
Berlin: Germany to tell people to stockpile food and water in case of attacks: FAS newspaper
---
Byron York: Trump focus now squarely on Crooked Hillary, with disciplined messages that contrast and compare
---
Spook auction: Evidence points to another Snowden at the NSA
---
Gaziantep: Turkey vows to cleanse ISIS from its border after wedding attack kills 54
---
Armyansk: Promised prosperity never arrived in Russian-held Crimea, locals say
---
NY Post: Top Hillary aide Huma Abedin "for a decade edited a radical Muslim Saudi-based publication that opposed women's rights and blamed U.S. for 9/11"
---
Michael Goodwin: American journalism is collapsing before our eyes
---
NY Times: Foundation ties bedevil Hillary Clinton's Presidential campaign
---
Gaziantep: Turkey wedding suicide bomber 'was child aged 12-14'
---
USC Dornsife/LA Times tracking poll: Trump 45%; Clinton 43%; Hillary Hispanic support down to 52%, Obama had 71% in 2012
---
NBC News: Judge: Hillary Clinton must answer written questions in email lawsuit
---
Rex Murphy: What glass ceiling has Hillary Clinton shattered?
---
updated Gaziantep: Turkey seeks to identify ISIS child bomber who killed 54 in Turkey wedding suicide blast
---
Ankara: Israeli-Turkish deal ratified by Parliament
---
Iransom: The humiliation of a Pinnochio President
---
Paul Mulshine: Clinton supporters: Can you name a single thing Hillary has ever accomplished?
---
Minneapolis: Target to spend $20M on single-stall bathrooms after transgender policy uproar
---
Thune, Schumer: Stop taxing Olympic medal winners
---
Charles Hurt: Legit polls have Trump anywhere from 2 points down to 10 points down; he is faring far, far, far better than any of the pundits ever said he would
---
Clinton campaign's fatal arrogance: They believe own narratives that media repeats back to them; but mile-wide Hillary support only an inch deep
---
Trump: I'm fighting for "peaceful regime change" of the "media-donor political complex"
---
CNN: Trump donates 18-wheeler full of supplies for Louisiana flood victims
---
Crux of the Matter: Pennsylvania refugees & ACLU suing Lancaster school district are on wrong side of 'readiness'
---
Washington Post: Zika can infect adult brain cells, not just fetal cells, study suggests
---
Election 2016: Hillary Clinton's token "Republican" endorser is actually a longtime Democrat donor
---
CBS: When Trump arrived in East Baton Rouge, people dealing with drowned homes "came out to wave at the motorcade with gloved hands dirty from their house-gutting work"
---
Election 2016: Trump heads to Louisiana flood lands, debuts first TV ad, on immigration, apologizes for past caustic campaign comments
---
Scott Adams: Trump's regrets
---
Election 2016: Trump heads to Louisiana flood lands, debuts first TV ad, on immigration, apologizes for past caustic campaign comments
---
Charlotte: Trump speech transcript: 'Building a new American future'
---
Byron York: From Donald Trump, a stunning admission and a new direction: 'New American Future'
---
St. Louis Today: Lochte fiasco, Solo rant embarrass U.S.; apologies are owed
---
Rio: Two U.S. swimmers leave Brazil after admitting to inventing mugging
---
Washington Post/ABC News poll: Trump outperforming Romney by 16 points in a Democrat-heavy polling sample
---
USDW poll: Trump 44%, Clinton 38%, Johnson 7%, Stein 5%
---
Washington: Obama Administration finally admits that $400M payment to Iran was ransom; President himself had repeatedly denied
---
Rio: U.S. swimmer fought with security guard on night of alleged robbery: police source
---
FEMA fail: Louisiana under 'historic' floodwaters after lack of warnings and a President still playing golf
---
Rasmussen Reports national survey: Clinton down 2% in last week as race tightens to statistical dead heat; Clinton 41%, Trump 39%, Johnson 9%, Stein 3%; sampling error is +/- 3 percentage points
---
USC Dornsife/LA Times poll: Trump support from African Americans up by over 12% in a week; Clinton support drops by 10% in same period
---
CBS: Trump air campaign to start this week; NOTE to CBS: a 2-point variance since June isn't a "plummet"
---
Trump on the move: His two strongest speeches of campaign; back-to-back in Ohio and Wisconsin
---
Atlanta renaissance? The Stitch: Proposal would mend Interstate wound through city centre
---
Boston Herald: Trump blasts Clinton for embracing anti-police rhetoric and failed Democratic anti-crime and economic policies that hold back minorities
---
Mook spooked? Clinton fundraising chair frets missing donation targets as $$ millions spent on blanket TV ads over summer
---
Zogby Analytics poll: Back to tight race, tied within margin of error before Trump runs any TV ads
---
New York: Trump shifts campaign gears, prepares to roll out first wave of long-awaited TV ads
---
Byron York: Wisconsin: Asking for black votes, a very different Donald Trump
---
USC Dornsife/LA Times poll: Trump and Clinton back to virtual tie in daily tracking poll; 3,000 respondents; Trump up and Clinton down
---
Teterboro: Trump names pollster Kellyanne Conway as campaign manager, Stephen Bannon as CEO
---
Election fever: Trump continues to pull overflow crowds to huge venues; media still tries to downplay election impact
---
Ankara: Turkey to release 38,000 inmates from jail to free space for accused plotters
---
Election round-up: Clinton sticks to gun control fiction; Christie says 'just wait for the debates' before writing off Trump chances
---
Snowden: Exposure of alleged NSA hacking tools may be warning to U.S. that other spy secrets can be revealed
---
updated Harrisburg: Powerful Democrat forced to resign; Pennsylvania Attorney General who released pornographic emails to smear rival found guilty in perjury case Monday
---
Peter Hasson: Leaked Soros memo: Refugee crisis 'new normal', gives 'new opportunities' for global influence
---
Miami: CDC: Aerial spraying in Zika fight a hit or miss over infected neighbourhoods
---
OSF leak: Soros uses $billions to actively "change the policies, rules, and regulations that govern migration"
---
Tourism threatened: First reported case of tourist contracting Zika while vacationing in Miami
---
McClatchy interview: Trump calls for federal funds to stop Zika, terms 'Crooked Hillary' record on jobs 'a disaster' in New York state
---
Philadelphia: Clinton says 'bewildered' by Trump concerns over terrorism and national security, says all is well
---
New York: World Trade Center mall re-opens with 100 stores, in time for 15th anniversary of 9/11
---
updated Baton Rouge: 10 killed, 40,000 homes damaged by Louisiana floods as slow-moving storm finally veers north and east
---
Pumping the vote: Google's search engine directs voters to the ballot box
---
Making things worse: The Obama Doctrine is ravaging the Middle East
---
Lower Lake: Man arrested, charged for starting raging wildfire in California
---
Syria war: Russia launches first air strikes from base in Iran against Isis and rebels
---
Rio: German Olympic coach dies following car accident
---
Washington: Obama administration releases another 15 Guantanamo inmates
---
Nepal: At least 33 dead as bus falls off mountain road; heading to pick up earthquake compensation payments
---
New York: 5,400 diagnosed with cancers linked to 9/11; number climbing
---
Mexico: Up to 16 people abducted from Puerto Vallarta beach resort restaurant
---
WSJ: Ciudad Juárez: It's getting harder and more expensive to make cars in Mexico
---
New York: Suspected shooter in Queens slaying of Imam and friend taken into police custody, may have been settling score in Muslim-Hispanic feud
---
Juan-les-Pins: 41 injured as firecrackers spark stampede in French seaside town
---
Washington Post editorial: A porous ethical wall between the Clinton Foundation and the State Department
---
Bloomberg: Huma Abedin's overlapping jobs renew focus on endless Clinton conflicts
---
Billionaire pay-to-play puppetmaster: Clinton e-mails reveal George Soros gave Sec of State foreign policy marching orders
---
Diyarbakir: 3 killed as explosion rocks city in southeast Turkey
---
Cannon fodder: ISIS gets know-nothing recruits and rejoices
---
Bus to November: Taking the pulse of the Greyhound vote: how Americans riding the Interstates assess ballot box options
---
Nissan: New variable compression gas engine has 27% better fuel economy, torque rivals new diesels
---
Obama's legacy: Shots fired as Milwaukee unrest continues for second night
---
Bangkok: Thai police find unexploded devices in 3 top tourist areas as they search for bombers
---
Nairobi: Rampaging South Sudan troops raped foreigners, killed locals
---
Bad lie: The decline and contraction of a U.S. obsession; over 800 closed golf courses litter landscape
---
Bloomberg: How Hyperloop One went off the rails
---
Istanbul: Turkey says failed coup was decades in the making
---
updated Louisiana: TV crew rescues woman trapped in car submerged by floods — and then saves her dog — remarkable video
---
Gravis poll: Latino support for Donald Trump at 40% in New York; large sample, 1,717 surveyed
---
Trump right again on vote fraud potential: "There are so many places in the voting process once it goes electronic that are vulnerable" — security expert
---
ABC: Symantec says a $15 device and anyone could give themselves 400 extra votes without poll workers suspecting a thing
---
Rigging elections: In 2016, 43 states will use electronic voting machines at least 10 years old, perilously close to the end of most systems' expected lifespan
---
#Rio2016: Kenyan runner dodges protester to win womens' marathon
---
Napa: Flames chase 1,200 people from homes in Northern California
---
NBC: Milwaukee crowd turns violent after police fatally shoot armed man; torch cars, businesses, BMO bank
---
Olympic risks: U.S. swimmer Ryan Lochte held up at gunpoint in Rio, mother says
---
Kyrgyzstan President: Women in mini-skirts don't become suicide bombers
---
Dogs in the manger? Establishment Republicans shoot at Trump — and hit themselves in the foot
---
Absolutes corrupt: How the abortion movement echoes radical slavery in its absolutism of what is 'a public good'
---
Larry Kudlow: Insanity once more: The Hillary Clinton economic plan
---
Chris Cassidy: Media bias could wind up helping Donald Trump; the heavy-handed shadow campaign to boost Hillary Clinton is stirring a backlash
---
Laura Ingraham: The morality of voting for Trump; cutting a clear path through a rhetorical jungle and launching a new conservatism that actually tries to help working-class Americans
---
Noah Rothman: The Clintons' crumbling foundations
---
Jeffrey H. Anderson: All the issues favour Trump
---
Cannes: 'Burkini' ban about French secular values; full-body swim suit 'a religious uniform' that symbolizes 'Islamic extremism' and risks disturbing public order says Mayor; ban upheld by courts
---
New York: Imam and another man shot dead on street in Queens near mosque
---
updated Switzerland Salez attack: 2 dead, including killer as 27-yr-old man sets fire to Swiss train and stabs 6; knifeman not of immigrant background, but police say can't exclude terrorism motive
---
Baton Rouge: Louisiana Governor says more than 1,000 rescued amid "unprecedented" flooding in the state
---
Quislings: ISIS retweet arrest raises free speech issues; when retweeter is a proven ISIS supporter, she has no real defence for treason
---
Zika virus: Florida cases rise to 25 as back-to-school day nears
---
Rep. Duncan Hunter: Why Donald Trump has the temperament to be President
---
Detroit Free Press: Wilbur Ross and Peter Navarro: Clinton takes the wrong approach to trade deals
---
Washington: Senior Justice official raised objections to Iran cash payment; head of national security division argued Iranian officials were likely to view $400M payment as ransom
---
Women's lib, Syrian style: ISIS victims burn their hated niqabs on the street and joyfully reveal their faces in public for the first time in two years
---
Crooked: Hillary played favorites with huge number of Clinton Foundation donors
---
Peggy Noonan: How global elites forsake their countrymen
---
San Juan: U.S. declares state of emergency in Puerto Rico over Zika epidemic
---
Alan Reynolds: Donald Trump pushes fiscally sound economic plan
---
Rasmussen Reports: 72% of likely U.S. voters believe America a more divided nation than 4 years ago
---
Daily Caller: ISIS backgrounder: Hillary completed no security briefings or courses at State Dept
---
Background: Clinton ignored Obama's order to get security training while Sec of State, filing shows
---
Marc Thiessen: September 10, 2012 — Why is Obama skipping more than half of his daily intelligence meetings?
---
Background: Trump sarcastically called Obama and Clinton parents of ISIS; record shows alarming level of inattentiveness; GAI report in 2014 showed Obama had skipped almost 60% of daily intelligence briefings; missed his briefing in 5 consecutive days leading up to 2012 Benghazi attacks
---
Suffolk University poll: Trump leads Clinton in Iowa, which Obama won in 2008 and 2012; more than half say country on wrong track and want change
---
Australia: Shallow M7.6 earthquake strikes off coast of Vanuatu; tsunami warning dropped
---
Beijing: China power plant blast kills at least 21
---
Berlin: Jihadists will be stripped of German citizenship; new rules will also see swifter deportation of criminals
---
Tourists targeted: Four dead as Thailand hit by string of blasts
---
Re-think: News website paywalls disappearing; don't work unless content unique; always limit ad revenue
---
Refresher: When and where did ISIS begin? How Obama's retreat from teetering Iraq nurtured ISIS
---
The Perilous Games: Rio's Olympics teeter on the brink
---
Rassmussen Reports: Clinton support drops to put her in statistical tie with Trump
---
Bloomberg Politics poll: Trump gaining on Clinton; up 8 points in a month, now within margin of error
---
Pay-to-play scandal: Hillary played favorites with huge number of Clinton Foundation donors
---
Brasilia: Brazil's Senate indicts Rousseff, opens impeachment trial
---
Howard Kurtz: Media try to justify their anti-Trump bias, claim they know what's best
---
Media double standard: Trump on Orlando killer's father at Clinton rally: 'If that were me, it would be a headline all over the world'
---
CNN: Relationship between State Dept. and Clinton Foundation wasn't arms length, it was hand in pocket
---
NY Post: Heads roll as new emails reveal Hillary's shocking State Dept. pay-for-play scheme
---
Michael Sainato: Sorry, Obama, the system is rigged; Trump is right: Elections favour the rich and powerful
---
WKMG Orlando: Pulse massacre survivors angry at killer's father being at Clinton rally to which they were invited: "I'm outraged. If I would have known that, I would have not come."
---
Cassandra Fairbanks: Popular author Mike Cernovich matches WikiLeaks' $20,000 reward for info on DNC staffer's murder
---
Assassination? Julian Assange implies that Seth Rich, a 27-year-old Democratic National Committee data expert murdered in July, was a source for #DNCleaks; Wikileaks has offered a $20,000 reward for information leading to Rich's killer
---
Kathy Shelton: Child rape victim from 1975 talks publicly about how she was abused by Hillary Clinton, the lawyer for her 41-yr-old rapist when she was 12 years old
---
Wilmington: Trump calls for support from gun owners, but, again, Democrats twist his words as a call for violence, and push narrow talking points to the media and across social media
---
Email watch: Newly released trove of Hillary Clinton emails shows collusion between Secretary of State Clinton, Clinton Foundation and convicted money launderer
---
Florida: Clinton wants anti-Zika funding approved, but she and media fail to mention that Kaine, her running mate, voted against anti-Zika funding in June
---
Watts up with that? Solar physicist sees global cooling ahead if sun activity follows apparent pattern
---
HealthWatch: What is subcortical vascular dementia, also called Binswanger's disease?
---
Real or not? Medical documents allegedly from office of Hillary Clinton's New York doctor say she has subcortical vascular dementia, and is "having more frequent Complex Partial Seizures"; the documents are dated February 2014 and March 2015
---
Horrifying death: 10-yr-old boy was decapitated on world's highest waterslide when he flew out of his harness, say witnesses
---
MarketWatch: U.S. productivity declines for third straight quarter
---
Washington: Benghazi victims' parents sue Clinton for wrongful death
---
Adam Brodsky: Trump's 'revolution' should be embraced by both parties
---
Darren Rovell: Retiring Alex Rodriguez made more than $200K per game with Rangers, Yankees; highest career earnings in history of the sport
---
Key West: Debate rages over how best to cope with Zika in island paradise
---
Marketwatch: Wal-Mart to announce $3B Jet.com deal Monday, reports say
---
The Sporting News: Global warming message had no place at Rio Olympics' opening ceremony
---
Rio de Janeiro: Entire Russian team banned from Rio Paralympics over doping scandal
---
Hillary hack: WikiLeaks drops Hillary email labeled 'tick tock on Libya' – did Hillary sell guns to Libyan rebels that ended up in hands of ISIS?
---
updated Tehran: Clinton's private server held emails about Iranian nuclear 'spy' who was executed today: Hillary's aides discussed their scientist 'friend' and his 'problematic' decision to return home
---
Lawrence Solomon: For lies, corruption and scandal, Hillary is Trump on steroids
---
Rex Murphy: On big things and small, Barack Obama and Hillary Clinton seem more alike each day
---
Will Estrada: What actually happened at the Trump event with the mom and baby; not what media twisted
---
New Orleans: Pete Fountain, Welk/Carson clarinetist & club owner, dead at 86
---
Rio: Bomb squad blows up backpack near cycling course
---
Kenneth R. Timmerman: Ex-CIA spook who whitewashed Benghazi endorses Hillary; no surprise, was rewarded before
---
Shouted Allahu Akbar: Belgian policewomen attacker shot and killed in Charleroi
---
USC Dornsife/LA Times poll: Trump and Clinton in virtual tie in daily tracking poll, separated by 0.4 points
---
Homicides up 17% on average: Trump is right about violent crime: It's on the rise in major cities
---
Making America great again: In Trump, some Obama backers see a new champion of hope and change
---
Guardian: Oil prices plummet amid continued oversupply, with no end in sight
---
Rouen: Bar fire leaves at least 13 dead in northern France
---
Roll Call: Recent breaches raise fears of voting system hacks
---
San Juan: Puerto Rico reports elderly victim infected with Zika dies
---
Politico: How many Hillary votes will defect to Green leader Jill Stein? 'Too many' say Clintonistas
---
Khizr Khan tells Pakistani TV: Allah causing Trump to make mistakes, Sharia trumps U.S. Constitution, used Constitution as speech prop
---
Rachel Marsden: Feeling the heat, establishment ramps up attacks on Trump
---
Trump right again: Candidate was attacked for referencing video of $400M ransom being unloaded in Tehran; now confirmed by BBC reporter who posted video from the Iranian documentary
---
Tim Brown: Wikileaks founder Julian Assange: "1,700 emails in Hillary Clinton's collection" demonstrate her sale of weapons to Islamic Jihadists in Syria
---
MH370: After fruitless search of ocean, Malaysia Minister admits pilot modelled an Indian Ocean flight on his computer flight simulator
---
The Hill: Bill Clinton's call for mass voter fraud should be condemned
---
Detroit News: Mid-engine Corvette due in 2019: sources
---
Dr. Tim Ball: How the world was deceived about global warming and climate change
---
New York: 46 arrested in U.S. east coast organized crime sweep
---
Recidivism watch: Clinton's repeated claim that the FBI said her answers were 'truthful' [Washington Post fact-checker gave her '4 Pinocchios']
---
Double-shot: Clint and Scott Eastwood on film, life and politics
---
NY Post editorial: When Obama does it, it's not ransoming hostages, it's just 'coincidence'
---
Washington Post: The Obama economy is trouble for Hillary Clinton
---
Pete Hoekstra: Consequences of Clintonian recklessness; Hillary's weak leadership would give Putin another four years of nearly unrestrained aggression
---
Berlin: Terror-weary Germans turn on Merkel over refugee policy
---
Laura Ingraham: Obama's new GOP henchmen; why Ryan and McConnell should worry about being used by Obama to hit Trump
---
Paul Ryan: Democrats: Drop the politics blocking anti-Zika funding, put health first
---
Jonathan S. Tobin: Obama's cash for hostages Iran deal
---
Phil Gramm and Michael Solon: Why this recovery is so lousy; bad policies yield bad results
---
Rio de Janeiro: U.S. basketball stars and other Olympic athletes bypass sketchy local infrastructure, stay on cruise ship for Games
---
Adirondacks: Emerald ash borer beetle threatens Rawlings' wood supply for baseball bats; 90% of critical white ash species dead in some areas
---
updated London knife attack: American woman dead, 5 injured; Somali teen arrested after group of women stabbed in West End tourist area; terror investigated as motive
---
Bangladesh: British engineer who was used as a human shield by ISIS terrorists in Bangladeshi cafe massacre is arrested over attack that left 22 dead
---
Detroit News: #DNCleaks reveals DNC holds unions in contempt; treats them like obedient lapdogs
---
Dan Calabrese: Character: When and why Hillary Clinton was fired from the Watergate Committee for lies and unethical behaviour
---
San Francisco: If you own a condo in a 58-story building that's sinking and tilting, what do you do? Real question. Real problem.
---
Los Angeles: At least five dead after overhead sign pole slices through charter bus in California crash
---
Washington: Metro Transit police officer arrested on terrorism charges; aiding and abetting ISIS
---
More to come from Wikileaks: Hillary Clinton's Benghazi debacle: arming Jihadists in Libya . . . and Syria
---
'They destroyed us': Yazidi survivors rebuild lives after horror of ISIS
---
Marketwatch: Bank of England should worry about a Brexit boom, not a Brexit bust
---
Found in #DNCleaks: Khizr Khan's former law firm, linked to Hillary Clinton, the Saudi Govt and the Clinton Foundation, has its lobbying budget revealed in leaked DNC emails
---
Panic Mode: Khizr Khan suddenly deletes law firm website that showed he specialized in pay-to-play Muslim immigration; "The EB5 program, which helps wealthy foreigners usually from the Middle East essentially buy their way into America, is fraught with corruption"
---
Forgets she lives in glass house: Clinton mocks Trump for wanting more secure military communications
---
William McGurn: Trump perpetually on offense
---
Ron Fournier: I have had high-level Clinton staffers literally tell me that "trust doesn't matter"
---
Jeff Greenfield: Doubts start creeping in for Democrats; outwardly confident about their numbers, party veterans admit that all bets may be off this year
---
Peter Morici: What Hillary gets wrong about America's 'moment of reckoning'
---
Grifting: Disturbing revelations about Hillary and her 'Russian reset' pal Putin
---
Sabre rattling: China must prepare for 'people's war at sea': Defence minister
---
Democracy fissures: Ohio voter fraud no secret any more
---
Rigging elections backgrounder: Fraud and American Presidential elections: easy and common
---
Zika: Media reports Democrats want Senate recall to pass ant-virus funding; fails to report it was the Democrats who blocked Zika funding in June
---
Breitbart: Media apoplectic as Khizr Khan attack on Donald Trump goes down in flames
---
The LaFarge Connection: Secret ISIS business partner tied to Hillary Clinton
---
Ray Starmann: An Open Letter to Mr. Khizr Khan
---
Benghazi Gold Star mom Pat Smith: Why wasn't I treated with the same reverence by the media as the Khans?
---
Just north of downtown: Officials warn pregnant women to avoid Miami neighborhood affected by Zika
---
Huma Abedin from HillaryLeaks: Your tax dollars at work, despite a lost trip to Morocco
---
Hillary's legacy: U.S. jets pound ISIS in Libya
---
Townhall: Have we forgotten that Hillary pretty much called a Gold Star mother a liar?
---
Not just a lawyer: Khizr Khan's deep legal, financial connections to Saudi Arabia, Hillary's Clinton Foundation tie terror, immigration, email scandals together
---
The rest of the story: Washington Examiner: Khan specializes in visa programs accused of selling U.S. citizenship
---
As scrutiny on his background ramps up: Now anti-Trump father of Muslim soldier wants out of the spotlight, he says in TV interview
---
---
Links formerly right here, now at http://www.newswatchcanada.ca/oldnews2016-2.html
---
---
---
---

---
Meltdown: 12 reasons why this was Hillary Clinton's worst week ever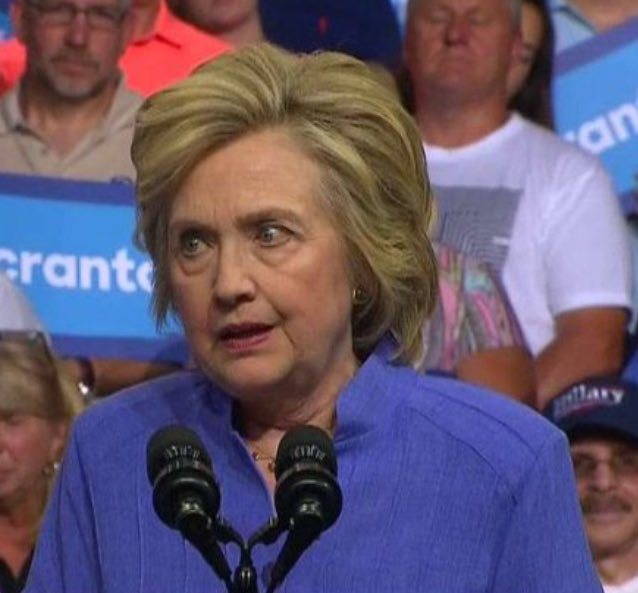 Hillary Clinton just had the worst week of her presidential campaign, if not her political life. Can she recover?
---
updated Sarnia: 1,500 American 'Marines' inadvertently 'invade' Canada;
float across border via strong wind & waves; rescued, go home by bus
---
Rio: Brazil closes, survives Olympics, will be better off for it, says Bach
---
Kingston: Canada says emotional farewell to The Tragically Hip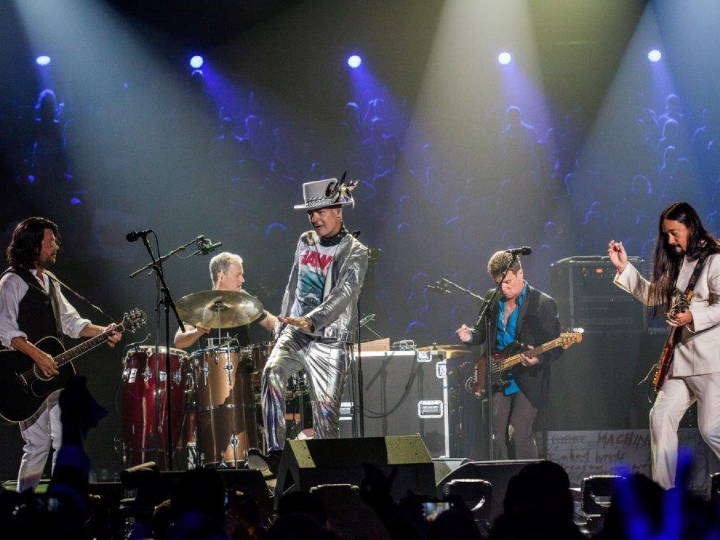 Concert-goers treated the 30-song show as a landmark moment in Canadian history: Giant flags made their way through the crowd during the performance, and before the concert began, the audience spontaneously began singing 'O Canada', with nearly everyone rising from their seats.
---
Kingston abuzz as The Tragically Hip return with an inimitable goodbye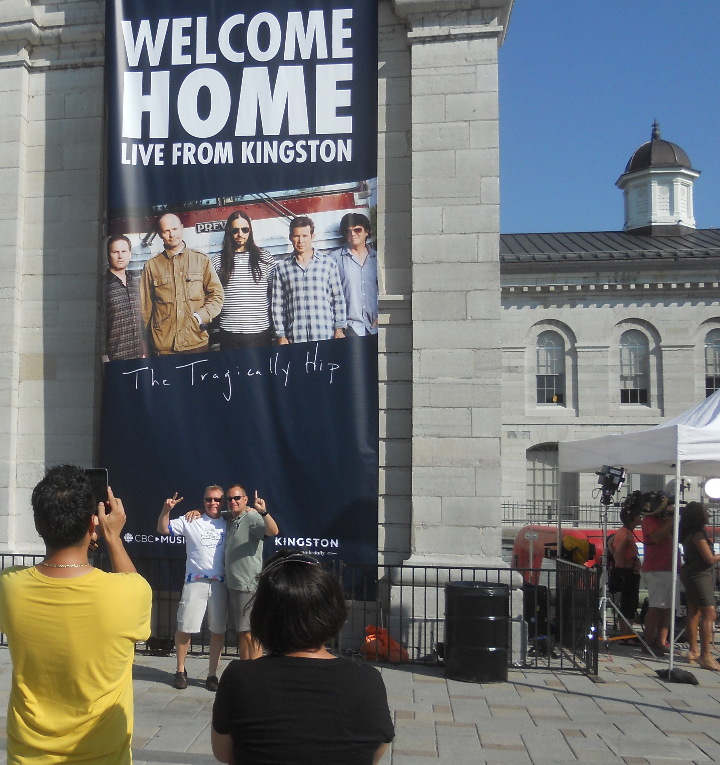 You couldn't walk 10 feet without having a friendly, but urgent media microphone thrust at you in downtown Kingston this afternoon. The line-ups at t-shirt booths were hours-long. Every radio in town is tuned to a station playing The Tragically Hip on Tragically Hip Day. You get the picture. And plenty of pictures being taken, as you see above. Rumours abound. It was broadcast live worldwide by the CBC and more than 25,000 filled Kingston's Market Square for every last note, paying homage to the hometown band made good. The pictures above were taken about 3 hours apart, same location.
---
Liveability: Rank of U.S. cities dropping due to social unrest, terrorism
---
Louisiana: Flood victims to Trump: "We knew you would be here"


Donald Trump and Mike Pence came to Louisiana to help, and they quickly got to work helping to distribute relief supplies to flood victims. They were warmly welcomed as people thanked them and asked for autographs. Neither President Obama or Hillary Clinton have come to help, and it's become a campaign issue.
---
Media that ripped Bush on Katrina ignores Obama on Louisiana flooding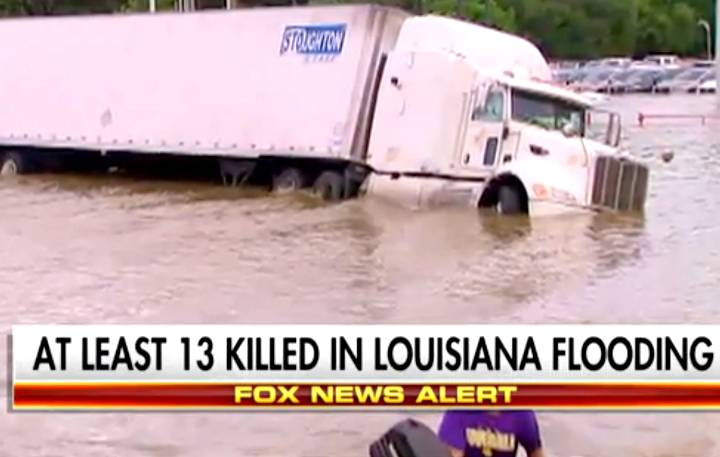 President George W. Bush was torn to shreds in 2005 by mainstream media commentators for his initial response to Hurricane Katrina — yet President Obama's much more detached response to the recent Louisiana floods has been met with resounding silence from those same outlets.
---
Aleppo: Social media haunted by image of stoic boy rescued from rubble;
5-year-old Omran Daqneesh had head wounds, was discharged after care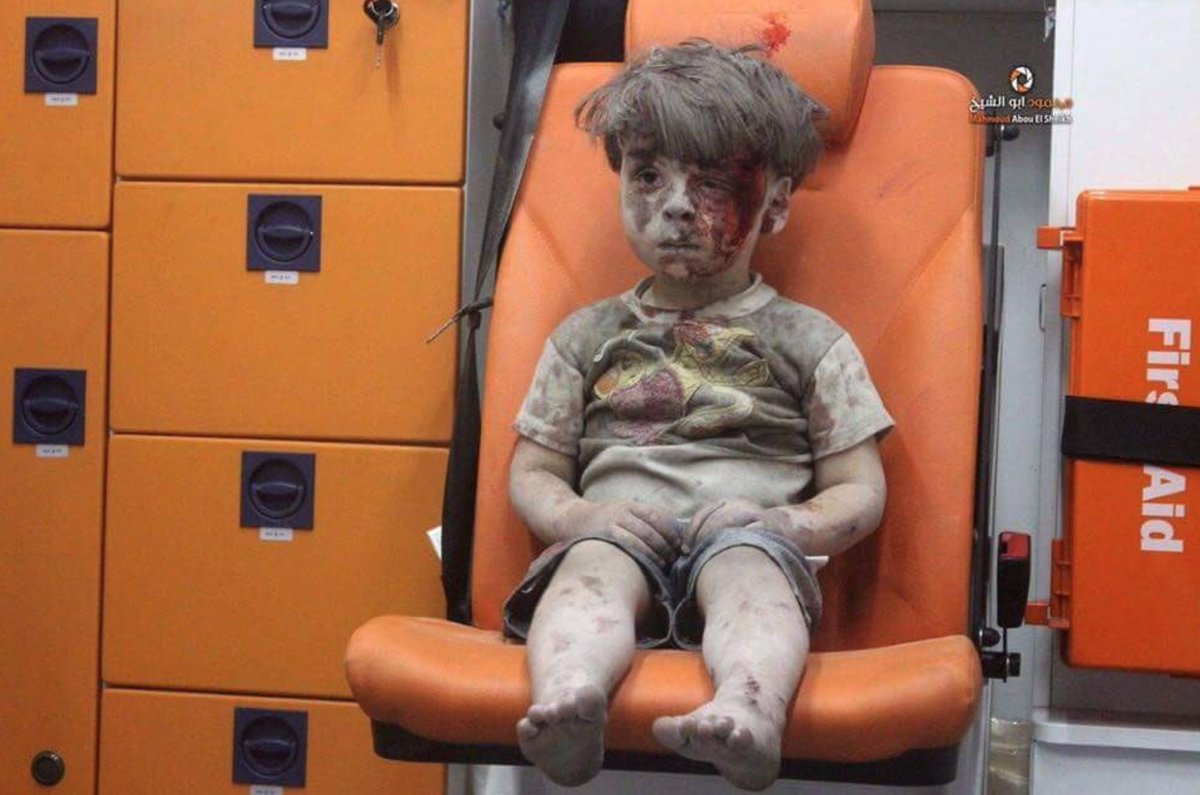 The image of the stunned and weary-looking boy, sitting in an orange chair inside an ambulance, covered in dust and with blood on his face, encapsulates the horrors inflicted on the war-ravaged northern city. Photographs of Omran were widely shared on social media. An hour after his rescue, the building he had been in was completely collapsed. ~ Twitter
---
Wisconsin: Transcript of Trump speech called "his best of campaign"
---
Wisconsin: Trump slams Milwaukee protests, appeals to black voters;
slanted ABC News report says it should have been in Milwaukee, too
---
Wisconsin: Donald Trump holds TV Town Hall in downtown Milwaukee
---
Moscow: 25 years on, Russians tell of how they defeated a coup


Boris Yeltsin commandeers a tank outside Russian White House in Moscow. People power thwarted KGB coup against Gorbachev as USSR crumbled and democratic will of the people triumphed over Communist Party dictatorship.
---
Milwaukee: Revolutionary Communist Party arrives,
stirs up trouble, wants police 'dismantled'
---
Full speech transcript: 'Understanding the Threat: Radical Islam and
the Age of Terror' as delivered by Donald Trump in Youngstown, Ohio
---
Youngstown: Trump calls for 'extreme' vetting to block extremists;
'We should admit only those who respect our constitution and values'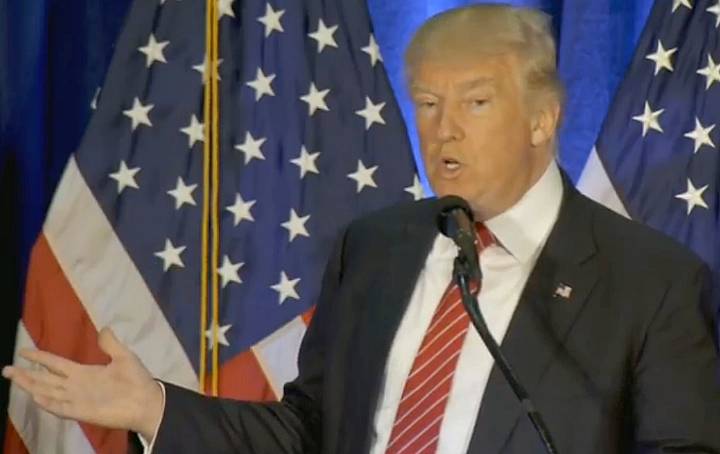 In a powerhouse speech at Youngstown State University in Youngstown, Ohio, Trump called for common sense to replace political correctness in major foreign policy speech. Speaking slowly and deliberately, the Republican Presidential nominee criticized his Democratic opponent Hillary Clinton and President Barack Obama, claiming they "unleashed ISIS" with their policies in Iraq and Syria. He will make combatting terrorism, domestic and foreign, and creating a safe country, the government's prime areas of foreihn policy focus. Trump positioned the fight against ISIS as an ideological battle akin to the Cold War. He called for cyber warfare to hit propaganda efforts online. Trump said he aims to screen out ISIS sympathizers, people who support bigotry or people who believe Sharia law should supplant American law. One of his first moves will be set up a Presidential Commission on radical Islam which will include American muslims. It will develop guidelines for vetting immigrants and controlling borders. Guantanamo Bay will remain open and foreign combatants will be tried by military courts. Those aiding and abetting terrorists singly or through support networks will be prosecuted and/or deported. "To make America safe again we must work together again." His speech was met by chants of 'USA USA USA'.
---
Trump Doctrine: Will end U.S. 'nation building' aka foreign meddling;
Instead, 'foreign policy realism' to put bulls-eye on ISIS & other extremists
---
CBS: Voting machine hacks easily available online that enable multi-voting:
"I can insert it, and then it resets the card, and now I'm able to vote again"
---
London: Kenny Baker, R2-D2 in Star Wars, dead at 81
---
Politico: How to hack an election in 7 minutes


When Princeton professor Andrew Appel decided to hack into a voting machine, he bought one online. Clutching a screwdriver, he deftly wedged out the four ROM chips — they weren't soldered into the circuit board, as sense might dictate—making it simple to replace them with one of his own: A version of modified firmware that could throw off the machine's results, subtly altering the tally of votes, never to betray a hint to the voter. The attack was concluded in minutes. To mark the achievement, his student snapped a photo of Appel — oblong features, messy black locks and a salt-and-pepper beard—grinning for the camera, fists still on the circuit board, as if to look directly into the eyes of the American taxpayer: Don't look at me — you're the one who paid for this thing. ~ Alex Halderman
---
Mike Cernovich: Hillary Clinton has Parkinson's Disease?
---
UPDATE: Firefighters defend oil storage tanks & power plants

---
Two Ontario power plants at risk; Lennox Generating Station & oil
tanks fire threat; adjacent TransCanada power plant half-built
In photo above the area between white oil storage tanks and Lake Ontario has already burned. County Road 21 has been shut down as firefighters try to keep fire from jumping road as strong winds push it east toward billion-dollar oil/gas-fired Lennox Generating Station and the new, under-construction TransCanada gas-fired power plant on same property. Many fire trucks and tankers on scene.
---
Was suicide bomber target in downtown London (pop 366,000)?
taxi was to drop him at downtown mall near train/bus stations;
or was he headed to Toronto?
---
Ottawa: RCMP releases photos of taxi in which
terrorist Aaron Driver died after bomb detonation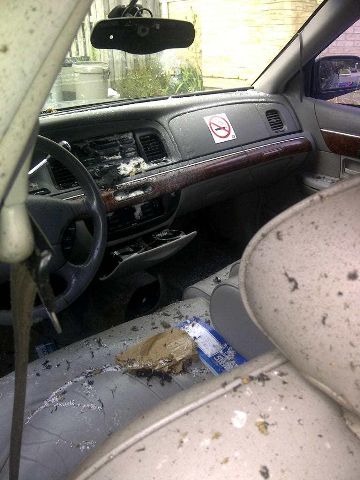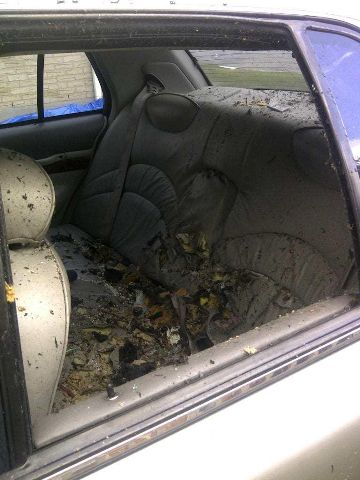 RCMP: "When he exited a residence on Park Street and entered into a cab, the RCMP's ERT engaged the suspect, there was a detonation inside the taxi, and the suspect subsequently died following a confrontation with the police," said Assistant Commissioner Jennifer Strachan, Commanding Officer of O Division (Ontario). Investigators worked diligently overnight to gather the evidence however, as this is an ongoing investigation, no additional details can be provided. We encourage Canadians to remain alert and to immediately report any suspicious or unusual behaviour to their local police or by contacting the National Security Information Network at 1-800-420-5805.
---
updated Ottawa: Mounties acted quickly when alerted by FBI
and were in "a race against time" to stop suicide bomber; taxi
got through RCMP security perimeter after surprise arrival; police not
sure how Aaron Driver died; in video he pledged allegiance to ISIS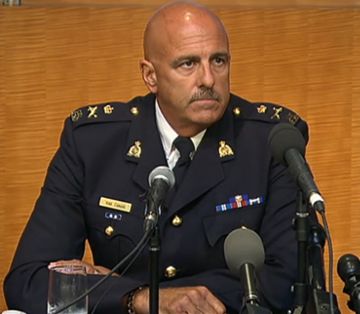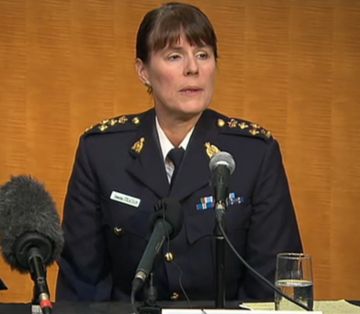 RCMP Deputy Commissioner Mike Cabana says tip received from FBI included a video of suicide bomber Aaron Driver, 24, and a warning that he planned to detonate a homemade bomb in an urban centre during morning or afternoon rush hour. In the video, aired during the news conference in Ottawa, a masked Driver is seen railing against western "enemies of Islam" and warning that the only solution would be the "spilling of your blood." Some media questions were answered Thursday afternoon but some questions remain, such as how Driver died: by police bullet or by shrapnel from bomb detonated in taxi. The RCMP's Jennifer Strachan, Assistant Commissioner and commanding officer for Ontario, said there will be an autopsy to determine how he died. RCMP thanked media for remaining quiet Wednesday about police activities when lives were in the balance.
---
Toronto: Transit and transportation agencies were warned
of imminent terror threat before suspect killed in shoot-out
---
Toronto: It was FBI who alerted Canadian authorities to
planned rush-hour ISIS bombing "in a major Canadian city"
---
CBS: Bombshell report finds U.S. Central Command (CENTCOM) gave misleadingly rosy picture of U.S. effort to combat ISIS in Iraq and Syria
---
Strathroy: After Liberals won 2015 election, Driver was released
from jail on peace bond with restrictions ending in just weeks
---
Toronto: Driver caught attention of Canadian Security in October 2014 when he was tweeting support for ISIS under alias Harun Abdurahman
---
Terrorist's father: Police "did what they had to do. He would not surrender. I'm sure they gave him ample chances."
Taxi driver wounded in explosion when Aaron Driver detonated bomb
---
Strathroy: Terrorist detonated bomb, about to set off
second when killed by police, family says


Police stage in a parking lot across the street from terrorist's house in Strathroy, Ontario, Wednesday. ~ Morris Lamont Postmedia Network
---
updated RCMP kill ISIS suicide bomber Aaron Driver in raid;
was on peace bond; had cheered killing of soldiers in October 2014


Aaron Driver, 24, aka Harun Abdurahman, formerly a Winnipeg-based ISIS supporter known to police, was also arrested in June, 2015. Driver was not charged with a crime then, but in February was placed on a peace bond, a court order that restricted his movement, required that he stay away from social media and computers and not have contact with ISIS or similar groups. The sources also confirmed that the police action on Wednesday stemmed from a new video Driver made in which he threatened an attack on a "major city."
---
updated Mounties thwart ISIS suicide bomb plot in Canada;
Aaron Driver killed in shoot-out with Mounties, SWAT team in Strathroy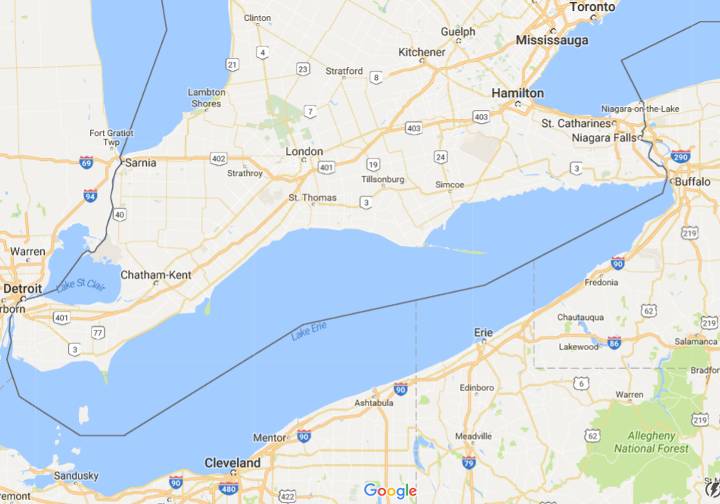 Strathroy is just west of London, Ontario, and due north of Cleveland, within a 2-hour drive of both Detroit and Toronto. According to an internal government document obtained by CTV News, the suspect planned a suicide bombing mission in a public area. The plan, according to the document, was to create mass casualties. Driver had claimed to be self-radicalized using material found on the internet, according to 2015 media reports.
---
Pro-Taliban killer's dad remains tone deaf: Would have been "better"
if his son had "fought ISIS" instead of mass-murdering for them
---
Killer's dad: 'No big deal' that he supports Hillary; made his own sign;
200+ miles from his home, says he received invitation to rally
---
Kissimmeee: Father of Orlando mass killer attends Hillary Clinton
rally; mugs for camera as she talks about nearby nightclub massacre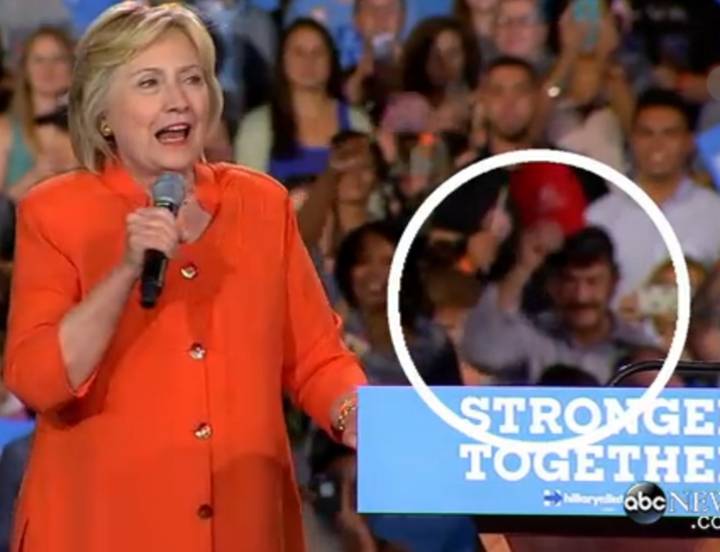 Seddique Mir Mateen, the father of the Orlando nightclub killer, had a high profile at Hillary Clinton's campaign rally in Kissimmee, Florida, near Orlando, Monday. He's seen in news video sitting in the crowd behind Clinton on stage, mugging for media cameras. His son Omar Mateen, 29, killed 49 people and wounded dozens of others in the worst mass shooting in recent U.S. history. After the rally, Seddique Mateen told NBC West Palm Beach affiliate WPTV that he supports Clinton. "Hillary Clinton is good for United States versus Donald Trump, who has no solutions," he said. Omar Mateen opened fire on the Pulse nightclub, a popular spot for the LGBT community, on June 12 and pledged allegiance to ISIS during a 911 call. The event was held not far from the site of the mass shooting.
---
updated Detroit: The Trump 'America First' economic speech - transcript
---
Detroit: Trump lays out biggest tax and economic changes since Reagan;
says Motown mess is what Clinton policies will do to whole country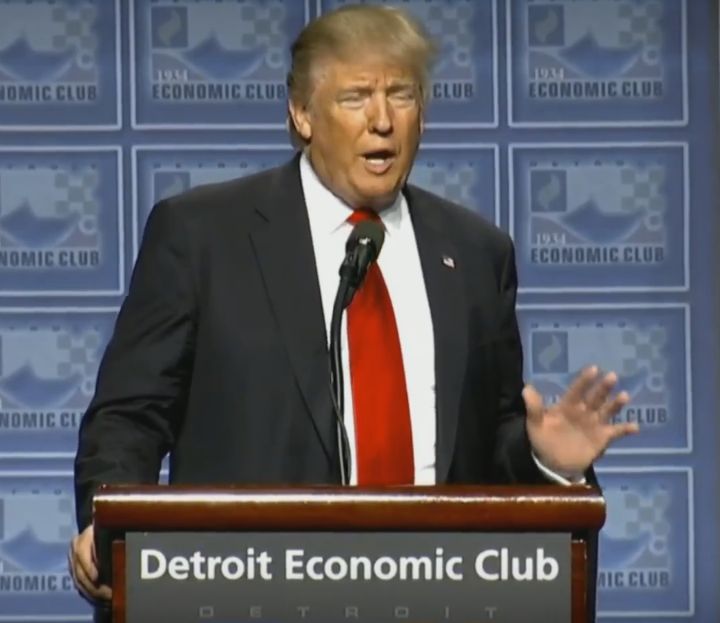 Trump delivered the biggest speech of the campaign Monday to a huge audience in Detroit. He laid out the broad brush strokes of his economic plan which will have more details to come. But there was plenty of change offered, from a way for companies to bring foreign profits home without a high tax hit, to eliminating taxes completely for low-income Americans and cutting taxes for all Americans, and reducing down to the 3 tax brackets favoured by the House of Representatives. Large and small businesses will have their tax rates cut to 15% from 35%, making them competitive with the rest of the world. Trump threw down the gauntlet.
This is the link to the full speech on Youtube.
---
Pakistan: Breakaway Taliban faction claims Quetta hospital bombing
---
WSJ: Trump tax breaks on 'pocketbook' issues will help families
---
updated Quetta: Suicide bomber kills at least 93 at Pakistan hospital
emergency room as mourners gathered; 120 injured
---
Atlanta: Delta Airlines computer failure grounds flights
worldwide; blamed on local power outage
---
Toronto: U of T research chemists invent vitamin-driven battery;
checks all boxes: cheaper, safer, powerful, bendable, environment-friendly
---
Kudlow: Trump to announce tax cuts Monday for all income classes
and businesses large & small; tax deductions for childcare and elderly
---
'Rio is ready to make history' — Olympic Games begin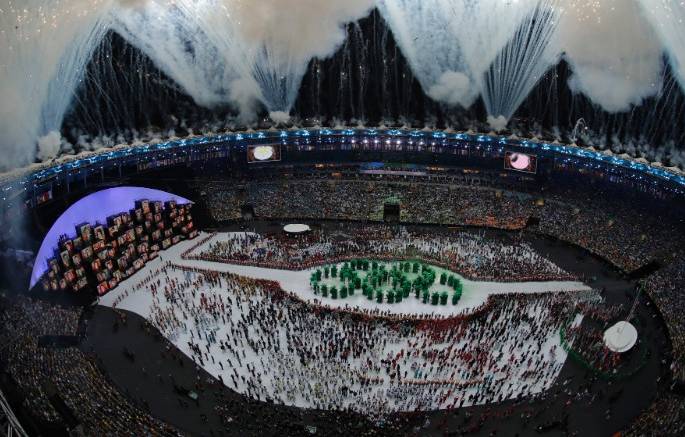 Rebirth and regeneration. That was the message behind a vibrant Opening Ceremony that heralded the start of the Rio 2016 Olympics. From supermodel Gisele Bundchen's tribute to the "Girl from Ipanema" to the promise of an athletes' forest to be planted after the Games, Brazil's big night saluted the country's past and pointed towards a greener future.
---
Olympics open: Usain Bolt skips opening ceremonies, Phelps at 1st of 5
---
Reuters/IPSOS poll: Clinton loses convention bump, now
in virtual tie with Trump as 3-point lead same as error margin
---
Matthew Stein: The great Zika cover-up; criminality and mass deaths
---
Rukmini Callimachi: How ISIS built a global network of killers
mandated to plan attacks around world; jailhouse interview in Germany
---
Niall Ferguson: Fishtown vs. Belmont, 2016


Donald Trump greets supporters after a campaign rally on Monday in Mechanicsburg, Pennsylvania. Niall Ferguson: "The declining, dangerous country that Trump described in his supposedly 'dark' acceptance speech at the Republican National Convention in Cleveland was Fishtown writ large. Indeed, you could simply change the names. For Fishtown read Cleveland; for Belmont read Philadelphia, where the Democrats held their convention last week. Viewed from Belmont, everything is awesome. President Obama's speech on Wednesday was a masterpiece of self-congratulation. He proclaimed his "faith in America — the generous, big-hearted, hopeful country that made my story." He celebrated the United States of Diversity." ~ John Moore Getty Images
---
Toronto: Mayor proposes 21-acre park over downtown rail corridor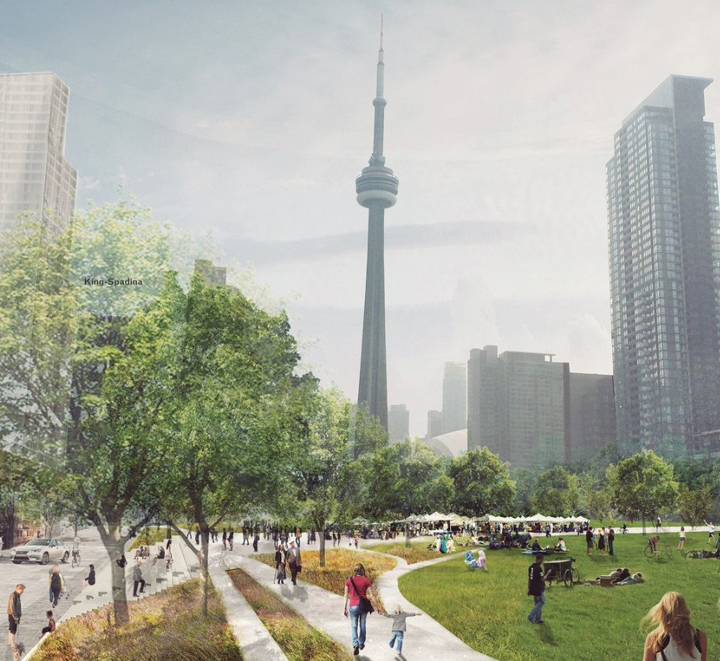 Toronto Mayor John Tory and Councillor Joe Cressy announced the City of Toronto's intention to protect more than 21 acres (8.5 hectares) of land in downtown core for the future development of an iconic city park called Rail Deck Park. This initiative is part of the City's TOCore project, a response to the rapid development and intensification of Toronto's downtown that is placing pressure on physical and social infrastructure.
---
Act of war? North Korean missile narrowly misses Japan,
lands within Japanese 'commercial waters' just over 200km from land
---
updated Dubai: 300 safe as Boeing 777 crash lands, explodes on runway


Emirates reports no fatalities in the crash, all 282 passengers and 18 crew evacuated safely. But a firefighter died battling the flames. Thick black smoke could be seen rising over Dubai International Airport after an Emirates Boeing 777 made an emergency landing at around 12.45pm local time. There are reports the landing gear for the plane, which had flown from Trivandrum International Airport in India, may not have come down fully prior to touching down. Other reports claimed a fire had started mid-air before landing. Dramatic footage shows the aircraft exploding in a fireball on the runway, with the force of the blast throwing a huge metal panel from the plane into the air. ~ Daily Mail
---
In secret: U.S. sent $400M cash to Iran as Americans were freed
---
Judge Napolitano: Many in intel community 'fear' a Hillary Presidency
---
Whistleblower's stunning claim: "NSA has all of
Hillary's deleted emails, it may be the leak"
---
Counter-punch: Donald Trump responds to personal attack by Obama:
"President Obama has been a failed leader who along with Secretary of State Clinton created a foreign policy that has de-stabilized the world"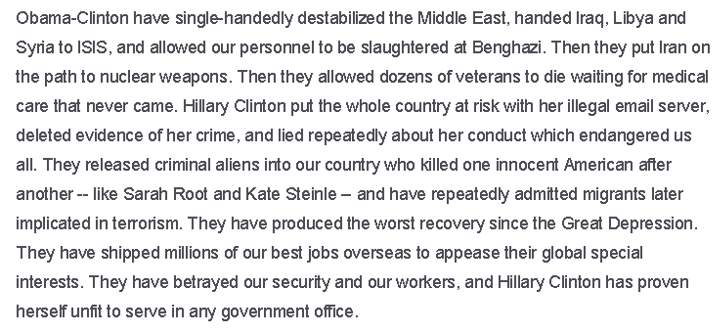 Trump went on to say: "She is reckless with her emails, reckless with regime change, and reckless with American lives. Our nation has been humiliated abroad and compromised by radical Islam brought onto our shores. We need change now." - Donald J. Trump
---
Piezoelectric delivery: California freeways will soon generate electricity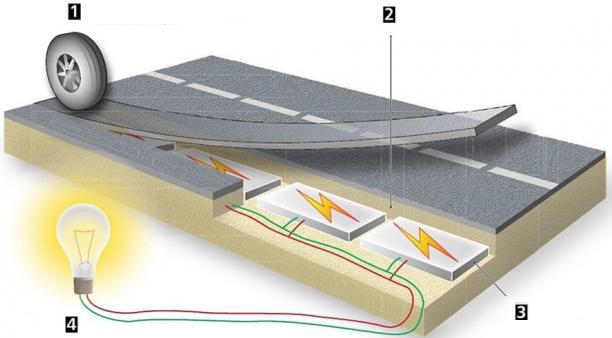 The California Energy Commission has agreed to fund multiple piezoelectric pilot projects in the Golden State. According to a commission report, "Piezoelectric crystals give an electrical discharge when mechanically stressed." So as vehicles roll over a highway embedded with these crystals, an electrical current is created, which can be harvested to feed the grid. Similar programs have been launched in Israel and Japan, while Italy has a roadway project in the works.
---
The Atlantic: Why can't Hillary Clinton stop lying?
fresh from Philly, right back in hot water with another fabrication
---
Simon Worrall: The dark history behind the glittering Olympic Games
---
Russia expert Cohen: Trump wants to stop the new Cold War before another 'Cuban Missile Crisis'; American media doesn't understand
---
Turkey kills 35 Kurdish militants who attempt to storm army base
---
updated Texas: 16 dead as hot air balloon hits power wires, burns & crashes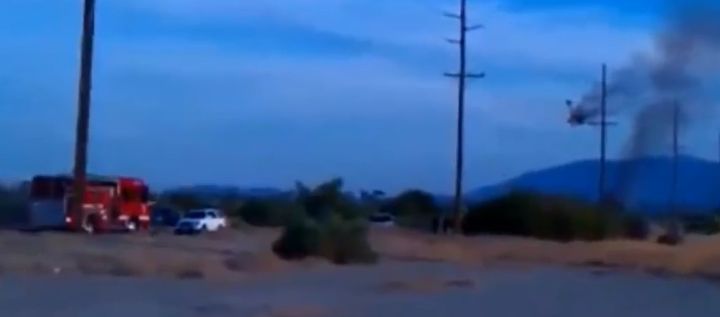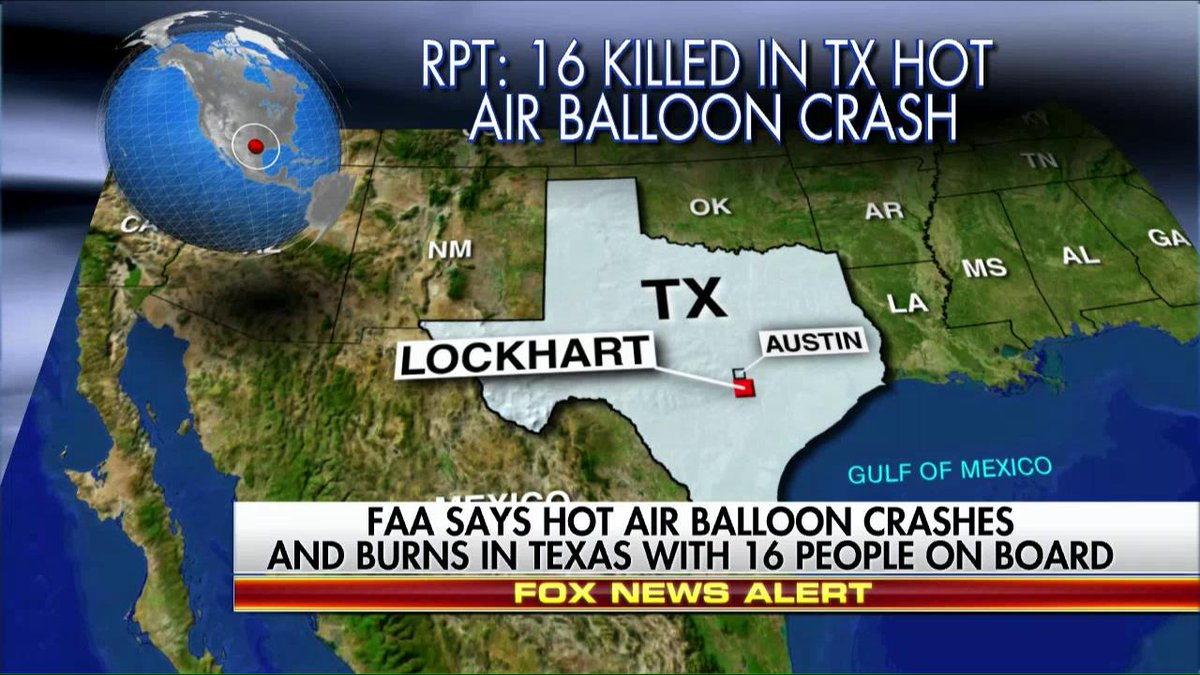 This video capture, top, shows the power wires the balloon hit before catching fire. A fire truck is shown racing to the scene. The accident happened about 7:40 a.m., Saturday near Lockhart, Texas. The FAA and the NTSB are investigating. Lockhart is about 30 miles south of Texas capital Austin.
---
Miami: More bug spray, less dining al fresco planned in Zika zone
---
Miami: Officials encourage travellers not to shun Florida for Zika
---
Florida: Miami blood donations halted over Zika virus fears
---
'Thank our creator, Allah': But freedom was short for Nuttall & Korody
---
Victoria: BC Supreme Court tosses Nuttall-Korody terrorism conviction;
2013 plot to bomb Canada Day; federal government launches appeal
---
---
Links formerly right here, now at http://www.newswatchcanada.ca/oldnews2016-2.html
---
For full news link archives since December 7, 2009
follow page links from
NWC Old News
Welcome to Worldwide Visitors
Send news tips to
Editor@NewsWatchCanada.ca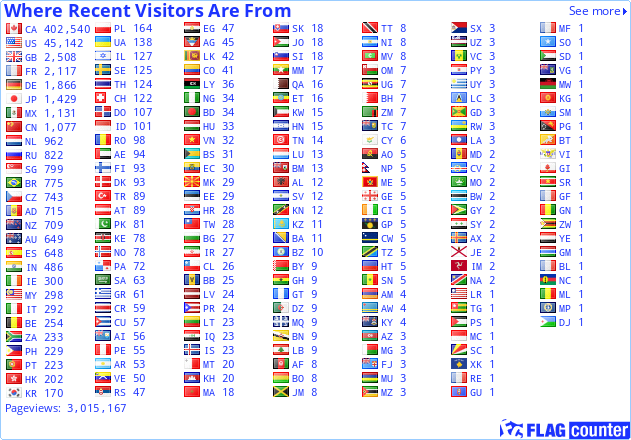 SELL locally and to the entire World!

~ ears, blocks, dedicated ad pages available ~
---
TOP LINK
Kingston: Gord Downie brain cancer fund raises $265K, still growing
---
Michael Campbell: The shocking drop in Vancouver real estate
---
Cult of personality: Feds spent $6,662 on photos of Catherine McKenna and her staff during Paris climate change talks
---
Elsie Wayne: Saint John Mayor, MP and federal Progressive Conservative leader, dead at 84
---
Financial Post: How a potential housing downturn could hit hard for Canada's big banks — eventually
---
Bill Vander Zalm: Metro Vancouver may regret foreign buyers tax
---
Toronto: Canada's Olympians return home tired but happy
---
Michael Campbell: Time to celebrate excellence again
---
Tisdale: Saskatchewan town replaces slogan 'Land of Rape and Honey' with 'Opportunity Grows Here' after 60 years
---
Revelstoke: Conservation officer forced to kill nine bears in one week
---
Kingston: Downie praised for uniquely putting Trudeau on spot about living up to lagging election promises on indigenous issues
---
Canadian problems: Ontario teen calls 911 saying she was forced to go on vacation to a cottage with parents
---
Andrew MacDougall: When the sunny ways are so bright, journalists need shades
---
Ottawa: Elizabeth May not leaving big leader's salary behind over Party's anti-Israel policies
---
Montreal madness: Owners fined $149 after poodle leaves neighbourhood -- on leash
---
Michael Campbell: This changes everything
---
Dream trip: Prince William, Kate and kids to tour Rain Forest in coming Royal trek through British Columbia and Yukon
---
No more fun, games and money-wasting frivolity? PM Trudeau, Ministers warned 2nd year will be full of hard choices
---
Montreal: Alimentation Couche-Tard to buy CST Brands for $3.67B (US); will sell some assets of CST after deal
---
Kingston Whig-Standard: Passionate fans flock to town for Hip show
---
BBC: Canadian band The Tragically Hip give last emotional concert
---
AP: A delirious sold-out crowd and countless Canadians on live TV watched the final concert by rock band The Tragically Hip
---
The New Yorker: Watching Canada's biggest rock band say a dramatic goodbye
---
Strathroy: Only blasting caps detonated from Driver's bomb, not core explosive; its failure saved taxi driver's life
---
Dave Bidini: Fully, completely: The Hip unites us all
---
Eric Anderson: Why The Tragically Hip is more than Gord Downie's patriotic lyrics; The Hip created challenging and artistic rock music
---
Washington Post: Canada's unofficial poet laureate is dying. He's giving one last concert before he goes.
---
Forum Research poll: Ontario: Progressive Conservatives 41%, Liberals 28%, NDP 23%, Green 6%
---
Hockey, high school and the Hip: Martina Fitzgerald on her childhood friendship with Gord Downie
---
Ottawa: Canadian inflation rate falls unexpectedly to 1.3% in July as retail sales also register surprise drop
---
David Akin: Entitlement is the Liberal kryptonite
---
Strathroy: Taxi driver wounded in terror bomb blast plans legal action against police who failed to protect him from Aaron Driver
---
Toronto: Ontario Liberals create secret panel on future of new highway 413
---
Michael Campbell: List of rapid technological changes here now!
---
Limogate: Ranting owner of limo service which over-charged for ferrying Liberal Health Minister grudgingly says he'll refund the money he was paid
---
Hipstock: Kingston preps for invasion of Hip fans to watch final show on video screens in market square just blocks from where it's happening; no rain in forecast
---
John Gamble: Nation building with transportation utility corridors dedicated to multiple infrastructure assets, including road, rail, pipeline and communications projects can tie the country together
---
Limogate: Turns out Philpott pushed over $7500 to Liberal limo company; she should pay it back say critics: "she has overpaid a Liberal activist three times the going rate"
---
Chantal Hébert: RIP Mauril Bélanger a warrior for francophone rights in Ontario
---
Geneviève Lajoie: CAQ MNA Nathalie Roy calls for Canada burkini ban: "For me, the burkini has no place in Québec, has no place in Canada. The burkini, which is an accoutrement to hide the female body for cultural or religious reasons because the female body is impure, never, neither I nor my party will not accept this gear here!" [google translation]
---
Hill Times: Directing MPs through new call centre for immigration cases disastrous; backlogs building, clogging Constituency offices with dire cases
---
Toronto: Liberal Health Minister spent $1,700+ in one day on limousine service owned by one of her campaign 'volunteers'
---
Ottawa: Rationalization of federal government websites and data centres continues to make progress
---
Kingston: Americans confirm find of Niagara-bound sloop off Oswego in Lake Ontario that sank in 1803; 2nd-oldest shipwreck in Great Lakes
---
Michael Campbell: The dog days of summer
---
Matt Gurney: Don't send Canadian troops to dysfunctional UN missions
---
Ottawa: Social conservative MP Brad Trost joins federal Conservative leadership race
---
Erin O'Toole: Liberals' electoral reform debate denies Canadians their say
---
Government doesn't know best: Manitoba's Sayisi Dene: Forced-relocation, racism, survival
---
UK study: Kids' behaviour linked to moms' use of Acetaminophen during pregnancy
---
Tyranny of big government: Ontario gun owners' long ordeal finally over, their lives destroyed
---
Rio: As Bolt wins expected 100 metre gold, Canada's DeGrasse takes bronze with his personal best of 9.91
---
Ottawa: Canada need not import Australia's woes with ranked ballot voting system
---
Regina: Saskatchewan Premier condemns 'racist and hate-filled' comments after fatal shooting
---
Toronto: Intense storm lashes southern Ontario, downing trees and power lines, affecting internet traffic
---
#Rio2016: Russia's lone track and field athlete now banned from Rio Olympics
---
CRTC report: Canadian mobile phone bills still rank among most expensive in G7
---
Alberta: Jason Kenney leapfrogs ahead of race, spooks PC rivals and NDP
---
Whitefish Lake: Police charge 19-yr-old cousin with killings of Alberta teen sweethearts; was close friend of both
---
Toronto: First Canadian case of Zika-related defects in fetus
---
Not common criminals: "The justice system: You're the culprit, you failed us" — Driver case exposes gaps and failures in Canada's security screening measures
---
Safety second: Why the community wasn't warned about Aaron Driver; Public warning would have been both legally problematic and 'counterproductive', 'expert' says
---
Candice Malcom: Bill C-51 played role in thwarting Driver's attack; after FBI tip, agencies worked together in ways they couldn't have previously to ID and locate the bomber
---
Ottawa: Justice Minister says too many natives behind bars solved by more lenient sentences for them, not less crime; natives make up 4.3% of the population but over 25% of inmate population
---
ISIS: Driver's "mistake" was releasing jihadist video before the suicide attack
---
Toronto: Ontario farmers battling drought while Prairies battle wet conditions
---
By the numbers: Southern Ontario's ultra-dry summer
---
Rio: Behind the sudden dominance of Canada's Penny Oleksiak
---
Ottawa: Green leader Elizabeth May should have foreseen furor over anti-Israel resolution; former candidates say she welcomed anti-Israel activists into her 'shadow cabinet'
---
Paul Wells: Toronto Star columnist says it's folly to assume Canada is immune to terrorism, more Canadians are going to die no matter what we do, he argues
---
updated Peterborough: Pilot of stolen plane dead after crash on street in city's south end
---
Toronto: Ontario Liberals would have edge under proposed election financing reforms, warns Auditor General Lysyk
---
The hidden risk: Toronto Star reporter who interviewed Aaron Driver 'shocked' by news of his death
---
Rio: Penny Oleksiak wins 4th medal and Canada's first gold; most successful Canadian Olympian at one Games; gold, silver, and two bronze medals at age 16
---
Arctic Ocean: Greenland sharks have an average lifespan of 272 to 512 years, hit puberty at age 130+
---
Michael Campbell: Big hitters warn of market meltdowns
---
Phil Gurski: Canadians, we need an honest talk about preventing terrorist attacks
---
Strathroy: Neighbours say they should have been told by police that terrorist suspect lived there so they could have "kept an eye on him"
---
Strathroy: Former friend of Aaron Driver, terrorist killed in police shoot-out, said personal issues made him vulnerable to extremist beliefs
---
Ontario: London police swarmed local neighbourhood with a "heavy presence" Wednesday night as part of terror investigation
---
Calgary: Lightning strike injures 4 roofers near Calgary airport
---
Don Braid: NDP ally undercuts claim of $2B loss on power deals
---
Media meltdown: Canada's largest newspaper, the Toronto Star, cuts 52 jobs, drastically reducing tablet edition staff; to re-focus on "breaking news, investigations and special projects", its traditional strengths
---
Montreal: 1 dead, 6 injured after fiery tanker truck crash in Montreal
---
Michelle Rempel, MP: Serious questions about GHG policy
---
"Sad moment for Canada": Former Green Party president reacts to party endorsement of BDS: "It's sickening"
---
Joe Oliver: Regulations are sinking small and medium-sized enterprise growth
---
Halifax: Nova Scotia's Liberal Environment Minister hopes Harper-era emissions deal stays; province has highest electricity rates in Canada due to higher cost of electricity from intermittent wind power
---
Michael Campbell: Olympic excellence confuses Canadians
---
Bad paper work blamed: Candidate for UN Secretary General among those denied visa to Montreal's World Social Forum
---
Ottawa: Liberals eye revamped West Africa special forces mission; a new deployment of regular troops in war zone?
---
Michael Campbell: Making sense of market action
---
Lorrie Goldstein: Small parties, extreme power
---
David McLaughlin: It's our electoral system, not Parliament's; anything less than a citizen-focused electoral reform consultation will cheat Canadians out of their rightful voice
---
Ottawa: Former Veterans Affairs Minister O'Toole considering run for Tory leadership
---
Tim Naumetz: Kellie Leitch's fundraising success indicates deep shift in party dynamics
---
Rio: 'They came out a little pissed off': Canada channels frustration into brilliant Olympic rugby bronze
---
Enfield: 'He's in my house!' Sidney Crosby shows up on doorstep of shocked family in rural Nova Scotia
---
Victoria: Canadian-led archeologists draw 250,000-year-old rhino blood from stone
---
Delta down: Complexity, mixed technology makes airline computer systems vulnerable to outages
---
Montreal: Government of Canada finally pulls logo from left-wing World Social Forum after Liberal MPs complain about anti-Semitic program
---
Chantal Hébert: National pipeline debate could rival constitutional wars of 1990s
---
Saint John: TransCanada Energy East pipeline jobs, safety focus of public hearings
---
Detroit: Trump campaign says he would ask TransCanada to re-apply for Keystone XL, would re-negotiate the 22-yr-old NAFTA treaty, or walk away from it
---
Barrie: 2 Ornge aircraft hit by lasers in one day; 2016 already a record year for laser strikes
---
David Akin: Climate scientists evaporating under Trudeau, not Harper
---
Toronto: A&W sales rise as focus on food quality, customer service wins over fast food crowd
---
Lisa Raitt: Atlantic Canada being treated like a 'backwater' with Supreme Court snub
---
Stanley Hartt: Independent Senate could halt rush to ill-advised electoral reform
---
Michael Campbell: Greg Weldon: On the brink of soaring move up in gold & silver
---
Rio: Napanee's Brittany Benn says Rugby Sevens ready to win Olympic gold; won Pan-Am gold last year
---
Laura Payton: 'It feels like theft': Ontario wineries frustrated by government obstacles
---
Barry Cooper: Electoral reform needs mandate
---
Ben Rayner: How the Tragically Hip was always ahead by a century
---
Mark Bonokoski: Where's the bark from Canada's unmuzzled scientists?
---
Steve Simmons: Eugenie Bouchard's Olympic experience has her 'on a cloud'
---
Robyn Urback: What does Canada do with a serial sexual offender, who has repeatedly failed parole? It releases him, again.
---
Hamilton: Three dead, seven in hospital after early morning house fire
---
J.J. McCullough: Trudeau's Supreme Court reform is a sham
---
Ottawa: Liberals not doing enough to boost economy
---
Milverton: Amish children less-prone to asthma, and it comes down to their adherence to old ways
---
Hillier: Ontario winery wins right to tell consumers where it's located after battle with VQA
---
Toronto: Scarborough-Rouge River byelection begins with accusations, request for Elections Ontario investigation
---
Don Braid: Behind the risky lawsuit, NDP plans big changes in the Alberta electrical system
---
Heron and heroes, 50 years ago: The Ottawa bridge collapse that shocked the world: 'They didn't have much time to scream'
---
Financial Post: Canada's jobs shocker, record trade deficit stir concerns about economy
---
Wall Street Journal: Canada's trade deficit hit a record in June; 4th-straight month Canada's trade deficit exceeded $3B, a record string
---
Financial Post: Bombardier Inc. delivers 'controlled and predictable' quarter, reduces cash burn
---
Edmonton: Alberta unemployment rises to 8.6% in July, highest rate since 1994
---
Ottawa: Canada loses 31,200 jobs in July, biggest one-month drop in full-time work in nearly five years
---
Toronto: TSX rises as Magna jumps, U.S. jobs data boosts sentiment, overshadowing dismal Canadian trade and employment numbers
---
Ottawa: Trudeau hid what he knew about Tootoo exit from media, public
---
Ottawa: Crimes committed and serial anti-social behaviour on previous days by Abdi preceded the 911 call from coffee shop which brought in police, says shop owner, pointing out his victims and crimes have been ignored in media
---
Change of heart by GM, President: Blue Jays to keep ace Aaron Sanchez in new 6-man rotation; all affected "signed-off"
---
Jerusalem: Israel arrests World Vision manager in Gaza, accused of diverting $$ millions in Christian charity money to Hamas terrorists
---
Christie Blatchford: Christine Sinclair adds another leadership moment to her legacy of brilliance
---
Anne Jarvis: Will Canada just buy the Ambassador Bridge and get rid of all the Moroun headaches once and for all?
---
Ouch! Edmonton contestant gets flaming arrow to neck in America's Got Talent stunt gone wrong
---
Matthew Fisher: Fear and violence rule Rio's favelas on eve of Olympic Games
---
Brian Hutchinson: Head of missing women inquiry accused of perplexingly soft sentencing in past decisions
---
Vancouver: Metro Vancouver home sales dropped 26% in July
---
Unintended tax target: 'I've never been this hopeless': B.C. man blindsided by foreign buyer tax
---
Overall, homicides up 43%: 'Small group of people' to blame as shooting deaths more than double in Toronto, Mayor Tory says
---
Toronto: Anglo American's De Beers kicks off major new diamond mine in Northwest Territories
---
Vancouver: Foreign Buyers Tax: Realtors begin to report sales deals collapse
---
Montreal: BCE beats profit estimates as Canadian wireless pie grows
---
Mel Hurtig: Ardent nationalist, author and publisher, dead at 84
---
Fort McMurray: Nearly $300M was raised by Red Cross for wildfire recovery effort
---
More competition: Tory leadership hopeful Maxime Bernier promises to shake up airline industry
---
Margaret Cooper: Bletchley Park monitor of German U-boats during WWII, helped save tens of thousands of lives, dead at 98
---
Michael Campbell: We'll worry about it later... it's just our kids
---
Ottawa: Homicide victim was in witness protection after firebombing trial; killed in an Ottawa crack den last month
---
Ottawa: MMIW Commission made up of 4 women and one man; 4 lawyers, including judge and law professor
---
Ottawa: Five commissioners to probe missing, murdered indigenous women in Canada; already over-budget, on announcement day; budget jumps $13.8M, will now cost at least $53.8M
---
Crux of the Matter: U.S. liberal media destroying democracy with 'Yellow Journalism'
---
Ottawa: F-35 clears major hurdle as US Air Force declares it combat-ready
---
Calgary: Soudas' master's thesis discusses evolution and growing power of PM's director of communications
---
Montreal: City doubles budget for lead pipe replacement, but still puts $$ ahead of public safety as homeowners forced to pay or no replacement; project moving at snail's pace as lead poisoning continues
---
Vancouver: B.C. foreign buyer tax won't make big dent in housing affordability, experts say
---
Thunder Bay: Bombardier wins $438M contract to build 125 GO Trains for Toronto-area transit
---
Montreal: PK Subban roasts Canadiens at Just for Laughs benefit gala
---
Ottawa: New Supreme Court justice recommendation board to be chaired by ex-PM Kim Campbell; Trudeau still makes final decision after extra layer of bureaucracy
---
Yorkton: Two tornadoes touch down, one destroys home and barns in Saskatchewan
---
Debris shows: MH370 was flown into water, says Canadian air crash expert
---
Tillsonburg: Man killed by lightning strike as he mows lawn
---
Rex Murphy: By killing a priest in France, terrorists have clearly stated they're waging a war on Western religion
---
Colin Aitchison and Zachary Rose: OUSA calls for no consequences for graduates who leave Canada
---
Ontario: New Zealand athlete flees Rio for Toronto after three run-ins with corrupt Brazilian cops
---
Toronto: Waterloo researcher uses polarized light eye scan to identify Alzheimer's disease early
---
Ottawa: Canada's GDP shrank by 0.6% in May, worst month in more than 7 years
---
Ottawa: Liberals must explain what happened with Hunter Tootoo: former Nunavut MP
---
Toronto: Ayanle Hassan Ali, arrested after soldiers stabbed at military recruiting centre in March, found fit to stand trial
---
Halifax: Thousands of illegal cigarettes seized in Nova Scotia
---
Vancouver: 'Unknown liquid' sprayed into Brandon police officers' faces; 60-year-old man faces several assault charges
---
Toronto: Air Canada's profit tops estimates as fuel costs fall
---
Vancouver: B.C. investigators say they are aware of 26 'baby houses' as birth tourism from China booms
---
Barry Appleton: B.C. just violated NAFTA with its foreign property tax — and we could all pay for it
---
Jason Clemens and Taylor Jackson: Why governments elected by proportional representation spend more money
---
Whitefish Lake: Two teens were murdered; police believe killers "were connected with them in some way"
---
Toronto: Const. James Forcillo sentenced to 6 years in Sammy Yatim streetcar shooting
---
Waste, Liberal-style: Ontario blew $70M on an unneeded, cancelled pension plan which experts derided
---
Rio de Janeiro: Olympic organizers blame sabotage for village problems; spokesman says 400 of 3,600 rooms had defects
---
Canadian hockey/coffee/doughnut icon goes south: Tim Hortons to set up shops in the Philippines
---
Michael Campbell: Money on the run, scrambling to find safety from spreading European banking crises, and currency markets that include a substantially weaker Canadian dollar driven lower by oil glut
---
Cost of Alberta firefighting cutbacks: Fort McMurray wildfire contributes to $735M loss for Suncor
---
---
Links formerly right here, now at http://www.newswatchcanada.ca/oldnews2016-2.html
---
---