---
Brooklyn: 2nd New York City Police officer dies after gunman ambushes them in cruiser; suspect kills self
---
Zumar: ISIS morale is down, Kurdish official says, following 'biggest victory for the Peshmerga'; air strikes 'turning' war in northern Iraq
---
Deutsche Welle: ISIS is executing foreign fighters trying to quit; 100 so far, 400 arrested for trying to flee terrorist paradise of Raqqa
---
BitTorrent's offer to Sony: Release 'The Interview' safely online with us and make money
---
Maiduguri: Boko Haram executing elderly in northeast Nigeria; "more than 50 rounded up and killed at Government Day Secondary School in Gwoza"
---
Cairns: Mother arrested in Australia shock murder of her 7 children and a niece
---
Anatole Kaletsky: The reason oil could drop as low as $20 per barrel
---
Sony affair: North Korea issues threats of 'grave consequences' if U.S. refuses joint probe on cyber attacks
---
London: Instagram purges spam accounts; some celebs lose millions of 'followers'
---
Iraq: Twin blows to ISIS as Kurds break Mount Sinjar siege
---
Gotnews: Security expert: North Koreans not behind Sony hack, interview leak; it's a shakedown
---
Sony CEO Lynton: Obama wrong, doesn't know facts: "We have always had every desire to have the American public see this movie"
---
Variety: President Obama: Sony made a 'mistake' in pulling 'The Interview'
---
New York: George Clooney criticizes Hollywood in Sony cyber attack
---
New York Times: U.S. says it has proof of North Korean link to Sony cyberattack; Obama vows U.S. response
---
New York: Hackers warn not to release 'The Interview' in any form in new email to Sony
---
New York Times: Kepler spacecraft finds new 'super-Earth' 180 light-years away
---
Australia: No formal suspects yet in Cairns tragedy; responding police in shock
---
Cairns: Eight children found stabbed to death; Queensland neighbourhood devastated, Australia in shock
---
CBC: 10 things you didn't know about Vince Guaraldi's legendary soundtrack to 'A Charlie Brown Christmas'
---
Christmas legend magic: Only surviving member of Vince Guaraldi Trio, original (Canadian) drummer for 'A Charlie Brown Christmas' recreates music with his new jazz trio
---
Moscow: Putin sends mixed messages, blames West for his economic incompetence
---
Eye-opening stuff you missed in school: 5 would-be U.S. States that wouldn't be
---
Baghdad: Several top ISIS leaders have been killed recently in Iraq by coalition
---
Stunning and lost in space for 34 years: The first-ever oral history of 'Christmas in the Stars: Star Wars Christmas Album'
---
Baghdad: ISIS executed "at least" 150 females, including pregnant women "after they refused to accept jihad marriage" says Iraq Ministry of Human Rights
---
Paris: Russian sailors leave French port without Mistral warship
---
Moscow: Russia's Kontinental Hockey League on the verge of financial ruin; many players are getting paid late or not getting paid at all
---
Moscow: Businesses, money flee Russia amid rouble collapse
---
Russian meltdown: Putin says Russia economy will be cured but offers no remedy
---
Moscow blame game: Putin blames war with Ukraine on Kiev, wants it to end "through political measures, not with the pressure ... of an economic blockade or the use of armed forces"
---
AP-NORC poll: Russians confidence in economy dropping, but Putin still pulling high numbers
---
New York: Man succeeds in finding woman with ex-girlfriend's name to travel the world together
---
Miami: From joy to outrage, Florida's Cuban-Americans greet new U.S. policy
---
Peshawar: Pakistan Taliban in Afghanistan said to have plotted school massacre
---
Pasadena: How 'burps' of methane gas put NASA tantalizingly close to being able to say: Yes, there is life on Mars
---
Toronto: With thaw between U.S. and Cuba, Canada's lucrative corner of cigar sales may go up in smoke
---
Vancouver: With help of a mouse tanning salon, UBC scientists may have accidentally found the secret to wrinkle-free skin
---
Washington: U.S.-led coalition conducts 67 air strikes against ISIS
---
Hollywood: Sony pulls plug on theatrical release of 'The Interview' after barraged by more leaks, lawsuits, and theatre pull-outs after hackers' 9/11-level violence threats
---
ISIS victims: Over 230 bodies found in mass grave in eastern Syria; from al-Sheitaat tribe
---
Washington: U.S., Cuba reportedly seek to normalize relations; includes opening U.S. Embassy in Havana
---
Pakistan PM Sharif: No discrimination between 'good' and 'bad' Taliban
---
London: Britain was just 'days' from a terror attack - with 5 plots foiled since the summer, Met police chief reveals
---
Islamabad: After Pakistan school massacre, watch for the gloves to come off
---
Washington: Obama to sign new Russia sanctions bill by end of week; it will also boost the Kiev government with both lethal and non-lethal military aid
---
Moscow: Ruble crisis could shake Putin's grip on power
---
Sydney siege: PM Tony Abbott announces urgent review, including how Man Haron Monis was out on bail, obtained firearms
---
Peshawar: Pakistan in mourning as parents bury children after school attack
---
Indian media: 'Understanding' Pakistan's pain
---
Financial Times: Rouble drops another 6.3% to 72 per dollar; falls 20% since start of week
---
MIT climate scientist: 'Ordinary people see through man-made climate fears — but educated people are very vulnerable'
---
New Delhi: India's Modi gets his Margaret Thatcher moment with coal unions
---
Strobe Talbott: In 2015, Vladimir Putin may witness his empire's death knell; will Russia be dismembered the way the Soviet Union was in 1991?
---
Moscow: Russian rouble suffers steepest drop in 16 years
---
New York: Brent crude drops below $59 U.S., bounces a little, trade choppy near options expiry
---
Damascus: 48-hour battle for two Syrian bases leaves 180 dead [video]
---
Peshawar: American Jewish Committee condemns Taliban school attack; "joins the Pakistani nation in mourning the senseless loss of young lives"
---
New York: CUNY professor arrested on riot charge after NYC protest violence; had hammers in his backpack
---
'Blood everywhere': In Pakistan school attack, how one girl reportedly escaped
---
Washington: Jeb Bush announces he will 'actively explore' run for President in 2016
---
updated ~ Washington: Federal judge finds Obama amnesty unconstitutional
---
WSJ: The 20% who spread most disease; why some people are more contagious than others
---
Peshawar school attack: Backlash against Pakistan Taliban grows
---
Peshawar attack: Modi speaks to Nawaz Sharif, offers support
---
BBC: In pictures: Peshawar school attack
---
New Delhi: Modi condemns cowardly attack on Peshawar school
---
Timeline: How Pakistan school massacre unfolded
---
AP: Quotes from around the world reacting to Pakistan attack
---
Sydney: Pro-ISIS propaganda videos records and uploaded to YouTube during siege now being used by Islamists to promote more violence
---
Timeline: The Sydney siege, start to finish
---
Sydney: Cafe manager Tori Johnson died as he tried to wrest gun away from crazed hostage-taker so others could escape
---
Tale of two Sydney lawyers: One died, one escaped and helped police in Lindt Cafe hostage terror; dead lawyer leaves behind her three young children
---
Moscow: Russia raises key interest rate to 17% amid rouble decline
---
Last refuge of a scoundrel? Bill Cosby invokes racism as a shield to multiple allegations of drugging and raping women; says only black media 'neutral'
---
Philadelphia: Six dead in Pennsylvania shootings, gunman on the run
---
Loose lips: How the Sony hack panic has changed Hollywood
---
Geneva: UN says death toll in eastern Ukraine rises to 4,707 with many killed despite cease-fire
---
Sydney: Gunman takes hostages in Martin Place cafe
---
Lima: Humala says he regrets Greenpeace group allowed to leave Peru
---
Peru: Greenpeace activists damage World Heritage Site during protest
---
New York: Bill Cosby urges 'black media' to stay 'neutral' over rape allegations in new interview; 20 women now allege rape over the years
---
Washington: U.S. spending bill adds $1.46B for military to buy 15 Boeing jets
---
Syria: ISIS beheads four men for blasphemy
---
Tokyo: Abe's coalition secures big Japan election win
---
Dubai: OPEC chief defends policy, says group to try to ride out price fall
---
A gamble? New Jersey college buys Atlantic City boardwalk casino for dorm, branch campus
---
Stockholm: Sweden says Russian military jet in near-crash with passenger plane, Russia issues denial
---
John Bolton: Foreign policy & the 2016 presidential race — Obama's failures tell us what to avoid
---
John Mclaughlin: Distorting CIA's post-9/11 success
---
Cell journal: Clearest DNA image ever is generated
---
Banjarnegara: 20 dead, 88 missing after mudslide in central Indonesia
---
Tokyo: Exit polls project big win for Japan's ruling party
---
Christmas spirit alive, well and active: Woman visits Toys 'R' Us, pays off everybody's layaway accounts
---
London: Sky News special edition about air control problem shutting down UK air space [video]
---
Greece: Shots fired at Israeli embassy in Athens [video]
---
Snowden made false claims: No proof so far that NSA bugged Merkel's phone
---
Peter Roff: 'Cromnibus' is a big win for the GOP, conservatives
---
California: Reservoirs and lakes rapidly rising as rain just keeps on coming
---
Lima: Attempt to hornswaggle the world into believing climate can actually be controlled starts with language control
---
ASIO: Australian jihadists arriving and dying at same rate in Middle East
---
Erik Wemple: The full demise of Rolling Stone's rape story
---
Marketwatch: All the reasons the price of oil is dropping
---
U.S. Navy: New laser weapon works, ready for action; "We ran this weapon through some extremely tough paces, and it locked on and destroyed the targets we designated with near-instantaneous lethality"
---
Madrid: Google move will hurt Spanish publishers, not just on Google News
---
Damascus: Syria, ISIS have been 'ignoring' each other on battlefield, data suggests
---
Washington: CIA boss John Brennan defends post-9/11 strategy; the CIA "did a lot of things right" at a time when there were "no easy answers"
---
Culver City: Leaked Sony emails show intimate frame-by-frame involvement of execs in micro-managing film scene where North Korean leader Kim Jong Un graphically assassinated
---
New York: Fed bubble bursting in $550B of energy debt?
---
Maranello: Angst in Italy as high taxes chase Ferrari HQ to UK; more icons to leave?
---
Washington: Psychologist says CIA report by Feinstein's lame duck Democrats makes false charges
---
Pentagon: Italy, Turkey to service F-35 jet, engine in Europe
---
Tokyo: Honda, Nissan widen air-bag recalls after Japan rupture
---
New York: U.S. consumer comfort rises to 7-year high on jobs, cheap fuel
---
Afghanistan: Youth blows self up at Kabul play condemning suicide bombers [video]
---
San Francisco: The rain's insane in California as locals rediscover concept of umbrella and surging storm sewers; like state economy, the rain will be going south
---
Washington: Brennan defends CIA against criticism in Democrats' lame duck torture report
---
Madrid: Spain bans news hyper-links without compensation by news aggregators contrary to fundamental function of world wide web; Google says bye-bye; web censorship takes choice away
---
Separating fact from fiction: charges to come? Jackie's friends reject key parts of Rolling Stone's account of alleged sex attack as discrepancies grow
---
Washington: Torture report 'full of crap,' says Dick Cheney, as CIA steps up campaign to discredit Senate Democrats' lame duck report
---
St. Louis: Ferguson man charged with shooting at police helicopter
---
New York: Exxon sees abundant oil, gas far into future
---
Worthy: TIME magazine names 'Ebola fighters' as 2014 Person of the Year
---
Washington: U.S. and allies launch 20 airstrikes against ISIS in Syria, Iraq
---
Wall Street Journal: New leak shows scope of Luxembourg corporate-tax deals
---
Washington Post: Why we haven't seen the last of Jonathan Gruber
---
NBC: Gruber's 'glib' Obamacare remarks will keep haunting Democrats
---
Bloomberg: The three-pronged, four-hour grilling of Jonathan Gruber; glib and suddenly, suspiciously, very forgetful
---
Washington Post: The most moving moment of the Gruber hearing
---
CBS: Gruber apologizes to Congress for calling Americans stupid
---
CBS: Former CIA insider explains why Senate report is "deeply flawed"
---
CIA report: Islamist extremists from Canada, France, Belgium and Turkey telephoned convicted Ohio terrorist Iyman Faris
---
Lee Habeeb: The gospel according to Peanuts; How 'A Charlie Brown Christmas' almost didn't happen
---
Rich Lowry: Lower gas prices? Thank 'drill, baby, drill'; the laws of supply and demand have brought relief
---
Los Angeles: Arson being seen as real possibility in monster block fire which lit up sky & closed freeway
---
Anthony Watts: IPCC AR4 gets a failing grade on 21 chapters; cites 5,587 non-peer-reviewed sources
---
Solar eclipse: 112 solar companies have closed their doors in 5 years
---
Big Lie: Putin claims U.S. and Israel training ISIS to attack Russia
---
New York: Eric Garner's widow denies race was chokehold motive; "He had issues. You know? Heavy guy. And he was very lazy. You know? He didn't like to do anything. I'm not going to say he was a career criminal, but I'm going to say he had a past of being arrested"
---
Big changes to Olympics: IOC moves to add more sports, encourage more cities to bid; 28-sport cap for Summer Games abolished
---
Deutsche Welle: The 40 planned Olympic changes in overview
---
Los Angeles: No loss of life as monster fire consumes block under construction; arson possible
---
Yemen hostage shootout: U.S. says it didn't know about negotiations to free South African hostage within hours
---
New Delhi: Modi seeks to replace central planning with 'Team India'
---
Damascus: Syrian state TV says site bombed by Israel at Dimas airbase was storing high-end Russian-made S-300 surface-to-air missiles
---
Berlin: Merkel blasts Russia as bloody Ukraine clashes rage
---
Washington: Obama dumps 6 Guantanamo thugs unwanted by their states into Uruguay as refugees; his previous releases ended up in ISIS leadership, how many innocents will this group kill?
---
Hawaii: Survivors gather to remember Pearl Harbor attack
---
Washington: For US unemployed, job market hits a turning point
---
Bloomberg: How Bill Gross lost an empire as Pimco cracked
---
Baton Rouge: Republicans add Senator Bill Cassidy from Louisiana to make a 54-strong Senate team as Democrat former Sen. Mary Landrieu defeated in run-off vote
---
Bob McManus: Blame only the man who tragically decided to resist
---
Bill Cosby: Comedian called a 'serial druggie rapist' as more women come forward with stories and talk to police
---
East Lansing: Perp in custody, charged with 4 counts of attempted murder, after stabbing rampage on Chicago to Port Huron Amtrak train puts 4 in hospital
---
Peshawar: Pakistan says it killed senior al-Qaeda operative charged in NY subway plot
---
Yemen: Barking dog foils Obama-authorized rescue as U.S. and South African hostages killed by al-Qaeda; all 10 militants killed; South African was due to be released tomorrow
---
Sears: Closes 235 more stores; the long fall of the former heavyweight champ
---
New York: Global oil prices slide, rout undeterred by U.S. jobs data
---
Study: Electric eels user taser-like current to cause hiding prey to twitch, giving them away
---
Beijing: China arrests ex-security chief Zhou Yongkang
---
Iraq: ISIL, IS, ISIS or Daesh, however the name changes, the brutal thugs remain the same and under siege
---
Washington: Obama finally finds replacement for Hagel as Secretary of Defense
---
California: Precipitation re-building critical snowpacks, raising reservoirs and has iconic Yosemite Falls falling again
---
Los Angeles: Third day of rain inundates Southern California; breaks 50-year-old rainfall records in LA, Long Beach; more possible on weekend
---
Moscow: Putin says foes hope to dismember Russia; rouble falls as he speaks
---
Los Angeles: New Cosby accusers go public as Gloria Allred joins case
---
updated ~ Grozny: 19 dead after gun battles break out in Chechen capital
---
Washington: Iran launches airstrikes in Iraq against ISIS
---
Brussels: Global coalition stepping up against ISIS
---
Chechnya: Explosion, heavy fighting reported in Grozny
---
David Harsanyi: We are never going to run out of oil
---
London: Brent rebounds above $71 in turbulent oil market
---
Detroit: Takata investigated defective air bag inflator as early as 2003
---
Iraq: Exxon's 'Kurdistan' gamble may re-draw maps some day
---
Turkmenistan: Railway linking landlocked Central Asia to Persian Gulf officially inaugurated
---
Somalia: 3 killed as suicide car bomb blast hits UN convoy in Mogadishu
---
Hong Kong protest founders surrender to police
---
Los Angeles: Woman sues Bill Cosby, claiming underage abuse
---
Hollywood: Everybody's a critic; North Korea responsible for cyber-attack on Sony Pictures?
---
Beirut: Lebanon says it has detained wife of ISIS leader
---
Islamabad: Pakistani jets, ground forces kill 24 militants
---
Kenya: Al-Shabab raids Kenyan quarry, asks workers to recite Islamic creed, executes 36 non-Muslims
---
Nigeria: Islamists unleash more attacks on market where suicide bombers committed mass murder last week
---
Washington Post: Witness 10 proves Darren Wilson had a reasonable belief he needed to shoot Michael Brown
---
More than 50 dead or missing: South Korean fishing vessel sinks off Russian coast
---
Oil plunges: Is the U.S. energy sector flirting with a mini-bust that could take down the bond market with it?
---
Kiev: Large, unauthorized convoy enters east Ukraine from Russia
---
London: WHO will miss Dec. 1 target to isolate 70% of Ebola patients
---
Ponzi risk: How scale and deepening of U.S. indebtedness creates collapse risk to U.S. and world economies
---
Kabul: Taliban hit Kabul aid workers' compound, breach Camp Bastion in south
---
Supply and demand: A simple guide to the sudden collapse in gas, oil prices
---
Iraq and Syria: 15 ISIS targets hit by U.S., allies in 3 days
---
Thanks to fracking: Oil price plunge a panacea for much of world economy
---
The Force Awakens: Teaser trailer for new Star Wars movie released; it will get your heart pounding! [video]
---
Washington: In 'lost' then 'found' Lois Lerner IRS emails — smoking gun link to White House
---
Vienna - Reuters: Saudis block OPEC output cut, sending oil price plunging
---
Hartford: Black Friday shopping crowds thin after Thanksgiving rush
---
Gray Thursday: Kick-off to Black Friday is new shopping 'day' in Canada and U.S.
---
London: 'Le Black Friday' goes global with deals just a click away
---
Vienna: Venezuela backs OPEC cut as oil glut builds; prices fall
---
Ferguson: It started out quite simply, as complex things can do, a set of sad transparencies and criminal lies distorted, to make truth what they wanted it to be -- wading through pack of lies with the grand jury
---
Rich Lowry: The Ferguson fraud; bitter irony of Brown case is that if he had actually put his hands up and said 'don't shoot', he would be alive today
---
Russian economy: Buckwheat blues; after brushing aside concerns over sanctions and oil prices, the rouble fall alarms Russians
---
Ferguson: Scores arrested as organized Brown protests spread to other U.S. cities
---
Incitement: New York Times publishes Officer Darren Wilson's home address; how badly does media want mayhem?
---
Ferguson: Officer Wilson's testimony to grand jury on exchanges with thug Michael Brown which led to his death
---
Ferguson: Why many 'eyewitnesses' in the Darren Wilson investigation were wrong; "The most common element in all wrongful convictions later overturned by DNA evidence has been eyewitness misidentification"
---
ABC News interview: Officer Wilson feared for his life as thug Michael Brown punched him; "I just felt the immense power that he had. And then the way I've described it is it was like a 5-year-old holding onto Hulk Hogan. That's just how big this man was."
---
Ferguson: Officer Wilson heard on police radio about 'cigarillos' being stolen in store robbery and then saw 'cigarillos' in Michael Brown's hand; he immediately called for back-up
---
Ferguson: DNA, injuries, other crucial physical evidence all fit officer's version of Brown's assault and the shots fired, and fit eyewitness testimony: "The cop just stood there. Dang if that kid didn't start running right at the cop like a football player. Head down. I heard three bangs, but the big kid wouldn't stop."
---
Raqqa: At least 60 dead after Syrian Govt air strikes on ISIS 'capital'
---
John Ivison: Putin will be out of power within two years if West continues hard line, former Russian PM predicts
---
updated ~ Maiduguri: Islamist teenage female suicide bombers kill at least 30 in crowded market in Nigeria's northeast
---
Paris: France officially suspends delivery of Mistral warship to Russia
---
Ferguson: Thugs incited by professional protesters running amok, looting, burning
---
Ferguson: No indictment on any of 5 possible charges in Brown shooting; link to autopsy which disproved allegations
---
Ferguson: Rioters ready to riot as Grand Jury reaches decision, announcement awaited
---
Buffalo: Cuomo continues foot-in-mouth grandstanding; Al Roker and National Weather Service counter-attack, say snow was "well forecast" and "nobody should have been caught by surprise"; but Cuomo's state govt dropped the ball
---
Washington: Sen. Cruz floats Joe Lieberman to replace Hagel at Defense
---
Washington: Hagel resigns as Defense chief amid White House tensions
---
Beating cable and broadcast competitors: New level of Fox News dominance demands analysis, not dismissal
---
Ho Chi Minh City: Reforms enable Vietnam farmers to prosper as efficient export pepper producers
---
China: Beef the new Red Bull as burger craze takes off in Hong Kong
---
Vienna: Iran atom talks expected to adjourn, resume next month: source
---
Tunis: Tunisians vote for first freely elected president of post-Ben Ali era
---
Buffalo: Aerial views give sense of challenge facing the snowbound
---
Buffalo: Cuomo under-reacts, over-credits himself as rain and huge snow melt puts roofs, lives and basements on flood watch
---
Los Angeles: Long-lost letter found that inspired French-Canadian father of beat generation Jack Kerouac
---
Brussels: European Parliament may propose Google break-up in draft resolution
---
Buffalo: Region faces new round of weather threats from warm temperatures, rain and winds
---
Washington: U.S. plans to arm Iraq's Sunni tribesmen with AK-47s, RPGs, mortars
---
Beijing: China arrests man for spying on aircraft carrier base
---
Mandera: 28 dead after Somali Islamists stop Kenya bus, separate Muslims and non-Muslims, slaughter non-Muslims
---
Washington Post fact-checker: Three Pinocchios for Obama's claim that Keystone XL crude would go 'everywhere else' but U.S.
---
Robin Shepherd: Time for the exceptional superpower to act like it
---
updated ~ Nagano: Shallow M6.2 earthquake jolts central Japan; some buildings damaged
---
Peggy Noonan: The nihilist in the White House; this administration doesn't build, it divides and tears down
---
St. Louis: FBI sends 100 agents to Ferguson ahead of grand jury decision
---
Washington: Lockheed, Pentagon ink $4.7B deal for eighth batch of F-35 fighters; includes jets for Israel, Japan, Norway, Britain and Italy; price per unit drops again
---
Washington: Obama signs secret order expanding U.S. Afghanistan role
---
Lots of excess, but... Most binge drinkers not alcoholics
---
AP fact-checks: The amnesty lies Obama told
---
Pattern: Florida woman latest to accuse Cosby of forced sex
---
Iraq: Senior ISIS figure killed in Mosul
---
The Week: Three major publications have acknowledged plagiarism by Fareed Zakaria. Does CNN have no shame?
---
Hyped: Only 11% of Americans plan to shop over Thanksgiving
---
A 'pure fabrication': TransCanada CEO fires back at Obama Keystone comments
---
Paul Knappenberger and Patrick Michaels: 100% of scientists say global warming has nearly stopped
---
Dr. Tim Ball: Climate perception, projection and propaganda
---
Joanne Nova: Germany gives up on emissions target; Japan emits more CO2 than ever
---
New Twitter tools: How to search through every public tweet sent since 2006
---
Neil Macdonald: How Barack Obama's presidency has come undone; through the jaundiced eye of a media supporter
---
Washington: Republicans promise to quickly resurrect Keystone XL in new Congress
---
American Thinker: Scientist confesses he made up polar bear population estimates
---
---
Links formerly right here, now at http://www.newswatchcanada.ca/oldnews2014-2.html
---
---
---
---
NWC EDITORIAL

It's time to end the expensive wind turbine charade
and protect farmland from inefficient solar 'farms'
---
---

---
Click this for Kiev/Ukraine video links, videos & screen caps from Feb. 20/21
---
The legendary Darlene Love performs 'Christmas (Baby Please
Come Home)' for the final time on the David Letterman Show,
a longstanding Christmas tradition which began in 1986
---
Boko Haram gunmen kidnap nearly 200 women, children in Nigeria;
kill at least 32 as they raid remote village of Gumsuri
---
Moscow: Russian rouble slips as Putin speech fails to impress
---
Indian history: Successful launch, separations, and return for
GSLV Mark 3 rocket and its prototype CARE landing capsule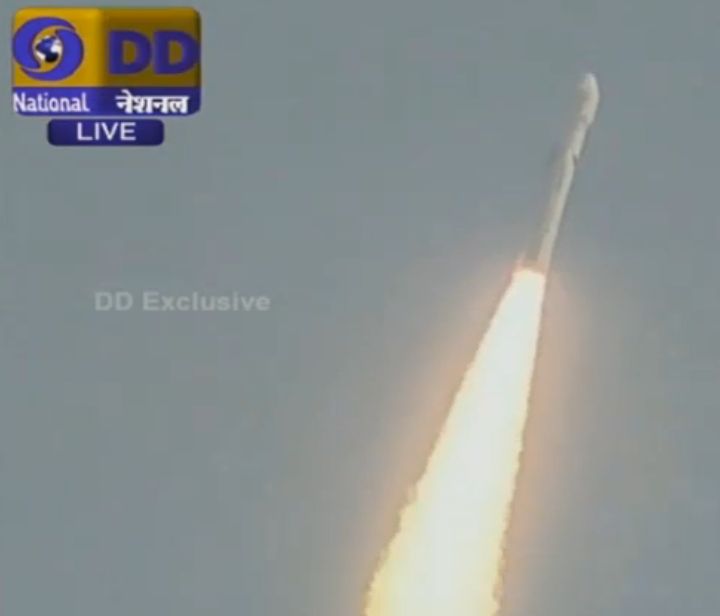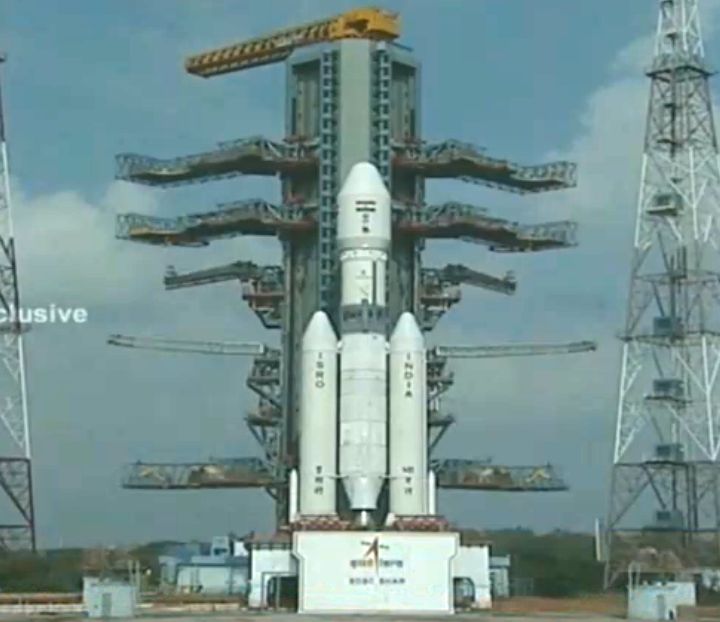 The brand-new heavy launch rocket with solid fuel rocket boosters was successful in its first experimental flight -- "performance was as expected". It met all the speed and altitude benchmarks. The rocket weighed 630 tonnes. The module was recovered from Indian Ocean. ~ screen capture SpaceFlightNow
---
Toronto: Widespread, highly organized security threats at G20, including
lethal attacks on officers and police horses says commander charged for
'kettling' protesters to assert control in deteriorating mob conditions
---
Confirmed: Cuba and U.S. resume diplomatic relations, major prisoner
swap underway; Canada and Pope Francis play host roles;
many restrictions lifted but ordinary tourism will remain prohibited
---
Peshawar: Toll now 148 as some of critically wounded die
---
Peshawar: Pictures emerge of killers and their innocent victims;
slaughter ordered by same leader who ordered Malala Yousafzai killed


The office of Tahira Kazi, the Principal of the Army Public School and College. She was reportedly set on fire in front of her students, and one of the vile killers blew himself up in her office during the 9-hour siege. ~ Mishal Husain BBC
---
Peshawar: Pupils recall narrow escapes, carnage in Taliban slaughter
---
#IndiaWithPakistan: Indians express solidarity with Pakistan after attack
---
Peshawar: 141 dead, including 9 staff as Taliban gunmen attack Pakistan school, firing indiscriminately on boys, girls and their teachers


A soldier escorts schoolchildren after they were rescued from from the Army Public School that is under attack by Taliban gunmen in Peshawar, December 16, 2014. ~ Khuram Parvez Reuters
---
Sydney: More details emerging of horrific siege: shotgun held to heads
of hostages, continual execution threats, wanted ISIS flag delivered
---
Top of the World: Now Denmark claims the North Pole


Canadian lands are closest to the North Pole and more of the Lomonosov Ridge sits within Canadian waters, but Denmark has presented a claim to the UN, arguing that the area surrounding the North Pole is connected to the continental shelf of Greenland, a Danish autonomous territory. Foreign Minister Martin Lidegaard said it was a "historic and important milestone" for Denmark. Canada and Russia have already asserted their own sovereignty over the energy-rich Arctic territory. Arctic nations have agreed that a UN panel will settle the dispute. The focus of the dispute is the Lomonosov Ridge, a 1,800km-long (1,120 miles) underwater mountain range that splits the Arctic in two. ~ BBC
---
updated ~ Sydney: Three dead incl gunman after commandos storm cafe;
police made their move after shots fired during escape by 6 hostages
---
Sydney: Details awaited; gunman said to have been killed, 4 injured
---
Sydney: Watch the police end the siege in this dramatic video

---
Sydney: Siege ends as heavily armed police storm cafe, rescue hostages;
many shots fired, concussion grenades and flashing lights used in assault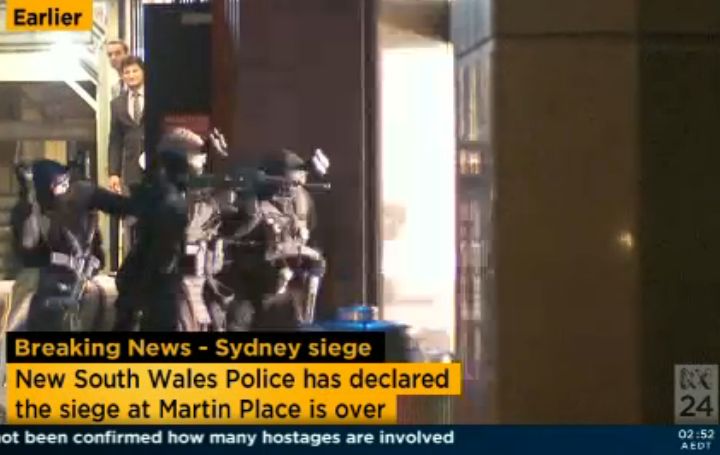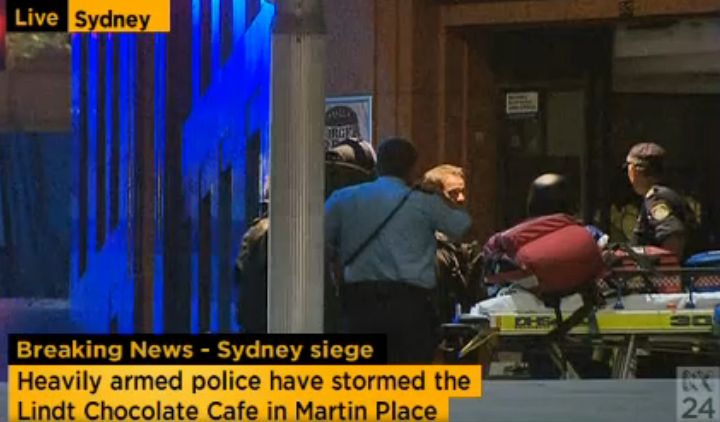 [TOP] Assault police toss a series of concussion grenades into the Lindt Cafe before moving in. [BOTTOM] Many ambulances were pre-positioned in the exclusion zone. They left with patients very quickly.
---
Sydney: Hostage-taker named as radical Muslim cleric Man Haron Monis


Radical Muslim cleric Sheik Man Haron Monis has been revealed to be the ringleader in the Sydney cafe siege that has seen up to 30 people held hostage for more than 10 hours. Monis was born Manteghi Bourjerdi and fled from Iran to Australia in 1996 where he changed his name to Man Haron Monis and assuming the title of Sheik Haron. Police until now asked the media not to name him, but have now allowed it. ~ AAP
---
Sydney: Gunman identified: refugee from Iran in 1996, 49 years old,
"fringe Islamist" was out on bail for accessory to murder, troublemaker
---
Sydney: More than 40 Australian Muslim groups condemn cafe siege
---
Sydney: Australia police move to full 'terrorism footing'
---
Sydney: Lights out at siege cafe as stand-off enters 12th hour;
gunman 'extremely agitated' when 5 hostages escaped


A total of five hostages have now escaped Lindt cafe. The number of remaining hostages is now thought to be about 15. ~ AP
---
Sydney: Martin Place siege: Separating fact from fiction
---
Sydney: 5 escape from cafe at centre of hostage crisis
---
Perp on video: News video catches hostage perp in Lindt cafe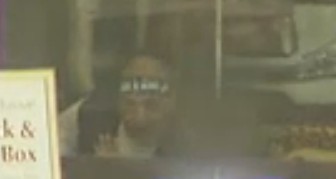 There are thought to be as many as 50 hostages held in the Sydney cafe by armed ISIS sympathizers.
---
Watch Sydney cafe siege LIVE on Australian Broadcasting Corp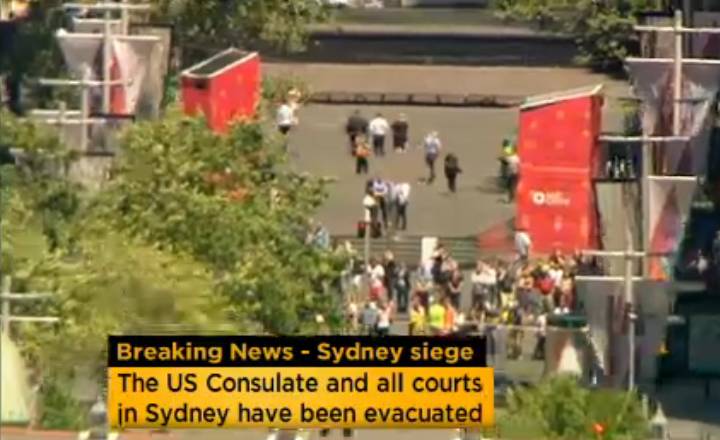 Multiple hostages held in the Sydney cafe by at least one armed ISIS sympathizer.
---
BREAKING: Channel 7 says there are 50 hostages,
including employees; cite Lindt source
---
Watch Sydney cafe siege LIVE on Channel 7 from Australia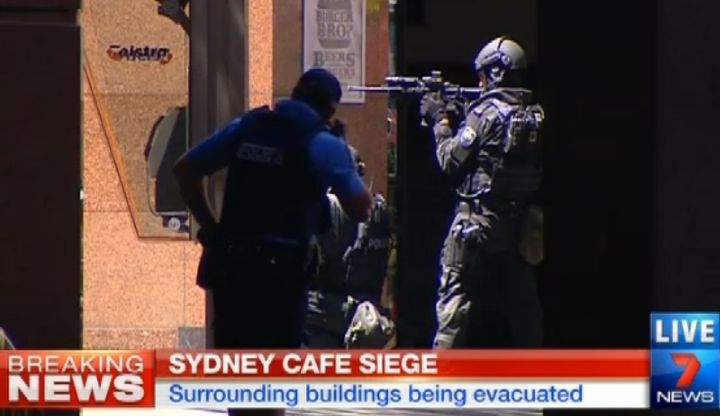 There are now thought to be 50 hostages held in the Sydney cafe by armed ISIS sympathizers.
---
Nina Grewal: Conservative Sikh MP lambastes those who take Christ out of Christmas for 'political correctness'; her tirade has become a tradition
---
Canadian CF-18s bomb ISIS bunkers near Iraq's second largest city


Royal Canadian Air Force CF-18 fighter/bombers taxi on runway in Kuwait during Operation IMPACT.
---
Solomon: Hottest year ever? Not quite; making doomsayers very unhappy
---
Seasonal words: While it appears offensive to some as a replacement
for 'Christmas', 'Xmas' actually has religious origin centuries ago
---
Toronto: Kaillie Humphries' golden streak continues;
awarded Lou Marsh Trophy as Canada's top athlete


Bobsled pilot Kaillie Humphries has capped a standout season by winning the 2014 Lou Marsh Award as Canada's top athlete. Humphries is the first bobsledder to win the honour. The 29-year-old from Calgary became the first woman bobsledder to win back-to-back Olympic gold when captured her second Olympic title in Sochi. She carried Canada's flag along with brakeman Heather Moyse into the closing ceremonies. A month earlier, Humphries had claimed her second consecutive overall World Cup title for Canada.
---
Turtles vs. turbines: Ontario court case could have widespread
repercussions for communities of endangered species


Threatened Blanding's turtles mature at age 25 and can then live another 75 years. An environemntal review tribunal blocked a huge industrial wind turbine installation in tranquil Prince Edward County that was to be built on the turtles' home turf. But the big corporation fought the tribunal and had the decision dumped. Now the naturalist friends of the turtles are fighting back in court in Toronto.
---
Orléans mess the latest to put lie to Liberal claim of 'open nominations'
Trudeau fixed vote for pal Leslie by last-minute dump of his opponent;
interference from leader hurting 3rd party's recovery prospects in 2015
---
Jean Béliveau: Fans, ex-teammates stream into Bell Centre to pay tribute


Mourners file past to pay their respect during the public viewing for the Montreal Canadiens legend Jean Beliveau Sunday, December 7, 2014 in Montreal. Beliveau died at the age of 83. ~ Paul Chiasson Canadian Press
---
Get ready: Elevators will soon go sideways, not use cables


Elevators now under development use within a few years will move by magnetic levitation, not cables. This will enable them to queue up at bottom or top in morning or at closing times, and to move sideways. They will also be useable in much higher buildings than heavy-cable elevators. ~ ThyssenKrupp
---
Ottawa: Bank of Canada invites citizens to help design currency
to commemorate Confederation's 150th Anniversary in 2017


Canada has had only two commemorative 'paper' currencies. [TOP] The 1967 $1 bill was issued for Canada's Confederation Centennial. [BOTTOM] A commemorative $25 note was issued in honour of the Silver Jubilee of King George V in 1935. Both are big collector's items, as will be the 2017 banknote. ~ Bank of Canada
---
Montréal: Jean Béliveau to lie in state at Bell Centre ahead of funeral
---
Montréal: Jean Béliveau passes away at age 83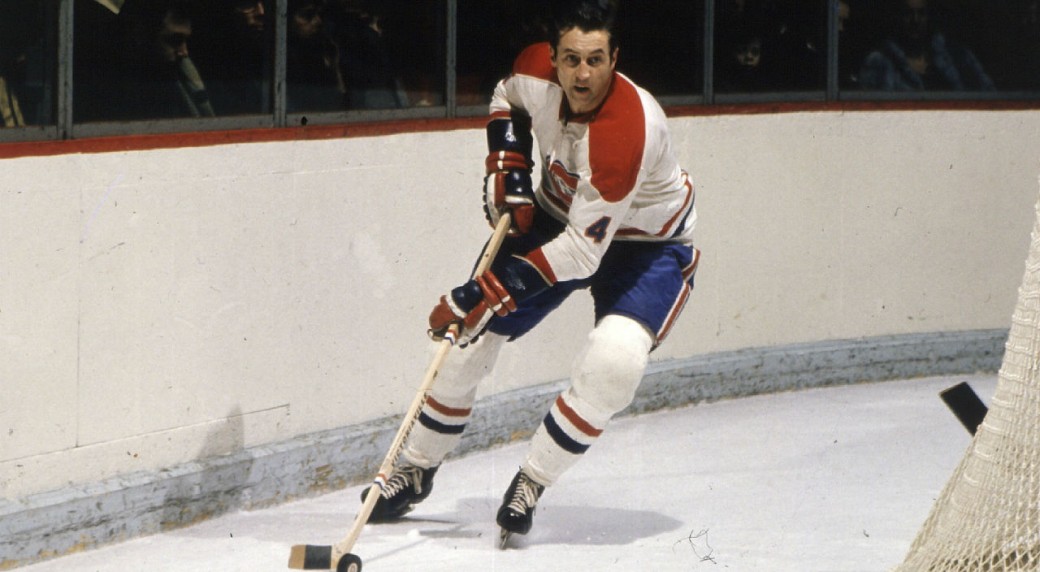 The great Jean Beliveau won the Stanley Cup 10 times as a player, and his name is on Cup another 7 times as an executive, a total unlikely to be matched. He played 20 years, all with Montreal Canadiens. ~ Denis Brodeur Getty
---
Calgary Stampeders' defence comes through to win 102nd Grey Cup


Calgary Stampeders defensive lineman Shawn Lemon (40) and defensive lineman Corey Mace (99) celebrate with teammates after defeating the Hamilton Tiger-Cats in the 102nd Grey Cup in Vancouver, B.C. Sunday, Nov. 30, 2014. ~ Paul Chiasson Canadian Press
---
Harper welcomes election of Michaëlle Jean as head of la Francophonie
---
Unconfirmed reports say Canadian-Israeli Gill Rosenberg captured by ISIS
---
Dakar: Former GG Michaëlle Jean gets boost from Paradis, Couillard
and Harper in bid to become Secretary General of la Francophonie
---
When is rape not rape? Adultery by married Liberal MP gets two thumbs up from former colleague; downplays Pacetti's 'incident' with NDP MP — could be a 'misunderstanding', not an 'assault' says Liberal ex-MP Mendes
---
Nor'easter nightmare: Thanksgiving travel chaotic on U.S. East Coast
---
Toronto: Jian Ghomeshi charged with four counts of sexual assault,
and a fifth charge for choking; could face life in prison


Jian Ghomeshi leaves College Park courthouse in Toronto Wednesday afternoon. A judge released Ghomeshi on $100,000 bail and the former radio host's mother, Sara Azar Ghomeshi, acted as his surety. As conditions for his release, he must live with his mother, cannot have any contact with the complainants and must stay at least 500 metres away from them. He has also been banned from possessing any firearms and has already surrendered his passport. He has been ordered to stay in Ontario. ~ Kevin Van Paassen National Post
---
Lawrence Solomon: Ill winds blow from wind turbines


Wind turbines produce audible sound waves known to cause what medical science calls "annoyance," a state of health that can lead to a constellation of illnesses called wind turbine syndrome (WTS). Does Canada's Charter protect citizens from government forcing such health-reducing projects on them? ~ Colin Perkel Canadian Press
---
After early balanced budget: Harper accelerates $5.8B for federal
infrastructure investments in parks, marine conservation, museums,
bridges and govt buildings; includes $500M to upgrade and build new schools on native reserves; jobs created will sustain economic recovery


Prime Minister Stephen Harper makes infrastructure investment announcement at The Collider Centre
at Western University's Advanced Manufacturing Park, in London. ~ Dave Chidley Canadian Press
---
Infrastructure backgrounder: Federal Govt investing coast to coast
---
Gardez: Suicide bomber kills at least 45 at
volleyball match in Afghanistan; 50 wounded
---
Ferguson: Two Black Panthers arrested, planned to set off bombs
---
Buffalo: In storm's bull's-eye, snowbound local writer reflects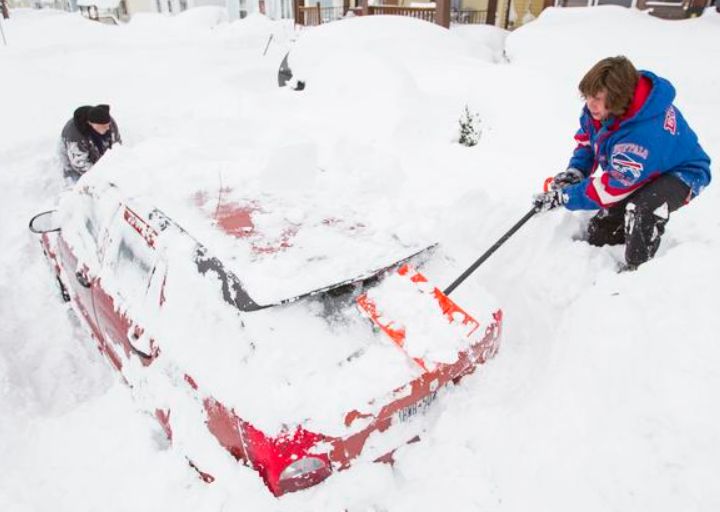 Lori and Bob Weishaar shovel snow from around their vehicle in Buffalo earlier this week. ~ Aaron Lynett Reuters
---
Buffalo: As snow turns to rain, flood threat grows
---
Buffalo: Roofs collapsing as snow clobbering continues
---
Buffalo: "Gov. Cuomo a liar" — say people stranded on I-90 for 30 hrs;
no barriers, warnings or cruisers telling them State Thruway was closed
and no one came to check on them in their snow tombs on wheels
---
Buffalo: Lake-effect roller coaster still on; more big snow, flooding next
---
updated ~ Buffalo: Killer storm gets a name: 'Knife'; at least six dead;
Outside fleet of plows and heavy equipment promised to help recovery;
Cuomo controversially blames victims for getting stuck in historic storm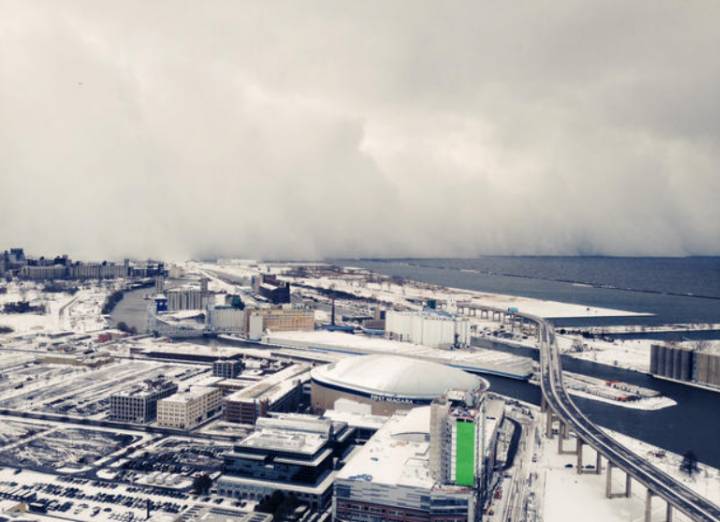 This photo from downtown Buffalo overlooking the Sabres' arena, foreground, shows how the sharp-edged lake-effect storm off Lake Erie dusted the downtown while burying the areas just a mile south. South Cheektowaga measured 65 inches of snow, with more on the way. ~ Gary Wiepert AP Photo
---
Buffalo: NY Gov declares state of emergency, calls out National Guard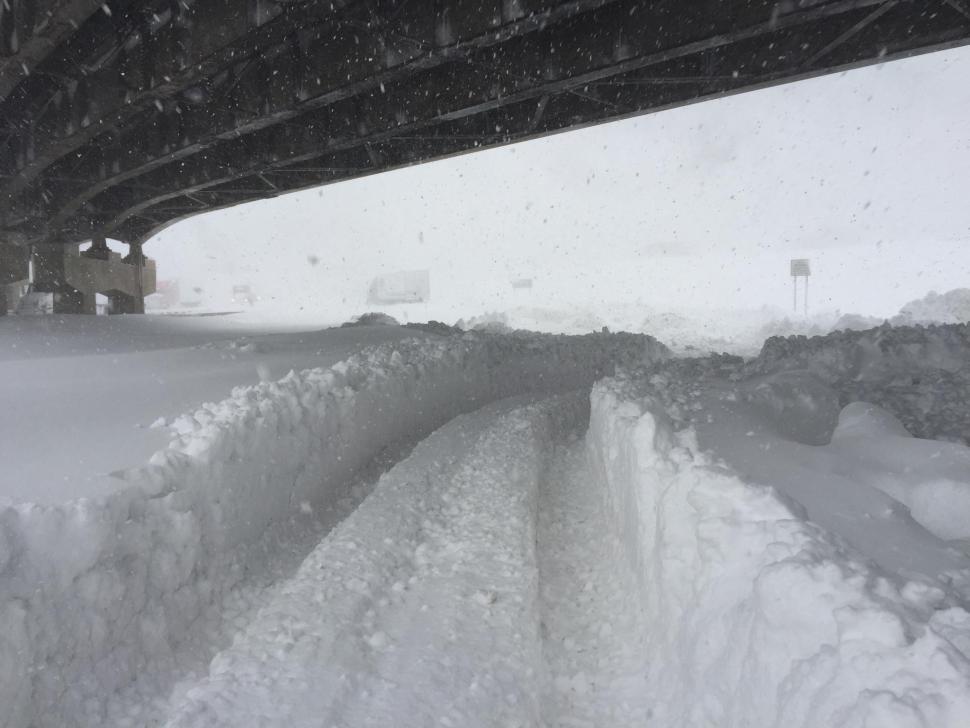 "We are deploying the National Guard to ramp up efforts to keep Western New York residents safe and to assist storm recovery efforts in any way possible," New York Governor Andrew Cuomo said Tuesday as some areas hunkered down for as much as six feet — really — of lake-effect snow. "Travel bans and advisories remain in effect, and I urge drivers to stay off the roads so that our state agencies and the National Guard can assist those that need help." The National Guard is mobilizing 150 soldiers and airmen for storm duty, according to Cuomo's office. Nearly 150 miles of the New York State Thruway (I-90) is shut down from Rochester west to the Pennsylvania border.
---
Buffalo: 'We're looking at a six-footer lake-effect storm'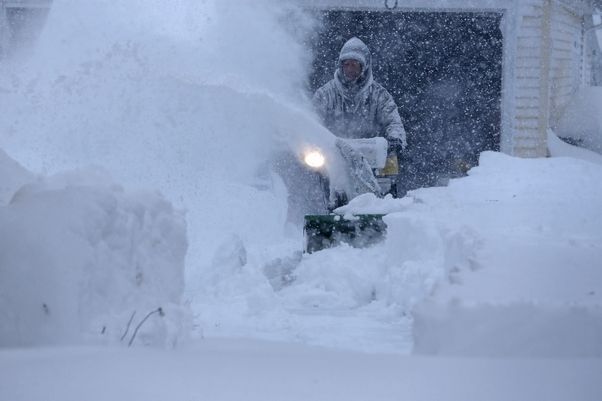 Winter is back, early, and with a vengeance across North America as all 50 U.S. states and 10 Canadian provinces fell below freezing Monday night and lake-effect snow off Lake Erie pummels Buffalo, and lake-effect snow off Lake Ontario is piling up east of Oswego, New York. Here, Jerry Delzer attempts to clear the three-plus feet of snow in his driveway in Buffalo suburb of Depew, Tuesday, November 18, 2014. ~ Derek Gee Buffalo News
---
Merkel: Russia 'will not prevail' in Ukraine
---
Poroshenko: Ukraine now ready for total war with pro-Russian rebels
---
Merkel: Russia's actions threaten Georgia, Moldova and Balkans states
---
Moscow: Putin warns he won't let Ukraine defeat Eastern rebels
---
---
Links formerly right here, now at http://www.newswatchcanada.ca/oldnews2014-2.html
---
For full news link archives since December 7, 2009
follow page links from
NWC Old News
Welcome to Worldwide Visitors
Send news tips to
Editor@NewsWatchCanada.ca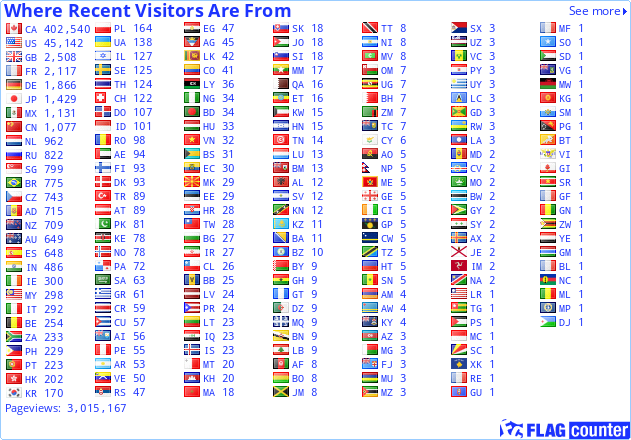 ---
Conrad Black: The Saudis believe the West is about to give in to Iranian demands. Crashing the price of oil is how it fights back. Obama the weasel President
---
Kelly McParland: The truth about Big Oil. No one controls it, it has no friends and it can't be relied on
---
Thunder Bay: Rebirth of highway H2O; quickest way to clean out Manitoba
---
David Frum: Critics of Canada's monument to the victims of communism are wrong. Here's why
---
Sussex: Shale gas fracking moratorium will hammer New Brunswick economy say businesses; Gallant vagueness hurts investment [video]
---
Jeffrey Simpson: Posturing is the only reason for a missing women inquiry
---
Vancouver: Former B.C. Attorney-General who led provincial inquiry opposes national inquiry into missing women
---
Halifax: Canada sending HMCS Fredericton to Mediterranean Sea over Ukraine crisis
---
Alberta: Need for fiscal Conservatives to close ranks during economic crisis drove her moves, says Smith
---
Reciprocity at issue: Canadian Manufacturers and Exporters slam New Jersey state protectionism; "Given the integrated nature of manufacturing, they are killing jobs in both the U.S. and Canada"
---
Kansas: Wind turbine collapse under investigation; one year old, one of 135 wind turbines spread over 40,000 acres
---
Toronto: Liberals scrambled to downplay fallout over gas plants, documents show
---
Ottawa: Canada announces new sanctions against Russia including travel bans against 20 Russian and Ukrainian individuals, and new export restrictions on technologies used in Russia's oil exploration and extractive sector
---
Ontario: Toronto man wants to screen 'The Interview' and give proceeds to freedom fighters in North Korea
---
Not a word during election: Suddenly, Kathleen Wynne warns 'change' looms for beer sales
---
Kevin Donovan - Toronto Star: How Ghomeshi's publicist worked to shut down 'Toronto Life' story
---
Hamilton: Hudak calls for end to additional wind energy projects; A-G's report proves Green Energy Act isn't working, says MPP
---
Trenton: Ottawa buys 5th C-17 for RCAF
---
Winnipeg: First phantom comes out of the woodwork to seek Selinger's job as Oswald files nomination papers, launches bid
---
Statistics Canada: Lower gas prices help slow inflation rate to 2.0%
---
Ottawa: Police seek suspect after 101-year-old D-Day veteran robbed in home invasion
---
Edmonton: How Preston Manning convinced Wildrose MLAs to join mass defection
---
Toronto: Information to Obtain (ITO) document released by Ontario Superior Court on Thursday "contained more than 72 pages of information on the alleged data deletion" to enable gas plant scam cover-up
---
Iraq: Two CF-18s strike ISIS fighting position near Mosul; ISIS 'safe havens' destroyed, planes returned safely
---
Ottawa: Federal Government structuring latest wireless spectrum auction to help smaller players survive and thrive
---
Toronto: Police allege McGuinty aide's spouse paid $10,000 by Liberals to wipe Premier's office computers
---
Keeping Canada on the right track: Transcript: Stephen Harper explains why he still wants to be Prime Minister
---
Montreal: Couche-Tard strikes $1.7B deal to acquire another U.S. convenience store chain
---
Year-end interviews: Stephen Harper on his first task when the Parliament Hill attack began: Get out alive so he could do his job
---
Vancouver Desi: Sikhs 'across Canada' to jump Trudeau ship; nominations issue: 'We are not Liberals, that's for sure,' says general secretary of Vancouver temple
---
Edmonton: 9 Wildrose MLAs, including Leader Danielle Smith, cross floor to become Alberta PCs
---
Ottawa: Federal Court orders Apple to provide documents in competition probe; did Canadians pay too much for smartphones, wireless devices
---
London: Memory loss could be early warning of a stroke for well-educated
---
Oil: Calgary producers chop billions more from budgets; bounceback expected in 2015
---
Ottawa: Canada announces new initiative to make air travel easier to the U.S.; helps Canadian and American armed forces members, and others with cleared credentials
---
Colby Cosh: Behind the uproar in Alberta
---
BlackBerry Classic: Throwback phone recalls 'CrackBerry' heydays, but with a larger screen and improved battery life
---
Lorne Gunter: Reunited — and it feels so good?
---
Montreal: Drug busts bigger than police had expected
---
Rick Bell: Smith and Anderson lead Wildrose defection to Prentice PCs
---
Edmonton: Insider predicts only 4 of 14 Wildrose Party MLAs WON'T cross floor to sit as PCs
---
Edmonton: Leader Danielle Smith among Wildrose MLAs crossing floor to Alberta PC Party
---
Edmonton: If the Wildrose defection destroys Alberta's opposition, Prentice has cemented himself as a generational Premier
---
Sydney siege: Canadian family connection to one of the hostages
---
Ottawa: NDP slams Glenn Thibeault as 'turncoat MP' who was drawn to Ontario Liberals by 'allure of power'; Wynne ripped for bribery
---
Alberta: PC caucus has final say over any Wildrose bid to join: Prentice
---
Edmonton: Wildrose caucus meeting over merger with Alberta Conservatives; 'entire caucus is debating whether the whole caucus will cross,' ex-Wildrose MLA says
---
Alberta: Members of Mexican La Familia drug cartel arrested in Edmonton; ALERT will hold news conference to discuss the arrests on Wednesday
---
Steve Paikin: The plot thickens in Nickel City; suddenly, the Liberals' backroom machinations have exploded in their faces
---
Toronto: Police arrest 7 in auto-theft ring, recover 30 vehicles; cars were shipped to Africa via containers for sale on black market; arrested include a licensed car dealer who fraudulently obtained MTO documents
---
Ottawa: Baird condemns 'sinister' terrorist attack on Pakistan school
---
Harper: 'Dramatically lower oil prices' won't stop balanced budget
---
Toronto: 'Oversold' TSX gains 300 points as buyers grab discount stocks
---
Christina Blizzard: Liberals may feel public wrath over turncoat MP Thibeault
---
Sudbury: NDP MP Glenn Thibeault jumps Mulcair ship to be Liberal candidate in Ontario by-election
---
Québec City: Harper announces federal infrastructure funding to preserve iconic landmarks; including restoration of the UNESCO-recognized unique walls around Old Québec City, rehabilitation of the Dauphine Redoubt military fortification, and the Maillou House National Historic Site
---
Rick Bell: Document details conditions for Wildrose to join Progressive Conservatives
---
Globe & Mail: Wildrose caucus to meet to talk about merging with Conservatives, sources say
---
Edmonton: Is there truth to rumour that entire Wild Rose Party may cross floor and join Alberta PC Party?
---
PM Harper: Canada mourns with Australia over hostage incident in Sydney
---
Sudbury: Former Ontario Liberal candidate says party offered him 'job' to not run again; police called on to investigate
---
Ontario: Premier Wynne sloughs off voter who told her to stop "wasting our money"
---
Going up: Breakdown of federal transfers to provinces next year
---
Lac-Mégantic: Cafe at centre of 2013 deadly rail car explosion re-opens
---
Edmonton: Alberta imposes cost saving measures in face of falling energy revenues
---
Andrew MacDougall: All I want for Christmas is perspective
---
Jeffrey Simpson: Ontario will eventually have to pay the piper
---
Vancouver: BC Partners to acquire PetSmart for $8.7B
---
Edmonton: Three Filipino workers killed in Alberta crash were returning from language class
---
Toronto: Pub owner launches proposed class-action lawsuit against Beer Store and LCBO
---
Toronto: Canada's junior roster beginning to take shape as selection camp wraps up
---
Montreal: Nez Rouge gave Quebeckers nearly 6,000 rides on Saturday
---
Kelly McParland: Kathleen Wynne's Ontario replaces Quebec as the whining child of Confederation
---
Daniel Dickin: Why Canada will become a dictatorship under Trudeau
---
Sydney: University of Western Sydney study finds Australian babies understand Canadian accents better
---
Racism: Cree Liberal Senator accuses Cree Tory MP of acting like a 'white man'; she acts like a Liberal, won't apologize
---
Toronto: Pan-Am Games hires lived high life on taxpayers' dime; hired for who they knew?
---
Toronto: Fracking bans needlessly deny Canadians the fruits of natural resource development; at least $4.6 trillion in untapped "unconventional natural gas formations and reserves"
---
Royal Bank: Canadian exports will rise despite cheaper oil; expect 85-cent Loonie, $70 oil and 6.5% jobless rate in 2015
---
Ottawa: Former NDP election staffer takes sexual assault allegations against candidate to police
---
Toronto: Trudeau backroom blocks another former Liberal candidate; didn't like his honesty or gender; he writes about it
---
John Ivison: New crop of Liberal nominees long on talent but seem short on sense of principle
---
Ottawa: Royal Ottawa Health Care Group gets NATO's first research chair in military mental health
---
Geneva: Swiss trial of Canadian Ebola vaccine suspended due to unexpected side-effects
---
Export boost: Canadian dollar plunges to 5-year low as oil dips below $60
---
Toronto: Energy stocks help take TSX higher, even as oil prices decline
---
Ottawa: Provincial court decision on Omar Khadr to be heard by Supreme Court; killed American medic in Afghanistan
---
Toronto: CBC chops supper hour news casts nationwide; from 90 minutes down to 30 minutes except big cities where will drop to 60 minutes
---
Toronto: OPP seizes ex-McGuinty staffers' email records after executing search warrant at Ontario Government IT office
---
Winnipeg: RCMP investigate allegations of doctored invoices, improper payment
---
Philip Cross: End the CBC's $1B handout: It's not the public's broadcaster, they don't even recognize each other anymore
---
Ottawa: Supreme Court of Canada ruling gives police the right to limited searches of suspects' cellphones after arrest; search must be directly related to circumstances of arrest says precedent-setting ruling
---
CBC: Snow, rain, wind plague Canada coast-to-coast; powerful nor'easter dumps snow in Ontario, Quebec while rain and flooding hit Maritimes, B.C.
---
Toronto: Moses Znaimer's ZoomerMedia seeking to buy Sun News Network from Quebecor as newspaper chain sold to Postmedia
---
Toronto: Questions swirl over effectiveness of outside Jian Ghomeshi probe at CBC
---
Queenston: Two men pull knife on Niagara fishing boat captain from Canada, force him to drop them off on American side; manhunt underway
---
Montréal: Prime Minister Harper makes deep tribute to Jean Béliveau following today's funeral service
---
Ottawa: Ontario high-speed rail study was rushed ahead of June election; consultant calls Toronto-Kitchener-London line 'unusually easy'; incredibly, used Google imagery to plot route
---
Winnipeg: Saskatchewan's Perry Bellegarde wins majority on first ballot, becomes new Assembly of First Nations National Chief, will succeed Shawn Atleo
---
Ottawa: Local imams 'categorically' denounce ISIS member's calls for violence
---
Kelly McParland: Harper's stand on emissions may not be popular, but it's more honest than Obama's
---
Bloomberg: Canada stocks slump to 7-week low as oil slides
---
North Perth: Invenergy wind turbine contract terminated; citizen group's campaign stops ugly cluster of 26 huge industrial wind turbines from obliterating countryside
---
Christina Blizzard: Liberal Energy Minister Bob Chiarelli should resign for his shocking personal attack on A-G in wake of her report which details his incompetence and subterfuge
---
Kingston: Queen's Professor hammers authors of flawed property value study for cavalier treatment of calculations
---
Liberal backroom fails again: B.C. Sikhs quit Liberals to protest Justin's 'star' candidate; party stalwarts in Vancouver South nomination fight say Liberal leader 'manipulated'; Trudeau "in bed with extremist and fundamental groups"
---
A-G Lysyk: Ontario Liberal mess: provincial debt will go from $267B to $325B even if budget balanced on schedule, Walkerton water recommendations remain ignored 14 years later
---
Smart meters 'dumb': Costing Ontario taxpayers extra $$ billions says A-G Lysyk
---
Ontario a "financial blackhole": A-G Lysyk finds Wynne Liberals scorching taxpayers at every turn; incompetence run amok
---
Just a dotted line: Tories target cross-border price gap with Competition Bureau bill
---
Ottawa: Liberal Deputy PM during sponsorship scandal leads attack against world-leading Canadian anti-corruption legislation
---
Polldrop fever: Liberals in full scramble mode, even *gasp* trying to assemble platform for 2015 election instead of surfing on now-evaporated 'Justinmania' as they battle perceptions of weakness and waffling amid MP sex crisis
---
Toronto: CBC union frets about self-incrimination of members and potential "of exposing themselves to discipline" during Jian Ghomeshi investigation; where's concern about victims?
---
Kelowna: B.C. doctor beaten, 'left for dead' during attack inside psychiatric hospital
---
Ottawa: Bertschi sends Liberals libel notice over Orléans nomination fight
---
Why do scientists lie? Public has been misled about west Hudson Bay polar bears since November 2013; experts knew no decline but said the opposite
---
Montreal: Airport arrest on terror hoax charge
---
Toronto: Federal Govt gives Pratt & Whitney repayable $300M to help jet engine development in Ontario and Quebec
---
Cairo: Canadian Embassy closes in Egypt's capital over security fears, asks for more protection
---
Ottawa: Canadian in ISIS propaganda video positively identified by family as 23 yr old John Douglas Maguire of Kemptville, Ontario; praises killers of Patrice Vincent and Nathan Cirillo
---
Toronto: Purported ISIS video calls for attacks on Canadians
---
Robyn Urback: What part of slapping paint on a poster falls within the realm of 'higher education'? Too often, protest becomes a symptom of a lack of critical thinking, not a venue for it
---
Taking on historical blunderers: Conrad strikes Black
---
Rex Murphy: Has the environmental movement ever seen a collapse it didn't want to be on the brink of?
---
Orléans: Trudeau backroom bullying leads to frontroom fisticuffs as Liberal nomination meeting erupts in chaos to rubber stamp Justin's parachute candidate Leslie
---
Avian flu: CFIA confirms disease has spread to a 5th Fraser Valley farm
---
Toronto Star: Ghomeshi-related hanky panky at Q not solely by host; CBC took payola for July Tom Petty interview
---
London: Nearly bankrupt Ontario to spend $29B to build high-speed rail from Toronto to bankrupt Detroit
---
Ottawa: Liberals hire lawyer to investigate sexual misconduct complaints against two suspended MPs, including former Ethics critic
---
Bloomberg: Exports to benefit as Loonie reaches weakest mark in 5 years on jobs loss and hints of late-blooming U.S. recovery
---
Toronto Star: Jian Ghomeshi regularly booked guests that shared his agent, lawyer
---
Markham: Ontario Premier Kathleen Wynne should focus less on confrontation, more on Ontario's fiscal problems: Harper
---
Kelly McParland: Ontario is all talk while Quebec takes action in balancing budget
---
Markham: Inaugural Canada First Research Excellence Fund competition has universities competing for research funding over next 7 years; grants to be awarded for scientific merit, strategic relevance to Canada, and quality of implementation plan
---
Andrew Coyne: Until we enact democratic reforms, provinces will continue to run wild using powers they don't have
---
John Ivison: Harper gets his mojo back: PM makes gains thanks to foreign policy and tax cuts
---
Toronto: French say CETA will revolutionize trade for Canada; Europe-Canada trade agreement could boost trade from 20 to 50% says Frédéric Kaplan, head of Economic Affairs at their Embassy in Ottawa
---
Ottawa: Health Canada data shows Ontario wind farm regulations inadequate; setback from homes should be at least 1300 metres, not current 550 metres
---
Chantal Hébert: Three unlikely politicians on the cusp of Canada's transformative change
---
Ottawa: Prime Minister Harper gives tribute to Jean Béliveau
---
Quebec City: Quebec finds additional $600M in cost-cutting on road to balanced budget; cutting tax credits, raising fees
---
Chambly: Man arrested in Quebec after alleged Facebook threats against media czar and PQ leadership candidate Péladeau
---
Ottawa: Big spike in aboriginal women behind bars; much more likely than non-aboriginal women to have been admitted to custody for a violent offence
---
Ontario's war on citizens: Rural-urban divide blowing in the wind
---
Ottawa: Canadian Prime Minister Harper welcomes forming of new government in Ukraine
---
Kathryn Borel: Jian Ghomeshi harassed me on the job. Why did CBC look the other way?
---
Dominican Republic: WestJet does it again with another inspiring Christmas Miracle video that will make you cry as you watch the beach scene unfold
---
Detroit: Gordie Howe in ICU after second major stroke
---
Syria: "Ignore the reports I've been captured," says Facebook update from Gill Rosenberg
---
Ottawa: Canada homicide rate falls to 1966 level; 8% drop from 2012 to 2013 suggests tougher laws having impact
---
Toronto: Denzel Minnan-Wong new Deputy-Mayor
---
John Ivison: Liberal Ethics critic Scott Andrews was reprimanded for inappropriate behaviour toward a Liberal staffer before accusations from NDP MP had him turfed from caucus
---
Left lifetime of memories: Chas Abel dead at 88 - photo finishing magnate touched every Canadian
---
Toronto: Police probing if Don Valley Parkway death and 3 bodies found in a nearby Thorncliffe Park apartment are related
---
Dakar: Harper announces significant new Canadian government support for the Canadian-based Micronutrient Initiative; its provision of vitamins, minerals and other nutrients to children and mothers has led to a dramatic reduction in child deaths over the last 15 years
---
Dakar: Stephen Harper calls on la Francophonie to end forced marriages
---
Syria: Ottawa probing reports Gill Rosenberg captured by ISIS [video]
---
Hamilton: Will heavy-handed Trudeau dump nominated candidate, a Catholic Chaplain, over pro-life position?
---
Margaret Wente: The progressive war on science; "Nearly 9,000 people in California have come down with whooping cough this year, and a handful have died. Repeated pleas from public health officials have gone unheeded"
---
Toronto: Flare magazine apologizes for article on Ghomeshi court appearance that was interpreted as fashion analysis and widely criticized
---
Dakar: Canada contribution to world vaccination fund for children is $500 million
---
Heads to roll? CBC management knew of Jian Ghomeshi allegations since June: documentary
---
Hamilton: Broken water main triggers landslide, blocks three lanes of EB HWY 403 at end of morning rush hour; remarkably, no injuries reported
---
Ottawa: Canada's economy is growing faster than expected. Here's why
---
Ottawa: Canada economy grows at higher than expected annualized rate of 2.8% in Q3; real GDP up 0.4%; exports up at annualized rate of 9%
---
Dakar: Prior to start of La Francophonie, Harper announces significant new support toward life-saving vaccines for children in developing countries
---
These brave women had the 'guts' to stand up to it in a different time: Two former Parliament Hill journalists recount dealing with sexual misconduct during the 1980s [compelling audio interview by Carol Off]
---
Ottawa: 55 First Nations bands risk losing funding for not complying with transparency law; was recommended by 1996 Royal Commission
---
Peladeau makes it official: Canadian media mogul joins race to lead Quebec separatists
---
When will waste-land end? Ontario's $10M DAY — big wind Monday created a lot of power Ontario didn't need but still had to pay for
---
Hack attack: CBC and other news websites under siege by so-called New Syrian Army of hackers today
---
Ottawa: Harper appoints Suzanne Côté to Supreme Court of Canada, replacing retiring Justice Louis LeBel
---
Fredericton: Winter storm leaves 40,000 without power in New Brunswick
---
Not so cuddly now: Biologists disturbed to find seals in Britain seemingly killing porpoises for fun
---
Toronto: Ontario Auditor General warns of ballooning Pan Am Games security costs; have doubled and may go higher
---
CD Howe discussion paper: Tax reform suggested that includes higher rates for top incomes, and a switch to flat tax for investments; changes would allow "clean up" of consumption and other taxes and tax breaks without hurting tax cuts designed to create growth
---
Ottawa: NDP MP who alleges she was raped by Liberal MP doesn't want to file police complaint but willing to participate in a 'resolution' process
---
Kelly McParland: Some prominent CBC dinosaurs can't handle the truth: and they still work there
---
Ottawa: Micro-managing outrage along racial lines; organizers tell white people to stay at the back of the 'protest' bus; is their version of 'justice' aligned along racial lines?
---
Group convenes expert panel: Wind Concerns Ontario calls on Health Canada to withdraw non-peer-reviewed summary of flawed report on wind turbines which was prematurely released; lacked data, but included people paid by wind companies; numerous other errors
---
Ottawa sex scandal: NDP MP tells second media outlet details of story behind rape allegation against married Liberal MP
---
BOMBSHELL: NDP MP says she was raped by Liberal MP Massimo Pacetti — "sex without explicit consent" — in hotel room and was in pain for days; finally, details emerge on allegations of Liberal MPs' 'sexual misconduct' and they're very serious
---
Montreal: Quebec to cut public sector workforce by 2%, freeze hiring until 2016, as it seeks to balance budget
---
Toronto: Jian Ghomeshi withdraws $55M lawsuit against CBC, pays CBC's $18,000 in court costs
---
Ottawa: First Nations to 'resist' complying with Financial Transparency Act which had been recommended by 1996 Royal Commission; 84 bands have yet to comply with law on eve of final deadline; as a result, federal funds may be withheld
---
Margaret Wente: Renewables are not enough; Google throws in towel on 'green' energy; when will it admit more CO2 is a good thing?
---
Kelly McParland: Stephen Harper steals Trudeau's money and election plan by moving up infrastructure spending
---
Toronto: BlackBerry will pay iPhone users up to $600 to switch phones
---
Sudbury debate: Ontario Tory leadership candidates urge party to broaden support base, end 'cookie-cutter' economic approach
---
Ontario playing obstructionist politics: Saskatchewan Premier Wall concerned about 'unnecessary barriers' to pipeline project
---
Brrrrrrrrrr: 2014 winter to be repeat of 2013 for much of Canada, leading weather watcher forecasts
---
Edmonton: Two Opposition Wildrose members, Towle and Donovan, cross floor to Alberta PCs
---
Totalitarianism? Ontario moves to restrict use of e-cigarettes; bans all flavoured tobacco products, including menthol cigarettes, and mandates calorie counts on restaurant menus with ironically named Making Healthier Choices Act
---
Trees down: Strong winds knock out power to thousands across southern Ontario
---
Gare Joyce: Pat Quinn: A towering life in hockey
---
RIP Pat Quinn: A Quinntessential career in hockey
---
Toronto: Houses should be checked for radon gas, cause of 16% of Canadian lung cancer deaths per year
---
London: Onex to acquire packaging maker SIG for up to $4.7B
---
Quebec: Outrage is first response to Lucienne Robillard's proposed $2.3B in spending cuts; govts find it easier to increase spending than cut it
---
Ottawa: NDP accused of trying to stifle conflicts as two more staffers file lawsuits; union under fire
---
Forum Research poll: Two-thirds of Canadians support Iraq mission to combat ISIS; majority finds ISIS a direct threat to Canada
---
Toronto: Retiring Linden MacIntyre calls it like he's seen it re: CBC cult of celebrity; hyped CBC celebs in uproar, full denial, stamping little feet and holding breath
---
Halifax: 2014 HISF concludes, brought together over 300 people from 60 countries to discuss security issues and challenges in democracies and the world
---
Halifax: Opening remarks by Peter Van Praagh, President of the 2014 Halifax International Security Forum
---
Toronto: Temporary return to fall weather for Ontario means heavy rain and blustery winds
---
Ottawa: Feds to spend $200M over 6 years on mental health in the Canadian military
---
Manitoba: The slow death of the hotel beverage room
---
Toronto: TransCanada takes Jeff Rubin to task for sloppy assertions about Energy East pipeline
---
Bounceback: Rainfall pushes levels on Great Lakes to their highest since 1990s
---
---
Links formerly right here, now at http://www.newswatchcanada.ca/oldnews2014-2.html
---
---
---