---
TOP LINK
Hill-Billy corruption: From Whitewater to Benghazi: A Clinton-scandal primer
---
Debate shenanigans: Hillary's mysterious 'clean-up man' is linked to controversial State Dept. funding, Egypt, and Arab Spring
---
The Hill: Media and FBI bias for Clinton disgusts voters
---
McClatchy: Here's what Trump-supporting women really think about him insulting other women; not an issue
---
updated USC Dornsife/LA Times tracking poll: Trump 47.3%; Clinton 41.7%; Trump continues up, Hillary continues down
---
David Harsanyi: Nothing James Comey says about the Hillary Clinton investigation makes any sense; by protecting her inner circle, Justice Dept. gave Hillary immunity
---
S.E. Cupp: Hillary Clinton was clearly victorious, but only one candidate did enough to win new voters during the presidential debate
---
Investor's Business Daily editorial: Clinton email scandal: Hillary's security clearance should have been revoked long ago
---
Leon Hadar: What if muslim immigrants don't want to be "like us"?
---
Jerusalem: Obama notes unfinished business of peace as Shimon Peres buried
---
Peggy Noonan: The politics of 'The Shallows' What ails American democracy? Too much information and too little thought
---
Kimberley Strassel: Jim Comey's blind eye; the FBI director can't defend immunity for Hillary Clinton's aides — which says volumes
---
'Corruption and scandal': Trump goes after Hillary's anti-woman ways, brings up Bill Clinton's infidelities
---
Shimon Peres: Long legacy of Israel's elder statesman, dead at 93
---
Election issue: Obama Administration signed secret document to lift UN sanctions on Iranian banks
---
WSJ: Hackers infect army of cameras, DVRs for massive internet attacks
---
Hoboken: NTSB struggling to extract forward-facing camera
---
Hoboken: Black box recorder recovered from wreckage of N.J. train crash
---
New Jersey: Hoboken train station crash: Brazilian mother named as victim
---
Boston Herald: Bernie Sanders hold-outs are no-shows for Hillary Clinton's low-key New Hampshire rally
---
NY Post: The FBI's Hillary email probe is looking even more like a cover-up
---
WSJ: Oil slips as doubts grow over OPEC deal
---
Karl Rove: The debate was a political car crash
---
Financial Post: The real reason for OPEC's shocker oil deal — and why it probably won't work
---
WSJ: Russia says it would support 48-hour cease-fire in Aleppo to allow in aid
---
New York: Pair spotted taking bag holding pressure cooker in NYC now believed to be in Middle East
---
updated USC Dornsife/LA Times tracking poll: Trump 46.7%; Clinton 42.6%; Trump goes up after first debate
---
Ukraine: Russian-infused rebels found responsible for shooting down Malaysia Airlines MH17, killing 298, with Buk missile system from Russia
---
Tom Shattuck: True blue-collar billionaire Donald Trump shows Hillary Clinton is out of touch
---
Arnold Palmer: legendary, game-transforming golfer, warmly called 'the King', is dead at 87
---
Town Hall: Michael Moore to liberals: Quit dancing in the end-zone, Trump won the debate
---
Charlotte: Keith Scott was carrying a stolen gun, police say — and his wife had filed for a restraining order against him saying he was armed, violent and had threatened to kill her
---
Avik Roy: Hillary Clinton's zany debate claim that tax cuts caused the financial crisis
---
Hempstead: CNBC, TIME magazine polls say Donald Trump won first Presidential debate
---
Youngstown: How Trump won over a bar full of undecideds and Democrats
---
Michael Goodwin: Trump deserves to be taken seriously after surviving round one
---
Kunduz: 'Insider attack' killed 12 sleeping Afghan troops
---
Rich Lowry: Charlotte shooting facts support the police
---
Piers Morgan: All the pressure is on Hillary tonight and if she wobbles, wavers or walks into a Trump right hook, you can start counting her out
---
The Hill: Nate Silver's FiveThirtyEight: Trump would win if election were held today
---
Kurt Schlichter: We're laughing at the self-destruction of the media gatekeepers
---
Frank Luntz: How Donald Trump can defeat Hillary Clinton in the first debate
---
Thomas C. Stewart: Will Donald Trump lead a second Jacksonian Revolution?
---
Bloomberg poll: Trump, Clinton deadlocked before key first debate at Hofstra University in New York
---
New York: Global stocks fall before U.S. Presidential debate, oil rises
---
CNN/ORC polls: Trump, Clinton deadlocked in Colorado, Pennsylvania even after pro-Clinton sample skews
---
Alexander Panetta: Small Screen: Tonight's presidential debate — let psych games begin — a Canadian view
---
Beirut: Syrian foreign minister says ceasefire agreement 'not dead'
---
Jake Tapper asked: Clinton Campaign manager unable to answer CNN questions on 'Hillary coverup operation' term used by IT specialist deleting emails
---
NY Times: Ahmad Khan Rahami was inspired by Bin Laden, charges say
---
Oak Harbor: Washington state mall shooting: FBI 'not ruling out terrorism' as Turkish man arrested over five killed in Macy's
---
NY Post editorial: Fresh proof the FBI's Hillary email probe was a joke
---
Denise C. McAllister: If Keith Lamont Scott had followed gun laws, would he still be alive?
---
Albert R. Hunt: The questions that Clinton and Trump should be asked
---
Jeffrey H. Anderson: Five paths to victory for Trump
---
updated USC Dornsife/LA Times tracking poll: Trump 46.4%; Clinton 42.3%; trends revert to Trump going up, Hillary down
---
Morning Call/Muhlenberg College poll: Donald Trump makes big gains in latest Pennsylvania numbers
---
Serial miscalculations: A ferocious assault on Aleppo suggests the U.S. may be wrong on Syria
---
London: Russia guilty of prolonging war in Syria - UK Foreign Minister Boris Johnson
---
Andrew Malcolm: Debate #1: The two hours that could be the campaign's turning point
---
Hillary CoS: Cheryl Mills immunity bombshell: She avoided signing mandatory security forms
---
Charlotte: Police Chief relents, to release body and dash camera video of Scott shooting
---
FBI dox: Clinton's aide left classified briefing paper in Russian hotel
---
Washington: Did multiple immunity deals for Clinton staffers hinder FBI ability to build criminal case against her? "The FBI was handing out immunity agreements like candy"
---
updated Washington state: Five dead, shooter on the loose after opening fire at Cascade Mall in Burlington
---
Washington: Hillary Clinton sponsored secretive Arab Spring program that de-stabilized Middle East
---
New York: Short Hillary wanted to debate tall Trump on a step stool – but was turned down – and she won't get commercial breaks for coughing fits or fainting spells
---
Charlotte: Scott's recovered, loaded gun had his fingerprints, DNA and blood on it: Reuters
---
New York: Trump campaign plans $140M ad buy
---
Muzaffarabad: 24 passengers killed in Pakistan after bus plunges into river
---
Ted Cruz: 'I'm voting for Trump'
---
Washington: DCLeaks posts a scan of Michelle Obama's passport, prompting more hacking concerns
---
NY Post editorial: Stop-and-frisk furor exposes idiocy of Trump's critics
---
Shrill: Hillary Clinton awkwardly shouts her way through speech: 'Why aren't I 50 points ahead?!'
---
Charlotte: Rioting may tip Presidential scales in crucial North Carolina
---
Pat Buchanan: How Trump wins the debate
---
Lionel Shriver: Will the Left survive the millennials?
---
Howard Kurtz: After Charlotte shooting, media downplays a key fact: The officer's race
---
Tom Bevan: Dear Hillary: Here's why you aren't 50 points ahead
---
Wall Street Journal: Clinton's 65% killer death tax
---
New Delhi: India buys 36 Rafale jets from France amid mounting pressure to upgrade its Soviet-era fleet
---
Tulsa: Whether Terence Crutcher's SUV window was up or down still questioned; Shelby did have Taser, police say
---
Adam Walinsky: I was RFK's speechwriter. Now I'm voting for Trump. Here's why. The Democratic Party has become something both JFK and RFK would deplore — the party of war.
---
NY Post: Hillary refuses to take neurocognitive test
---
London: Dalai Lama tells Piers Morgan refugees fleeing Middle East should return home to 'rebuild their own country'
---
Salena Zito: Meet the Democrats who are winning the Midwest for Trump
---
Bread, not circuses: Mayor of Rome nixes bid for 2024 Olympics, says city can barely collect its trash: 'This city is unliveable'
---
NY Post editorial: 'Hillary's Coverup Operation': Bombshell emails from her IT geeks
---
Rudy Giuliani: Clinton and Obama derelict in terror fight
---
NY Post: FBI questions Chelsea bomber's wife in UAE
---
TV ads not working: Clinton air war fails to sink Trump
---
Eric Felten: Is Hillary in danger of pulling a Dukakis? Clinton is playing it cool—perhaps too cool to win
---
W27th Street: FBI searching for men who found bomb on Chelsea sidewalk
---
Michael Goodwin: Chelsea bombing is proof PC police stuck in pre-9/11 mindset
---
Gabrielle Fonrouge: Under fire: De Blasio delays visit to Chelsea bombing site to work out
---
F-22 Raptors: Inadvertent supersonic boom from fighter jets scares blast-weary New Yorkers
---
Betsy McCaughey: Only one candidate has a plan for a booming economy
---
Charlotte police: Warned suspect to drop gun before shooting which triggered riots, hurt 16 officers
---
Elizabeth: 7 things revealed about Ahmad Khan Rahami case in new charges
---
Pushback: Angela Merkel cites Germany's migrant policy backlash for her party's defeat in Berlin election
---
Flashback: Bill Clinton: U.S. will be safer because of my North Korea deal
---
Video found by investigators: Chicken shop terrorist 'was recorded on a cell phone setting off a pipe bomb during a dry run in his back yard two days before NY attacks'
---
Aleppo: Airstrike in Syria hits medics responding to earlier bombing
---
Financial Times: Apple in talks with luxury carmaker McLaren; legendary racing marque a high-tech innovator, F1 powerhouse
---
The dividers: In UN speeches, Trudeau and Obama take aim at the politics of Trumpism; ignore failed politics, results of Obamaism
---
New Jersey: Bomber Ahmad Khan Rahami asked federal politician for immigration help for his wife in 2014; she was stopped in UAE Monday
---
Chelsea, Saturday night: Two still unidentified, 'nosy' men on West 27th Street credited with saving lives after they found and made off with 'eye-catching' roller suitcase; they pulled out pressure cooker bomb and left it behind; police say they may have 'dislodged' trigger wires, stopping it from blowing up across from a packed open-air, glass-ceilinged open-front restaurant at the Innside hotel
---
Unprecedented populism: Trump shatters GOP records with small donors
---
CBS: Philly Fraternal Order of Police Chief on Presidential endorsement: Clinton 'blew the police off'
---
CNN: National security moves to the top of 2016 campaign
---
NY Post: His baby's mom: Bomber Ahmad Khan Rahami is a U.S.-hating homophobe
---
Were pending deportation: 858 immigrants accidentally given American citizenship
---
USA Today: Fingerprint key to bomb suspect ID, capture
---
See something, say something: 'Always be aware' NYC photographer who found pressure cooker bomb and called 911
---
LA Times: Ahmad Khan Rahami had travelled to Afghanistan and Pakistan
---
Edmund Kozak: Three terror attacks this weekend but Obama, Clinton stick with PC script about migrant terror threat
---
Linden: Bar owner came face-to-face with Ahmad Khan Rahami before shootout with police
---
Daniel Halper: Bill Clinton admits that some foundation donors expected favours
---
Elizabeth: FBI raids New Jersey building near where suspicious devices found
---
Ex-NYC top cop Ray Kelly: Mayor Bill de Blasio is too PC on terrorism
---
Bloomberg poll: Trump has 5-point lead in battleground Ohio
---
Jeremy Lott: Does Clinton have a Blumenthal birther problem?
---
The New Yorker The big question about Donald Trump's big rise in the polls
---
Mackenzie Eaglen: The new B-21 bomber: Under fire before it can even take flight
---
updated USC Dornsife/LA Times tracking poll: Trump 47.7%; Clinton 41.0%; Trump at campaign high of 20.1% support from Black voters
---
St. Cloud: Minnesota mall stabber was 'a soldier of the Islamic State,' ISIS-linked news agency claims
---
Eight victims, attacker shot dead: Minnesota mall knifeman referenced Allah before stabbing rampage, police chief says
---
Ethan Siegel: Was Earth born with life on it?
---
Paris: TNT traces found in EgyptAir 804 debris
---
Reuters/Ipsos poll analysis: Trump pulls up to tie Clinton in Electoral College votes as big Hillary lead evaporates
---
John Podhoretz: The liberal establishment's Clinton obsession is blowing up in its face
---
Allen Abel: Why I'm voting for Donald Trump; ordinary Americans explain why they plan to vote for Donald Trump on Nov. 8th
---
Peggy Noonan: Travel back to an early Clinton scandal; Voters have the impression Hillary isn't trustworthy — she's been reinforcing it since 1993
---
Syria: 62 dead; U.S. halts airstrike after Russia says Syrian Army forces hit
---
Dick Morris: Trump is right: Clinton stooge Sid Blumenthal spread 'birther' rumour in 2008
---
MSNBC: Bernie Sanders tells Clinton to focus on issues, not 'personality stuff'
---
David Catanese: Donald Trump's electoral map to victory
---
Brad Slager: I was a huge NFL fan, but now that it politicizes everything I quit
---
Pakistan: 25 killed, 34 injured in suicide bomb attack on mosque
---
McClatchy: Clinton supporters in 2008 reportedly shared Obama 'birther' story
---
Financial Times: Trump support surges in Pennsylvania towns
---
John Nolte: Hillary invented birtherism: 11 things the media won't tell you today
---
updated USC Dornsife/LA Times tracking poll: Trump 47.4%; Clinton 41.0%; Trump continues up, Hillary down
---
Undecideds drop: Trump surges in battleground, national polls
---
Steve Lopez: LA Times reporter surprised on visit to multicultural Trump HQ in Long Beach; volunteers he finds don't fit his stereotypes
---
Rasmussen Reports: Trump 42%, Clinton 40%; Clinton led by 4% a week ago, so a significant 6% swing
---
NPR: Don't kiss that kitty: Cat-scratch fever is making people sick
---
Washington: Trump releases results of medical exam from Sept. 9th
---
CBS News/NY Times poll: 'Likely voters' say Trump and Clinton tied at 42% in a 4-way race
---
Jack Garvey: Hillary Clinton's candidacy: Every way you look at this you lose
---
Curitiba: Brazil's Lula and wife charged with corruption
---
Conrad Black: Trump emerges in center, outmaneuvering Clinton, as race enters the stretch
---
Edward Morrissey: It's not the cough. It's the cover-up.
---
Michael Goodwin: Hillary collapse coverage reveals absurdity of biased media
---
France: IMF Chief Christine Lagarde loses appeal, ordered to stand trial for negligence
---
Ivanka Trump: The Trump plan will help working mothers; My father wants to empower working and stay-at-home parents and give families freedom of choice in child care
---
Help for parents: Trump unveils child care reforms: 'My opponent has no child care plan'
---
Berlin: Migrants claiming asylum in Germany have been taking holidays in the countries they are 'fleeing' - paid for with benefits cash, report finds
---
Washington: FBI mistakenly gives 27 'embarrassing' Hillary Clinton emails to Congress, now asks for them back
---
NY Post editorial: Team Hillary's biggest health problem is compulsive lying
---
Denham Springs: Louisiana woman saved from flooding meets her rescuer
---
NY Post: Tech guy who set up Hillary's private email blows off Congressional subpoena; two other witnesses linked to Clinton's e-mail server invoked Fifth Amendment
---
Financial Times: Lagarde warns of 'groundswell of discontent' against globalization
---
Rich Lowry: Bill and Hillary's lies vindicate the Clinton haters
---
Karol Markowicz: Hillary apologists' response to collapse is demeaning to women
---
USA Today editorial: Hillary Clinton gambles on secrecy; Democratic nominee is doing a disservice to the nation as well as herself
---
Hillary's cordon sanitaire: Massive barriers outside her Chappaqua home as she recovers from pneumonia
---
Tuesday testimony: Clinton email server attacked with 'some frequency' by brute force hackers
---
Syria: ISIS releases disgusting video showing prisoners being slaughtered after hanging on meat hooks
---
USC Dornsife/LA Times tracking poll: Trump 45.8%; Clinton 42.8%; Trump moves ahead with 18-34 year old voters
---
Richard Saunders: Hillary's doctor gave her a neurological test at 9/11 Memorial before she collapsed
---
Edward Snowden: Why Barack Obama should grant me a pardon
---
Richard Haas: The new face of terrorism — from the grand to the mundane
---
London: David Cameron resigns from House of Commons
---
James Woolsey: Bill Clinton's former CIA director advising Trump on national security
---
Obama's former chief campaign strategist: David Axelrod rips Clinton for 'unhealthy' obsession with privacy
---
Megan McArdle: Just like Hillary, the old Clinton spin machine is showing its age
---
Jim Stinson: The 'new' states Trump could flip; battleground contests are expanding, as race dynamics shift
---
Wall Street Journal: Clinton campaign claims it will release more medical records after caught in web of lies
---
John Ibbitson: Boomers Clinton and Trump have lost all right to privacy over their bodies
---
TIME: Why Donald Trump is holding his fire today after Hillary's weekend from hell
---
BBC: Trump issues pledge on medical records after Clinton pneumonia claim
---
Pneumonia: The signs, symptoms, causes and treatments of the life-threatening illness that could alter the U.S. election
---
#HillarysBodyDouble: Is Teresa Barnwell the greatest Hillary lookalike in the world? Advertising exec quit her job to impersonate Presidential candidate full-time
---
Stay tuned: Conversation between two dolphins recorded for the first time. But what did they say?
---
William Whalen: Four takeways from Hillary's 'medical episode' about the health of her campaign
---
Dick Morris: Will nervous Democrats replace ill Hillary Clinton with Joe Biden? Plan B?
---
Eli Lake: Kerry brokers Trump's plan for Syria
---
Telegraph: The week that Hillary Clinton tripped up — how she handed Donald Trump his chance
---
Washington Post: The Clinton campaign's bad damage control just made the health story even worse
---
Washington Post: Secret Service followed atypical protocol with Clinton's early departure from Sunday 9/11 event
---
Issues statement Saturday: Clinton says she regrets calling Trump supporters 'basket of deplorables'
---
Bloomberg: Trump tries to capitalize as Clinton 'deplorables' ad hominem attack on Trump supporters causes major ripples
---
Sarah Baxter: The 9/11 conspiracy virus has spread far, but I was there and saw the bodies
---
Sydney: ISIS-inspired extremist 'shouting "Allahu Akbar" stabbed a man at random then chased his bleeding victim down the street before turning his knife on police'
---
Tehran: Iran welcomes US-Russia-negotiated truce in Syria
---
Berlin: German Interior Minister warns of threat from Islamist terrorists; at least 520 "potential attackers" in the country
---
Classless warfare: Desperation drives Clinton campaign strategy of demonizing Trump supporters
---
Conrad Black: This is America's last chance; Trump is now the only person in American history to gain complete control of a major political party from the outside without being a cabinet officer selected by his predecessor or a prominent general
---
Geneva: Syria opposition cautiously welcomes US-Russia truce plan
---
Tongi: Death toll from Bangladesh packaging factory fire rises to 21
---
Denver Post editorial: A fishy story in Platte River Networks' purge of Clinton e-mails
---
Quinnipiac University poll: Ohio: Trump 41%, Clinton 37%
---
Daniel Greenfield: Everyone condemns North Korea's nuclear tests, no one will stop them
---
Seoul: North Korea says it conducted 'successful' ICBM nuclear warhead test explosion
---
Kabul: Risky U.S. hostage rescue by Special Ops failed because Obama delayed his decision by 24 hours due to latest vacation
---
Madrid: 4 dead, 47 injured as Spanish passenger train derails
---
Berlin: Merkel told Germany faces £17B migrant bill for 2016 alone
---
l'Aiguille du Midi: Trapped passengers rescued from French Alps cable cars 12,000 feet above ground
---
Feet of clay: The official errors that exaggerated global warming–part 2; How the central estimate of pre-feedback warming was exaggerated
---
Ohio: Trump has $20B plan to help 11 million school age kids living in poverty to choose local public, private, charter or magnet school best for them and their family; also announces support for merit pay for teachers
---
Howard Kurtz: The latest media mystery: Why is Hillary Clinton losing altitude? They should start paying attention
---
Charles C.W. Cooke: The news has become our master, not our servant; we are less informed and more upset than ever
---
UPI/CVoter daily presidential tracking poll: Donald Trump pushes ahead of Hillary Clinton, but still a virtual tie as support goes in opposite directions
---
Boston Herald and Franklin Pierce University poll: Trump has much higher ratings among black Americans and Hispanics compared to 2012 GOP candidate
---
UPI/CVoter poll: On countering terrorism: Trump 49%, Clinton 27%
---
Spokane: Kidnapped mom calls family from trunk, found dead 325 miles away
---
Wanted: Warrant issued for Green Party Presidential candidate Jill Stein's arrest in North Dakota
---
The New Yorker: The facts and falsehoods of the Clinton Foundation
---
Boston Globe: Are Clinton's memory lapses a health issue, or just dishonest dodging?
---
Byron York: As debates near, forum shows potential Trump advantage
---
NYPD: Hillary Clinton was wearing 'invisible' earpiece to receive stealth coaching during live NBC TV Town Hall program
---
Never forgotten: The children of 9/11
---
Moscow: Russia: Israel, Palestinian leaders agree to meet for talks
---
Vanity Fair: How Arianna Huffington lost her newsroom
---
Philadelphia: Trump promises huge boost in military spending
---
Ashe Schow: A very bad poll for Hillary Clinton; she has outspent Trump almost 5-to-1 but still watched her lead evaporate
---
Victor Davis Hanson: The Trump bump
---
---
Links formerly right here, now at http://www.newswatchcanada.ca/oldnews2016-2.html
---
---
---
---

---
Guardian: Deutsche Bank fears rattle stock markets; shares hit new 30-yr lows, recover ground after CEO tells staff bank has 'strong fundamentals'
---
Death spiral? Deutsche Bank shares plummet on fears about its health
---
Is Deutsche Bank about to become next Lehman? U.S. fine of $14B plunges pillar bank into crisis that could go beyond German borders
---
MarketWatch: Angela Merkel has bungled the Deutsche Bank crisis, like everything else
---
Cover-up: Trump dubs Hillary Clinton's staff 'The FBI Immunity Five'
"They gave so much immunity there was nobody left to talk to..."
---
What is life? New research undermines 'RNA world' of early evolution


New research undermines the 'RNA world' theory, inspiring a team of scientists to suggest a second, alternative RNA-DNA origin story. A rendering reveals the ladder shape of a DNA strand. ~ Gen Epic Solutions Shutterstock
---
updated One dead, 100+ injured, 'multiple critical injuries';
commuter train crashes into New Jersey Transit's Hoboken Station


NJ Transit spokesperson Jennifer Nelson tells media it was the scheduled 8:38 a.m. train which crashed in Hoboken Station, at 8:45 am. Train passenger Jim Finan says train came into station at "full speed". Finan says "dozens standing" and they "went flying" on impact -- he observed there were "a lot of head injuries"... Train worker Mike Larson says he heard no brake noise and when train hit 'bumper block' at end of line it 'sounded like a bomb'; train car flew through air for another 40 feet until it hit wall of waiting room. Front half of first car was 'demolished' according to Larson and there were serious injuries. The person killed was a woman waiting on the train platform who was hit by debris.
---
TIME: The U.S. has a weak hand in Syria due to Obama/Clinton incompetence — and Russia knows it


Syrians surround a man as he cries over the body of his child after she was pulled out from the rubble of a building following government airstrikes on a rebel-held neighborhood of Aleppo on September 27th, 2016. After pushing for uprisings in the Middle East the Obama/Clinton foreign policy let people down, leaving them to suffer, and creating the world's refugee crisis. ~ Karam al-Masri AFP/Getty Images
---
Kyle Smith: Lester Holt shows he doesn't know the meaning of impartial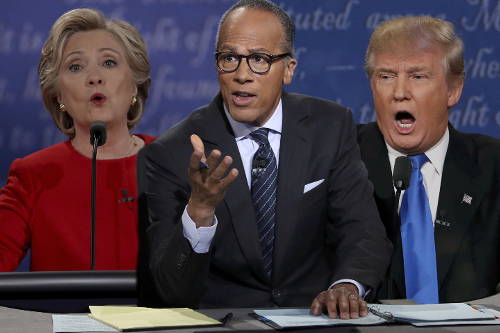 The ref not only made himself part of the game on Monday night, he ran up to the scrimmage line, then sacked the quarterback three times.
---
Hempstead: Will Clinton-Trump highly anticipated first debate set records?
---
World watching: Albanian taxi driver boosted by Trump-decorated cab


Uljan Kolgjegja, 37, an Albanian taxi driver, points to a picture of U.S. Republican candidate Donald Trump on his car in the Albanian capital, Tirana, on Sept. 26, 2016. The move has attracted attention in the capital Tirana and Kolgjegja says he is earning more money than ever before in his 13 years as a taxi driver. "His pictures have attracted more clients to my car," he told The Associated Press. ~ Hektor Pustina AP
---
Victoria: Sorry, one doesn't high-five with commoners: Trudeau fails
in awkward greeting with a very unimpressed Prince George


Trudeau offered Prince George a high-five upon greeting him to Canada, only for the young Royal to shake his head and refuse, pictured. ~ © ITN
---
Tragedy: Miami Marlins star pitcher Jose Fernandez, 24, killed in horrific boating accident in Florida
---
Charlotte Observer: Police release videos of shooting of Keith Scott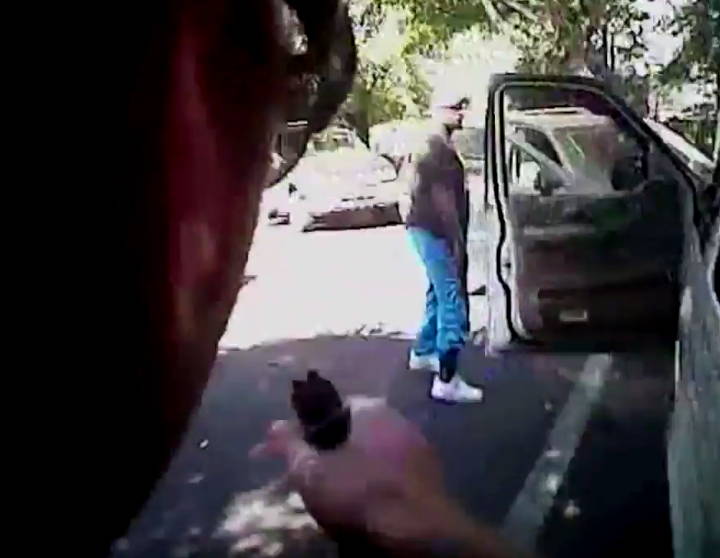 Frame from Charlotte Police video shows Keith Scott, with gun in his right hand and empty ankle holster being ordered by police to drop his gun. He didn't, and a few seconds seconds later he was fatally shot by an officer not seen here.
---
Subterfuge: Obama used a pseudonym in emails with Clinton: FBI dox;
but said in 2015 he learned of Hillary secret server from media accounts
---
Edmonton: Court hears arguments on constitutionality
of removal of 'honour killing' bus ads


City of Edmonton bus ads depicting Muslim women as victims -- and suggesting families of the faith practise honour killings -- have been yanked by Edmonton Transit officials. ~ Tony Clark
---
NY Times: Wife of Keith Scott, Charlotte shooting victim,
filmed fatal encounter with police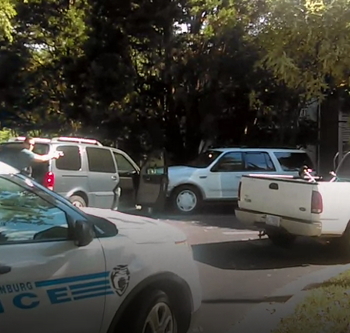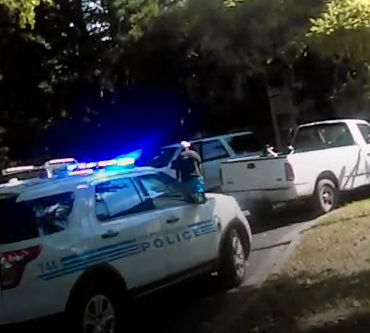 In a cellphone video of the moments before and after Keith L. Scott was fatally shot by the police, his wife is heard pleading with him to get out of his truck, and to the police not to shoot him. In pictures above excerpted from the video, the left picture shows a policeman with his gun aimed, looking back at the photographer who is yelling at the policemen to not shoot her husband. The right picture shows Keith L. Scott seconds later after he has exited the white van and a second before he is shot dead. Click this link to watch the video at The New York Times. Warning: The video contains graphic content and language. ~ Rakeyia Scott NY Times
---
Charlotte Observer editorial: Police should share video of shooting
---
Mississauga: Car crashes, burns after driver clashes
with motorcycle riders in wild road rage incident


Police say this car was pursuing a group of motorcycles when it flipped over and burst into flames. The driver escaped with minor injuries. ~ Tony Smyth CBC
---
NY Times editorial: Release the Charlotte Police video
---
Stonewalling: City of Charlotte faces national criticism for not releasing
videos of fatal police shooting; Democrat mayor 'out ouf touch'
---
Fraud: Monsef urged to quit Liberal cabinet amid claims
true birthplace has 'been known for quite awhile'
---
Thugs: Charlotte Mayor finally imposes midnight curfew as hundreds riot for a third night
---
Charlotte: State of Emergency; rioting thugs attack police HQ


Police and protesters carry a seriously wounded protester into the parking area of the the Omni Hotel during a march to protest the death of Keith Scott September 21, 2016 in North Carolina. Scott, who was black, was shot and killed at an apartment complex near UNC Charlotte by police officers, who say Scott was warned to drop a gun he was holding. ~ Brian Blanco Getty Images
---
Charlotte Burning: Soros-funded Black Lives Matter inflicts its terror
in a sleepy Southern city; intimidation, looting, shooting, mayhem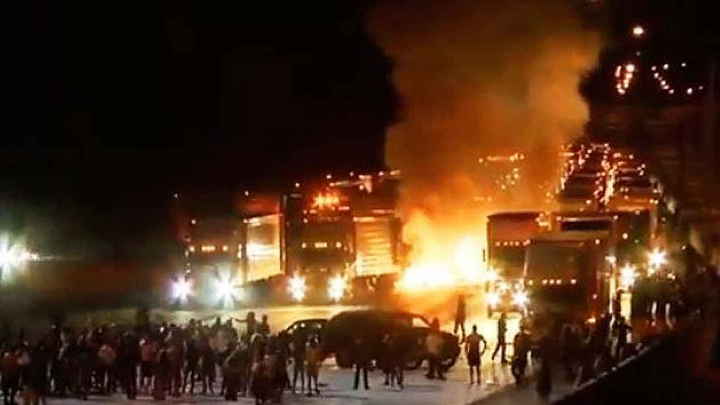 Two nights of rioting, including closing down and looting trucks on Interstate highways led North Carolina Governor to call in National Guard and state troopers to restore order in Charlotte. Outside paid thugs have been blamed for the escalation of violence after a disputed police shooting. 'Black Lives Matter' ringleader DeRay Mckesson describes rioting as "a cry for justice." He told Yale students that "looting for me isn't violent, it's an expression of anger," and that "The act of looting is political. Another way to dissolve consent. Pressing you to no longer keep me out of this space, by destroying it." But regardless of what such leftists say, there is no right to riot. "Although the right to peacefully protest is enshrined in the Constitution," law professor John F. Banzhaf III writes, "there is no constitutional or other legal right to commit criminal acts to make a point."
---
Charlottetown: Fax threat to detonate bomb led to PEI schools evacuation
---
updated Charlottetown: RCMP deem Prince Edward Island
school threat 'not credible'


Students gathered on the lawn outside Spring Park School in Charlottetown, PEI. A threat forced the evacuation of all schools on Prince Edward Island Wednesday morning. ~ Rob LeClair
---
New York: Bomber's 'rambling' journal praised top al-Qaida operative
---
Heroes: Two homeless men found backpack with 5 bombs near train station & called police;
"They probably saved hundreds of lives" — Elizabeth, New Jersey mayor Christian Bollwage
---
New York: Bomber Ahmad Khan Rahami changed after Afghan visit
---
NY Times: NY bomber Ahmad Khan Rahami shot & caught after manhunt


Ahmad Khan Rahami splayed out next to a street in Linden, N.J., after he was shot by police officers in a gun battle on Monday morning. He was found sleeping in a doorway of a bar. ~ Ed Murray
---
New York: 'There will be more': Chilling 911 call after Chelsea bombing
---
Police source: New York City and New Jersey bombs from 'same person'
---
NY Gov. Cuomo: New York bomb was 'obviously an act of terrorism'


Gov. Andrew Cuomo was blunt in his assessment, saying significant damage had been caused and "we were lucky there were no fatalities". In contrast, nervous New York Mayor Bill de Blasio had soft-pedalled the bombing in an on-site press conference Saturday night. Above, NYPD CSI personnel examine the crime scene where 29 were injured in the explosion Saturday night on busy West 23rd Street in Manhattan's Chelsea neighborhood. ~ Stephanie Keith Getty Images
---
updated New York: 2nd bomb device: pressure cooker wired to cellphone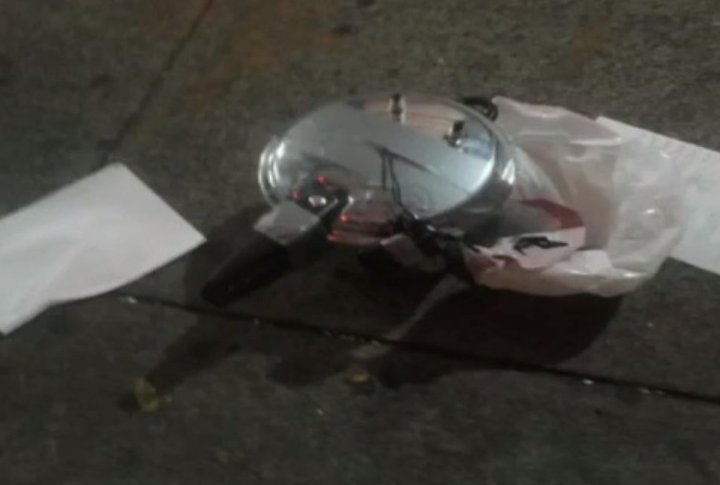 This is the pressure cooker bomb found at West 27th Street in New York City, only four blocks from the Chelsea location on West 23rd Street where an explosion injured 29 people Saturday night. Police removed it with a remote control bomb disposal robot.
---
New York: Multiple reports that a second,
unexploded bomb has been found at West 27th Street
---
updated New York: 29 injured as dumpster explosion rocks Chelsea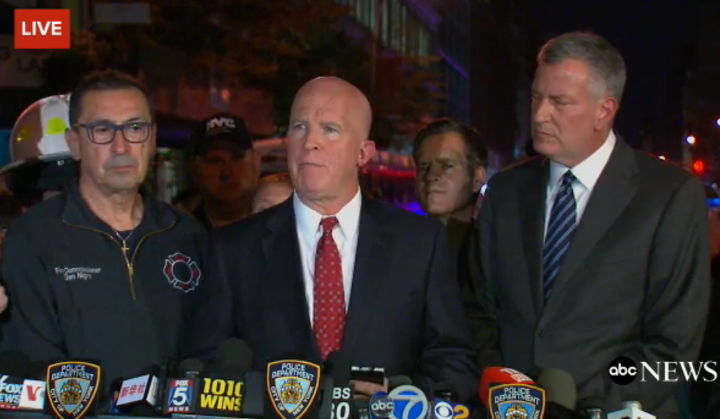 New York City Fire Commissioner Dan Nigro, New York City Police Commissioner James P. O'Neill, and NYC Mayor Bill de Blasio answer questions at a press conference Saturday night as the investigation continues. De Blasio called it an "intentional act" but said it wasn't terrorism. The police already have some security video from before and after the loud explosion, and are seeking more. O'Neill's first day as New York City Police Commissioner was Friday.
---
Seaside Park: Terrorist bomb along New Jersey shore route of Marine charity run would have maimed or killed if event had been on time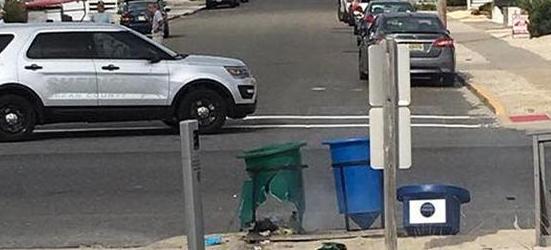 The top photo shows the damaged garbage can where other linked, but unexploded bombs were also found after the Saturday morning explosion. Bottom photo shows the narrow island and the location at D Street and Ocean Avenue. The charity run was delayed when an unattended backpack was discovered. That delay likely saved lives and limbs. Seaside Park is located on Barnegat Barrier Island, a dozen miles east of where the Zeppelin 'Hindenburg' blew up at Lakehurst in 1937, and about 40 miles south of New York City.
---
Jake Novak: Trump is doing everything right —
including letting Jimmy Fallon mess up his hair


Donald Trump during an interview with host Jimmy Fallon on September 15, 2016. ~ Andrew Lipovsky NBC
---
Larry Kudlow: Tax cuts, king dollar and growth: From JFK to Reagan to Trump
---
New York: Trump sets goal of 4% growth, 25 million new jobs
---
Reuters/Ipsos poll: Half of Americans 'very concerned' about Hillary emails & Clinton Foundation
---
Clinton lied about health throughout 2016; on cocktail of drugs; surgery and brain scan in winter; antibiotics for infectious bacterial pneumonia


Clinton collapsed as her getaway van arrived Sunday; she was caught by medical aides and Secret Service personnel. It was hours before Clinton's campaign admitted she had infectious bacterial pneumonia; now more details of her year-long health charade have been revealed. Video of the above collapse is online. ~ ©YouTube/Zdenek Gazda
---
Toronto: Union to sue Ontario Govt over Hydro One sell-off
---
Washington: DNC hacked again by Guccifer 2.0; Dems blame Trump
---
Payback: Russian hackers attack World Anti-Doping Agency,
'accuse Simone Biles and Williams sisters of taking banned substances'
---
Germany: Three Syrian asylum seekers arrested after tip-off
ISIS sleeper cells planning carnage similar to Paris attacks
---
Vancouver: Will Electra Meccanica Solo at $15,500 be the electric commuter vehicle breakthrough?


Will this be the face and... behind... in your rear-view mirror next year? Priced from $15,500 and with the first deliveries expected in 2017, the Canadian-made Solo uses a synchronous electric motor that generates 82 HP and 140 pound-feet (190 Nm) of torque. This is fed by a 16.1 kWh lithium-ion battery that provides a 100-mile (160 km) range and can recharge in roughly six hours from a 110-volt outlet, and in half the time on a 220-volt system. "It has appeal for driving enthusiasts, practical commuters and the environmentally conscious. We believe the Solo will become the commuter vehicle of choice for the masses. The vehicle is non-polluting, very economical to operate and people will have a heck of a good time driving it too", said Henry Reisner, the Canadian company's COO.
---
Second ISIS plot uncovered in a week: 15-year-old boy
arrested by French police for planning 'imminent' Paris attack
---
NY Times: Hillary Clinton being treated for pneumonia, her doctor claims
---
Chris Cillizza: Hillary Clinton's health just became
a real issue in the Presidential campaign
---
Washington Post: Clinton falls ill during 9/11 memorial service in New York
---
Politico: 9/11: 'We're the only plane in the sky' The strange, harrowing journey of Air Force One, as told by the people who were on board


Nearly every American above a certain age remembers precisely where they were on September 11, 2001. But for a tiny handful of people, those memories touch American Presidential history. Shortly after the attacks began, the most powerful man in the world, who had been informed of the second World Trade Center plane in a Florida classroom, was escorted to a runway and sent to the safest place his handlers could think of: The open sky.
---
UNHCR: 100,000 Afghan refugees return from Pakistan
---
Paris: ISIS supporters who owned 'gas cylinders car' were plotting to attack city's railway station
---
Paris: 'Radicalized' owner arrested after car filled with explosive
gas cylinders found outside Notre Dame cathedral
---
Anthony Watts: In the middle of the so-called "hottest year ever" come record wheat harvests
---
Go Canada: 22,000 km car-free cross-country bike path to be finished
in 2017 for nation's 150th birthday celebration; now 87% complete


Construction began in 1992 and is scheduled to be completed by 2017, just in time for Canada's 150th anniversary. So far over 87% of the trail is complete, and it already connects most of the major cities in Canada. It's Canada's version of a 'bike path', exclusively designated for recreational purposes: only bikes, hikers and horseback riders allowed in the summer, and cross-country skiers, snowmobiles and ATVs in the winter. ~ Betty Anne Graves (middle)
---
Ottawa: Senior Liberal says Canadian Govt open to rule change
allowing China Govt takeover of more Canadian assets
---
Transcript: Trump's remarks as delivered at Great Faith Ministries church in Detroit
---
Trump calls for 'Civil-Rights Agenda' at Detroit Church


Presidential candidate Donald Trump looks on during church service at Great Faith Ministries Saturday. ~ AP
---
---
Links formerly right here, now at http://www.newswatchcanada.ca/oldnews2016-2.html
---
For full news link archives since December 7, 2009
follow page links from
NWC Old News
Welcome to Worldwide Visitors
Send news tips to
Editor@NewsWatchCanada.ca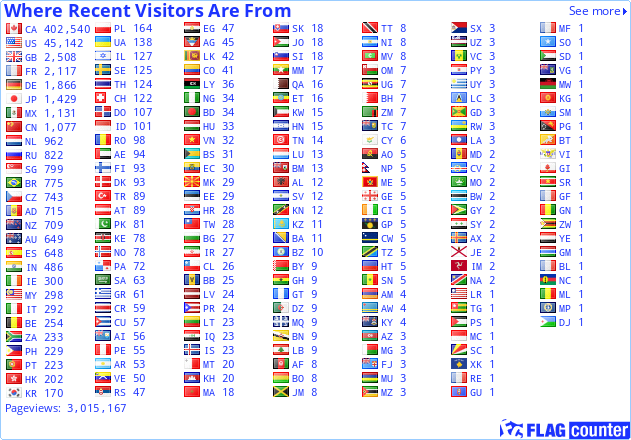 ---

---

For full news link archives since December 7, 2009
follow page links from
NWC Old News
---
---
TOP LINK
Ottawa: Taxpayers on hook for $1.1M to move Liberal aides; top 10 expensed more than $50,000 each
---
Fiscal discipline lost: Federal books $8B lower over first four months compared with a year ago
---
U.S. economic boost would cross border: Trump win would benefit Canadian economy: Royal Bank
---
Ottawa: Kellie Leitch directing her campaign, not him, says manager Kouvalis
---
Poll: 'Ontarians have never been this angry': Poll respondents feel unprotected from power price increases
---
Kelly McParland: Canada's First Nations show signs of buyer's remorse over Trudeau Liberals
---
Toronto: Incredibly, Liberal cabinet minister defends Nestlé draining of Aberfoyle aquifer; tone-deaf Sandals reflects Liberals' poor listening/thinking skills
---
'Extraordinary friend': Trudeau, Ambrose, Harper, Chretien to attend Shimon Peres funeral
---
WSJ: BlackBerry outsourcing handset business; pulls out of bruising global smartphone race it kicked off almost two decades ago
---
Former House of Commons Speaker: Andrew Scheer enters Conservative leadership race
---
Trudeaupia: The price tag for passengers' food, drink on PM's plane was $1,300 — per person
---
Calgary: Federal government approves $11.4B Petronas LNG project in B.C.
---
Calgary: Cattle feeders at heart of Canada's industry say cow head tax threatens survival
---
Ottawa: Canadian economic growth lower than he forecast, says Morneau; so deficits to run longer, larger
---
Toronto: Ontario cancels plans for more green energy, saving province $3.8B as consumption drops, industry flees due to high power bills
---
Fair comment or thin skin? Montreal Muslim school president was 'devastated' by feminist's criticisms, slander trial hears
---
Crime 'magnet': City of Ottawa wants Nigerian restaurant, known for gangs and homicides, to be shut down
---
Ottawa: Maryam Monsef could be stripped of her citizenship without a hearing after revealing she was born in Iran
---
Ottawa: Liberals consider ending Canada Savings Bond program
---
Bloomberg: Trudeau's Canadian honeymoon is about to end
---
Nunavut: PMO drops the ball after informed, govt searchers still hunting for HMS Terror for a week after its discovery by private explorers
---
Tehran: Canadian-Iranian professor Homa Hoodfar released from Iranian prison: sources
---
Victoria: Failed high-five between Trudeau, Prince George focus of British news coverage
---
Oshawa: GM agreement with union promises $12,000 in worker bonuses, $554M investment in Canadian plants; extends life of Impala, Cadillac XTS
---
Ottawa: Canadian taken hostage in Libya: Fed Govt
---
Calgary: Stampeders confirm death of Detroit-born player Mylan Hicks in bar killing
---
Royal Visit Canada: Prince William, Kate and the kids arrive in Victoria
---
Ottawa: Former Ontario Ombudsman is PC candidate in by-election for Ottawa-Vanier
---
Toronto: Victim in fatal Scarborough Centre Station stabbing Friday night is under 18: police
---
Ottawa: More Liberals reimburse moving expenses after caught with both hands in govt cookie jar
---
Stephen Maher: The expenses scandal puts Ottawa back on a war footing; Trudeau gets a warning: He may be Teflon, but he's not invulnerable
---
Expenses scandal: Liberals "using the taxpayer as their personal ATM"
---
WSJ: Petrobras to sell 90% of gas pipeline unit to Brookfield-led consortium
---
Kelly McParland: China's autocrats find a new friend in Ottawa
---
After Trudeau confirms extradition negotiation: Foreign Affairs Minister Stéphane Dion denies it
---
Vancouver: Bomb squad detonates live grenades found in truck
---
Bloomberg: Canada is pumping so much oil to the U.S. there are not enough pipelines to carry it
---
Kevin Libin: It turns out shockingly few workers will benefit from the steeper CPP we're all forced to pay
---
Google shopping? Twitter shares jump more than 20% on report of takeover talks
---
Motley Fool: BlackBerry may close its hardware division on September 28th
---
AM640: Vancouver loses $$ billions with foreign buyers tax; prov govt happy, sellers not
---
Ottawa: Inflation cools to 1.1% as food price hikes slow down
---
CPI Study: Ontario electricity customers have paid more than $6B to dump surplus, high-priced power
---
Ottawa: Chris Alexander to run for Conservative leadership: source
---
Kelly McParland: Liberal spending practices make Mike Duffy look like an amateur
---
Ottawa: Senior PMO staffers Gerald Butts and Katie Telford to return $65K in 'unreasonable' moving expenses
---
'Unnecesary stress to everyone involved': RCMP says bomb threat against Nunavut schools not credible
---
Ottawa: Jason Kenney delivers final speech in House of Commons
---
Putting jobs first: New GM deal hailed: "Migration of product from Mexico to Canada a first": Unifor
---
Toronto: GM to build popular Silverado pick-up trucks at Oshawa plant as part of new labour deal: sources
---
Kady O'Malley: Liberals being held to account in House of Commons and media for extravagant, wasteful spending
---
PEI copycat? Bomb threat closes schools across Nunavut
---
Globe and Mail editorial: How do you spend $126,669 to move house? Only the Liberals know
---
Douglas Quan: Cree author takes on 'filthy, stinking subject' of aboriginals and alcohol
---
Ottawa: Federal departments racked up $17M on cab rides over Liberals' first seven months in power
---
Laura Stone: Top Trudeau aides Butts, Telford expensed over $200,000 for moving homes
---
Matthew Fisher: The many dangers of cozying up to Beijing
---
Terry Glavin: Enough of the 'Canada is back' hogwash already, Trudeau is cozying up to China and Russia
---
Booed by the crowd at the International Plowing Match: Premier Wynne feeling the heat over hydro rates
---
Robert Fife: Heralded as Canada's first Afghan-born MP, Cabinet Minister Maryam Monsef actually born in Iran; why didn't security vetting for cabinet post uncover this error?
---
Power costs up 90% since 2003 by Liberal choice: Feels like the old bait and switch to me
---
Ottawa: Lisa Raitt makes emotional statement on World Alzheimer's Day
---
Still ahead of NDP: Struggling Ontario Liberals have shot at another majority if Kathleen Wynne resigns: poll
---
Kellie Leitch: Liberals have 'ceded the ground on who's the defender of Canadian values'
---
Christina Blizzard: Wynne isn't fooling rural Ontario
---
NY Times: Canada agrees to talks on extradition treaty with China
---
Globe and Mail editorial: China wants an extradition treaty. Ottawa should say no
---
Vancouver: Three people arrested in grisly double murder and abduction
---
Ottawa: Trudeau's security adviser approved the removal of China's 'economic fugitives'
---
No strike: GM deal promises new vehicle for Oshawa plant, V6 engines for St. Catharines
---
Toronto: Man stabbed multiple times in Eaton Centre, in life-threatening condition; one suspect arrested
---
Quantum records: Canadian researchers lead the way towards unhackable internet communication
---
Robbery suspect: Winnipeg police Taser man who tried slashing them
---
Alberta: Police release photo of suspect Liban Musse in Grande Prairie mall shooting
---
Ottawa: Tory MPs take aim at Liberals' carbon price plan
---
Ottawa: Trudeau Government's first months were least productive in decades
---
Hwy 401 closed at Brockville: Country's transportation backbone closed in both directions again as police slowly investigate fatal accident; Canada's GDP takes another hit
---
Despite rhetoric: Liberals back away from setting tougher carbon targets
---
Recession coming: Canada will impose nationwide carbon price; no details
---
Down to the wire: Strike looms as GM, auto union talks approach deadline
---
WSJ: Canada July factory sales disappoint with 0.1% gain; miss market expectations by a wide margin
---
Manila: Ex-hostage details devastating kidnapping ordeal that saw two Canadians beheaded
---
Calgary: Two injured, including police officer, after machete-involved altercation at mall
---
Rio: Iranian cyclist dies after crash in Paralympics road race
---
Crux of the Matter: Trump and Leitch prove progressives are actually regressive
---
Peterborough: New locally recorded version of 'Me and Bobby McGee' features its writer Kris Kristofferson, along with fellow legends Gordon Lightfoot, Ronnie Hawkins and Willie Nelson
---
Vancouver: U.S.-Canada border shut down both ways at Peace Arch for three hours because of security 'incident'
---
Manila: Militants who beheaded Canadians free Norwegian hostage in Philippines
---
Ottawa: Liberals say undecided if they'll allow MPs to vote on risky peacemaking missions in war-torn Africa
---
Robert Fife: Saskatchewan Premier slams Ottawa's plan to ratify Paris climate pact
---
Paul Wells: Canadian commander cautious in describing progress against ISIS in Iraq
---
Tasha Kheiriddin: Whose party is it, anyway? As the Conservative leadership race unfolds, the answer may surprise us
---
Laura Stone: Nick Kouvalis: The shrewd strategist behind Dr. Kellie Leitch's Tory leadership bid
---
W.P. Kinsella: Author of book behind 'Field of Dreams' movie, dead at 81, via doctor-assisted suicide
---
Ottawa: Canada has spent more than $17M to protect PM Trudeau since 2015 election
---
Susan Delacourt: Housetrained: A surprising lesson from political rookies' education
---
Ottawa: Federal copyright lawsuit involving Blacklock's Reporter puts content paywalls at stake
---
Financial Post: Target fiasco looms large as Nordstrom challenges Hudson's Bay with new flagship store in Toronto
---
David Olive: Why Nordstrom is likely to succeed where Target failed
---
Ottawa: Statscan head quits, cites loss of independence; immediately replaced by Trudeau
---
Michael Campbell: The formula for social unrest and political upheaval
---
CETA: EU-Canada trade deal vote has wider implications for German political landscape
---
CETA: German Minister expects to win vote on EU-Canada trade deal
---
CETA: Canadian trade unions come out against landmark Canada-EU trade pact
---
No camera, no proof: Why Sammy Kogvik didn't tell anyone about HMS Terror find six years ago
---
Michael Campbell: Money disappearing everywhere - mostly from you
---
Grand Prairie: Suspects on the run after shopping mall shooting in northern Alberta
---
Toronto: Projected billion-dollar price tag for new park over part of downtown rail corridor could get funding from developers says staff report
---
Specious tribunal decision: Natives upset federal govt has failed to match federal child welfare spending with top provinces; but was tribunal ruling ultra vires?
---
RnR HoFers: Toronto to give Rush the key to the city
---
Big rig: Multiple charges laid against truck driver in June Highway 400 crash that killed 4
---
Michael Campbell: Bank of Canada says lean times ahead
---
Ottawa: China releases and deports Canadian detained for two years on suspicion of spying
---
Ottawa mayor: 'Back to the drawing board' for Château Laurier addition; City must approve final design
---
Ottawa: Owners of Château Laurier blame government regulations for 'horrendous' design of proposed addition; say won't back down in front of massive public backlash
---
ZeroHedge: 5 core economic 'facts'
---
Michael Campbell: Interest rates at a 5000-year low....for now
---
Robert Fife: Canada took part in secret operation to destroy Libyan chemical weapons
---
Gananoque: Transport truck driver was killed in fiery 401 crash which shut down Canada's busiest highway for hours; hit unmanned construction zone safety vehicle with flashing lights
---
Flashback: Polygamous Muslims claim cash for numerous wives: President of Canadian Society of Muslims
---
Reuters: Canada says deadlocked with U.S. over lumber, ready to litigate
---
Randall Denley: Thanks, government, you've made Ontario so great!
---
Halifax: Rona Ambrose backs off on inserting herself into debates among Conservative leadership hopefuls; says her own political future uncertain
---
Some things really private? Ottawa-based sex-toy maker facing U.S. lawsuit over privacy concerns
---
Chantal Hébert: Brian Mulroney's pipeline advice doesn't fit Justin Trudeau; even if befits the country
---
Halifax: Leitch dismisses critics of her immigrant-screening proposal as 'elites'; "I am talking about the issues that Canadians care about, about Canadian values"
---
Montreal: Mulcair says he has unanimous support of NDP caucus
---
Toronto: Most rural Ontario hydro customers to see new increases, despite minor tax rebate
---
Globe and Mail editorial: Ontario's new electricity policy: History repeats as farce
---
Anthony Furey: Trudeau visits mosque with terror connections
---
Minister Freeland: Canada working toward signing CETA trade agreement in October
---
Maxwell Harrison: Once upon a time the National Energy Board was nonpartisan
---
Ottawa: Andrew Scheer steps down as Conservative House leader to explore party leadership run
---
Bay Street: Toronto Dominion Bank to buy New York broker-dealer Albert Fried to expand U.S. footprint
---
Toronto: Argument over religion leads to man stabbed to death near York University; arrest made without incident
---
Michael Campbell: Central bank manipulation and madness
---
No contrails: Empty skies after 9/11 enabled unique climate observations
---
Ian Mulgrew: Groundbreaking suit threatens universal medicare, B.C. government claims
---
HMS Terror: 'Perfectly preserved' ship found in Arctic 168 years after doomed Northwest Passage attempt
---
Canadian Arctic: HMS Terror, second ship from doomed Franklin Expedition, found in Terror Bay
---
Ottawa: Canadian company accused of 'knowingly' breaking Sudan arms embargo; sold unarmed armoured personnel carriers made in Ontario
---
Toronto: Peter MacKay will not run for Conservative leadership
---
Crux of the Matter: Free speech in Canada except when we talk about Muslim values
---
Calgary: Stephen Harper takes job at international law firm Dentons; joins firm of former cabinet colleague James Moore, ex-PM Jean Chrétien and former Manitoba Premier Gary Doer
---
Zika virus in Florida: 'No one can give you a straight answer,' says pregnant Canadian
---
Too little, too late: Ontario Liberals promise tax break on bankrupting power bills
---
$38B CDN: Canadian fertilizer giants Agrium and Potash agree to merge
---
Liberal secrets: Hunter Tootoo's messy love triangle helped spur resignation from cabinet
---
Toronto: Ontario Liberals expected to reveal electricity price cuts as election looms
---
Blood brothers: Events across Canada commemorate anniversary of 9/11
---
Nightmare revisited: 15th anniversary of 9/11 sees rebirth and renewal at Ground Zero
---
Oliver: No damage reported following very shallow M4.0 earthquake in South Okanagan
---
Surrey: Charges pending against RCMP officer after Creep Catchers sting
---
Operation Yellow Ribbon: A bright spot amid a very sad day; September 11, 2001
---
Crux of the Matter: Kellie Leitch has forced debate re: immigrants and Canadian values
---
The Passionate Eye: Jason Thomas: The lost hero of 9/11
---
Vancouver: $6.4M in undeclared cash seized from Chinese citizens at YVR last year
---
Gander: Newfoundlanders to gather to commemorate 15th anniversary of 9/11
---
David Krayden: Sorry, but Canadian values do exist
---
Candice Malcolm: Obviously, Leitch is right about immigration
---
Pick the best: Immigrants should undergo enhanced screening, Tory leadership contender Clement says
---
Toronto: Legal action by Tyendinaga Mohawk Territory resident to seek "$2-3 Quadrillion" in damages reportedly dismissed by Court
---
Paul Vieira: Canada adds 26,200 jobs in August after public-sector hiring spree; unemployment moves up to 7% after rough summer
---
Stella: Amherst Islanders appeal to Minister for re-think of community-destroying monster turbine plan; cite lack of consideration for wildlife, island's historic setting
---
Ottawa: Tories launch bid to force emergency committee debate on CPP tax hike
---
Montreal: Liberals on hot seat over NEB 'circus'; is alternative to Energy East more tankers on St. Lawrence?
---
Ottawa: NDP turmoil appears to continue; will Mulcair be dumped as interim leader, too?
---
Puts art where heart is: Gord Downie to release 'Secret Path' solo album and graphic novel in October about native boy who died in 1966
---
Ottawa: DND investigating if recently killed ISIS terror leader received Canadian training
---
Canadian Medical Association: Legal pot needs strict rules, minimum age of 21
---
Patrick Brown: Premier Wynne is desperate to change the narrative
---
Liberal incompetence comes home to roost: Ontario won't be able to reduce soaring hydro costs anytime soon, say experts
---
John Carpay: The road back from serfdom
---
Toronto: Wynne prorogues Ontario Legislature; new Throne speech Monday
---
Michael Taube: Stephen Harper wanted Canada to be great — Trudeau wants it to be mediocre
---
Ottawa Citizen editorial: Trudeau's false equivalence on Chinese human rights
---
Halifax: Consumer advocate wins appeal over whether an appeal can be launched by someone not directly affected by a policy; says it will have implications in all federal tribunals
---
Brussels: EU-Canada deal to share air travellers' data infringes privacy: EU court
---
Cloyne: Ontario man suing over electricity charges for cottage without power; bureaucratic twilight zone
---
Financial Post: Postmedia Network Canada Corp's shareholders, bondholders approve proposed restructuring deal
---
Theresa Tedesco: Edward Snowden lauds 'courageous' asylum seekers who sheltered him: 'They had a hundred chances to betray me'
---
Home country wouldn't issue travel documents: Jamaican man finally deported after 5-year immigration detention
---
Unconstitutional? Wynne wants to extend ban on attendance at fundraising events to all political candidates
---
Toronto: Wynne says after byelection loss she's finally noticed citizens are being devastated by high power rates
---
Bloomberg-Nanos survey: Trudeau handouts not providing economic stimulus
---
St. John's: Bodies of 2 fishermen, missing boat recovered near Cape Spear
---
Theresa Tedesco: Meet the Canadian who hid Edward Snowden
---
Theresa Tedesco: How Snowden escaped
---
Kiwi study: Canada offers world's most expensive international flights
---
Faces charges of fraud, corruption: Ex-Quebec Deputy Premier Nathalie Normandeau rips up Liberal membership card
---
Major trade partner: Trudeau standoffish about commenting on Hong Kong while visiting Hong Kong
---
Kady O'Malley: New Democrat finances in the black, but fundraising trend warns of dark days ahead
---
Terence Corcoran: Leave it to suave Mark Carney to explain away how he got the Brexit fallout so wrong
---
Crux of the Matter: Kellie Leitch is right about screening immigrants re: Canadian values
---
Windsor: Plaza progress on Canadian side for Gordie Howe bridge, not so much on Detroit side as Morouns continue blocking maneuvers; Liberals now many months late in choosing bridge contractor
---
Chris Vander Doelen: 'Dirty, rotten greed' ruined hydro
---
Michael Campbell: Complexity failure crisis and panic
---
---
Links formerly right here, now at http://www.newswatchcanada.ca/oldnews2016-2.html
---
---