---
IRS's Lerner had history of harassment, inappropriate religious inquiries at FEC
---
Fox News reporter James Rosen got 'AP treatment' by Obama Justice Dept; Google gives private emails to government; 'APgate' explodes
---
Romney donor audited by the IRS three times in four months after being attacked by Obama campaign
---
Massachusetts Senate race: Markey's fight strategy: Duck 'n' cover
---
France to buy U.S. and Israeli drones 'straight away'
---
Venezuela in rare diplomatic overture to U.S.
---
IRS targeting scandal fuels Tea Party resurgence
---
Larry Kudlow: Special counsel only way to clean up IRS rat's nest
---
This is not the President Obama we voted for
---
Associated Press CEO says government seizure of phone records has made sources less willing to talk to reporters; may sue government
---
Benghazi cover-up continues: Obama aide says 'irrelevant fact' where President was during Benghazi attacks, "doesn't recall"
---
'Google accused of running 'scandalous' tax avoidance scheme by whistleblower
---
Not terrorism? Officials say broken rail of interest to investigators seeking cause of Connecticut train collision
---
Neil Macdonald: Barack Obama's war on the press; Washington's obsession with leakers has rendered reporters radioactive
---
Chicago's criminals are getting away with murder; only 132 of Chicago's 507 murders were solved last year
---
White House loses stonewall battle to withhold key Benghazi records
---
IRS Commissioner Miller has mobster answer to key question: "I don't remember" who I was told is responsible for the IRS scandal
---
GOP Congressman Mike Kelly receives standing ovation after he rips IRS Commissioner Miller [video]
---
Jonathan Tobin: Denial flows like a river at the IRS
---
Syria meltdown; integrity of the Syrian state "biggest casualty"
---
Issa subpoenas Benghazi probe co-leader, report raises new questions about lack of U.S. FEST response
---
'We could lose everything': Tea Party groups prepare to sue IRS
---
Is J. Russell George the blockbuster witness of IRSgate?
---
Plot thickens on AP records scandal; was spying retaliation because AP had stepped on White House toes?
---
NY Times: Political cover-up: Treasury knew of IRS political screening issue in 2012, official says
---
2 bombs kill 9, wound 70 inside Afghan gated community linked to Karzai family in south
---
Peggy Noonan: This is No ordinary scandal; political abuse of IRS threatens basic integrity of our government
---
Kimberley A. Strassel: The IRS scandal started at the top
---
Weekly Standard: IRS deliberately chose not to fess up to scandal before election
---
George F. Will: Obama's tapped-out trust
---
Two blasts at Iraqi Sunni mosque kill 47
---
Employees at Cincinnatti IRS office say all direction "comes from the top"
---
Michael Goodwin: Raindrops wash away reeling O's fake veneer
---
NY Post: Legend Dick Trickle on 911 call: 'There's gonna be a dead body...It's suicide'
---
Jesse Kline: What can be done to stop the government from spying on journalists?
---
Viral video: Daughter throws ceremonial pitch at Tampa Bay Rays' game only to find 'catcher' really her dad, home from Afghanistan
---
Charles Krauthammer: White House can't keep its cover-ups straight
---
Remote Alaska volcano continues to erupt, with lava fountains, ash plumes; 625 miles southwest of Anchorage
---
IRS official Lerner speedily approved exemption for Obama brother's illegal 'charity'
---
Second IRS sacrificial lamb chopped; was appointed May 8th
---
Climate models getting worse than we thought
---
Cleta Mitchell to Newsmax: IRS Scandal Reaches to White House; an impeachable offense
---
lighter side: IRS 'Cheetahs' cancel softball game with Senator's staff
---
Boston: Dzhokhar Tsarnaev left confession note in hiding boat
---
Malkin: A brief history of slimy Dem snoops and dumpster divers;
fired Miller linked to Clinton-era IRS shenanigans
---
The media break up with Carney and Obama
---
U.S. claims for jobless benefits rise sharply
---
Has CBS TV been suppressing Benghazi coverage by star reporter Sharyl Attkisson?
---
updated: 6 Americans, 8 Afghans dead in Kabul suicide convoy bombing, 30 wounded; U.S. military vehicle destroyed
---
Lara Brown: A clueless White House
---
Director of IRS tax-exempt determinations office is Obama donor
---
Michael Gerson: Government's heavy hand felt in IRS, AP scandals
---
Transparent, hypocritical media bribe attempt as White House suddenly backs 'shield' protection for media but it wouldn't have stopped what was done to AP
---
CIA warned of 'jihadist' threat to Cairo Embassy; warning ignored and language struck from Benghazi talking points
---
Benghazi email "documents show that then-CIA Director David Petraeus objected to the final version that U.N. Ambassador Susan Rice used five days after the assault"; Petraeus "wanted to see more detail made public, including a warning issued from the CIA about plans for an embassy attack"; did this trigger his removal from CIA?
---
Obama says he fired Acting IRS Commissioner but he claims in email his "assignment ends in early June"
---
Karl Rove: IRS did Democrats bidding
---
Holder grilled on AP fishing expedition, IRS interference
---
IRS faces class action lawsuit over theft of 60 million medical records
---
Democrat Sen. Baucus tries to have it both ways: pro-snooping and pro-investigation into snooping
---
Double standard? IRS targeted conservatives, despite spike in applications from labour groups
---
NY Times: Israel hints at new strikes, warning Syria not to retaliate
---
Now David Axelrod urges Obama Adminstration to come clean on Benghazi emails
---
'Very frightening': Prominent Catholic professor claims IRS audited her after speaking out against Obama and demanded to know who was paying her
---
Stephen F. Hayes: Release all the Benghazi emails
---
Wired: Hear Ye, Future Deep Throats: This is how to leak to the press
---
China missile launch reaches 6,200 miles, highest suborbital level since 1976
---
AP calls Obama Administration on ever-changing story: "A look at statements about foiled terror plot"
---
Criminal and Congressional investigations under way in Washington as three crises have Obama saying he "knows nothing" and even Democrats call for AG Holder to resign
---
Jonathan Karl: More details on Benghazi talking points emerge; more concern over what was said than what wasn't done
---
GOP Chair and Keith Olbermann agree: Obama AG Eric Holder must resign
---
At least 274 U.S. soldiers' body parts dumped in Virginia landfill [video]
---
ABC News: IRS asks for reading list, Tea Party group sends Constitution
---
NBC reporter Todd calls out Jay Carney during contentious White House news conference
---
White House relies on incompetence defense as IRS, AP scandals grow
---
Rev. Billy Graham and his son Rev. Franklin Graham among those targeted by IRS
---
Gosnell gets life in prison in return for no appeal; spared death row
---
Carney hit by 46 questions on Benghazi, IRS scandals on Friday
---
Cleveland Plain Dealer: Gina DeJesus, Amanda Berry and Michelle Knight now imprisoned by the media
---
Washington, D.C. ties record overnight lows; what global warming?
---
George F. Will: In IRS scandal, echoes of Watergate
---
Media snooping, an administration out of control
---
France: Hollande's Justice Minister says she wants land for slaves' descendants in former colonies "without sparking a civil war"
---
Reuters: Import prices fall, lower oil costs expected to help households, hurt producers
---
NWT industry minister pushing for 'made in the North' oil pipeline
---
Washington Post: Not just Cinncinnatti IRS office involved in illegal group targeting, Washington office, others, too
---
Conflict of interest? CBS, CNN and ABC Presidents all have siblings or spouses in Obama Administration
---
U.S. objects to Iran chairing UN disarmament conference
---
Pro Publica: IRS office that targeted Tea Party also disclosed confidential docs from conservative groups to Pro Publica
---
Obama tries to swat down 2 swirling controversies
---
AP: Obama Justice Department undertook "massive and unprecedented intrusion" into how news organizations gather the news
---
Townhall: CBS News President and White House official tied to Benghazi scandal are brothers
---
Saudi arrested with pressure cooker at Detroit airport
---
breaking scandal: Justice Department secretly obtained AP phone records
---
Jaron Lanier: The Internet destroyed the middle class
---
Behind the Gosnell brutality and criminality was an unliked millionaire doctor who made up to $15,000 a night in his late-term abortion mill
---
Kermit Gosnell guilty of three murders in late-term abortions; found guilty of involuntary manslaughter of an adult patient; delivered babies alive and used scissors to sever their spines
---
IRS scrutiny went beyond Tea Party, targeting of conservative groups broader than thought
---
Scrubbing the Truth from Benghazi; Caught playing politics with tragedy, what's next for Obama admin and GOP investigators?
---
Bill Kristol: Inaction and deception
---
'House of Abortion Horrors' Gosnell Jury: "We're hung on 2 counts"
---
Mother's Day tragedy: 4 children, 2 adults killed in eastern Pennsylvania house fire
---
In New Orleans, a newspaper monopoly that lost its grip
---
'Other two' Castro brothers haunted by their brother's depravity, their untrue association with it [video]
---
AP Exclusive: IRS knew Tea Party targeted in 2011; but denied it to members of Congress
---
The New Yorker: Spinning Benghazi; "For a long time, it seemed like the idea of a coverup was just a Republican obsession. But now there is something to it."
---
Joe Klein: IRS mess; "And now they have violated one of the more sacred rules of our democracy: you do not use the tax code to punish your opponents."
---
updated: 19 wounded at New Orleans Mother's Day parade shooting
---
Christian Science Monitor: Has Benghazi become the Obama administration's Watergate?
---
9 detained; Turkey says evidence links Syria to car bombings
---
'Pragmatic' Obama will eventually approve contentious Keystone XL pipeline: senior Democratic strategist
---
BBC: Israel prepares for the worst as tensions over Syria grow
---
Pakistan election: Nawaz Sharif 'set for victory'
---
---
Below added more than 24 hours ago
---
---
Chrysler recalls 469,00 Jeeps
---
updated: Car bombs kill 43 in Turkish town near Syrian border
---
BBC: West Wing of White House evacuated over smoke report
---
Stephen F. Hayes: Carney keeps on digging; "Carney claimed that there was no hard evidence before Susan Rice's television appearances on September 16th that terrorists linked to al Qaeda were involved in the attacks. That's simply not true."
---
Internal Revenue Service (IRS) targeted political opponents of Obama Administration, admits it; bigger than Watergate; will heads roll?
---
Daily Mail: Charged paramedic was fired two days after West blast
---
BBC: U.S. Government demands 3D printer blueprints for plastic gun be removed from internet; but blueprints alive and available via bit torrent after more than 100,000 copies downloaded; crime by guns or crime by people?
---
NY Times: EMT at fertilizer plant blast in West, Texas faces charge of possessing bomb parts; criminal investigation opened into fire & explosion that killed 14, injured 200
---
IRS admits inappropriate scrutiny of conservative groups was wrong
---
Listen to cops respond to Amanda Berry 911 call: "Might be for real" - "We found them. We found them."
---
Boehner under new pressure for special committee on Benghazi
---
TIME: The prison next door
---
Charles Hurt: Benghazi shows Democrats at most desperate
---
Civic pride and a DIY attitude takes over in insolvent Detroit as volunteer citizens pitch in to replace city work formerly done by union workers
---
Boston chief wasn't told FBI got Tsarnaev warning
---
'I am a sexual predator and I need help': Ariel Castro's 'confession' letter found in his home; blames victims
---
8 charged in $45M New York City ATM fraud scheme
---
sad commentary: Rep. Marcia Fudge cites karaoke skills in seeking leniency for ex-Rep. Jesse Jackson Jr. who absconded with $750,000
---
Five key takeaways from Wednesday's Benghazi hearing
---
Elliott Abrams: Benghazi truths vs. Washington politics
---
NY Times: Diplomat Hicks says questions over Benghazi led to demotion; from second-in-command in Libya to Washington "desk job"
---
Unheard fourth Benghazi witness gagged by Obama Administration red tape
---
Hillary aide upset Benghazi diplomat spoke with investigators; one of cover-up's smoking guns
---
Washington Times: Benghazi whistleblowers give Congress blow-by-blow account of deadly diplomatic attack
---
Ropes and chains discovered in Cleveland house where three women held captive for a decade
---
Cleveland kidnapper Ariel Castro helped search for one of the victims, knew her father
---
The Guardian: US special forces told not to fly to Benghazi in wake of attack: diplomat
---
Asian shares rise on strong China trade data, record Wall Street
---
Kansas Senator calls for appointment of Watergate-like special prosecutor in Benghazi investigation
---
Aurora theater shooting: James Holmes to plead insanity
---
Lt. Col. Ralph Peters on Benghazi: "How much evidence does it take?" [video]
---
Syria's Assad says Syria able to face Israel
---
profile: Sharyl Attkisson of CBS News, a persistent voice of media skepticism on Benghazi
---
No hands on deck in Benghazi; no inspector general for five years and four months meant no oversight
---
Cleveland horror: Police hoping to find info on a 4th missing girl, leaks from investigation finds suggest extreme brutality and abuse
---
Former SC Gov. Mark Sanford defeats sister of TV comedian Stephen Colbert in House of Representatives special election
---
Unravelling the Benghazi cover-up
---
At least 42 people killed in Islamic extremist attacks in northeast Nigeria
---
20 dead in gas tanker explosion near Mexico City
---
Pew: Big crime decline in U.S. since 1993, both in rate and real numbers; fatal and non-fatal crime down even as population rose; rise and decline matches baby boom and aging of demographic
---
Reclusive multi-million earning singer Lauryn Hill blames failure to pay $ million in taxes on "economic system imposed on me"
---
GM to build $1.3B Cadillac plant in China
---
Jerusalem Post: Syria to permit Palestinians to attack from Golan: report
---
Boston Herald: Unions may be leaning to Republican candidate Gomez in Massachusetts Senate race
---
Suicide attack on candidate kills 12 in Pakistan
---
Boston Herald: Democrat politicians bumbling through Tsarnaev burial debacle
---
Marc A. Thiessen: A Benghazi bombshell
---
Washington Post: Special Ops halted from responding to Benghazi attacks, U.S. diplomat says
---
North Korea missiles moved away from east coast launch site: U.S. officials
---
Friend of Tsarnaev released while awaiting trial for lying to investigators
---
North Korea missiles moved away from east coast launch site: U.S. officials
---
Denver Post: Heavy Colorado storms boost snowpack, northern reservoirs may refill
---
CBS' Schieffer goes there: Benghazi 'cover-up'
---
Flashback — Ed Markey called Benghazi talking-point concerns "bogus"; Massachusetts Senate seeker had the chance to be loyal Democratic politician or truth-seeker, he chose politician
---
vindicated: Charges of a Benghazi cover-up no longer 'Fox-induced hysteria'
---
Notorious bomber and Obama buddy Bill Ayers protests that Weather Underground, Boston bombings not same
---
Kelly McParland: Look to family, not society, for source of Tsarnaev's anger
---
Facebook 'unfriends' Manitoba site for data farm because of Canadian privacy laws; speaks volumes about Facebook, eh?
---
FBI says Friday's Minnesota arrest of 24-yr-old with pipe bombs and molotov cocktails disrupted a "terror attack"
---
Democrats now critical of Rice's Benghazi explanation, amid more damaging evidence; when will impeachment start being talk of Washington?
---
American Thinker: The complete Benghazi timeline in spreadsheet format
---
Sharyl Attkisson: Greg Hicks on Benghazi cover-up: "I never reported a demonstration. I reported an attack on the consulate...I thought it was a terrorist attack from the get-go. I think everyone in the mission thought it was a terrorist attack from the beginning."
---
Spectators watch in horror as plane plunges to ground at Spanish air show
---
updated: 5 women die, 4 injured as stretch limousine catches fire on bridge near San Francisco; on way to bachelorette party, bride-to-be among dead
---
Bomb hits convoy carrying Qataris in Somalia, at least eight Somalis dead
---
NY Times: Off-the-cuff Obama line put U.S. in bind on Syria
---
Benghazi: Names of 'whistleblower' witnesses revealed; include Gregory N. Hicks, the deputy chief of mission at the U.S. Embassy in Libya at the time of the Benghazi terrorist attacks; with Ambassador Stevens' death, Hicks became highest-ranking American diplomat in Libya
---
Dominos falling: Benghazi impeachment suddenly not so far-fetched
---
Emotional moment: Boston bombing victim Jeff Bauman Jr., who lost both legs and then identified the bomber to the FBI, leads cheers and waves 'Boston Strong' flag before Bruins-Leafs play-off game [video]
---
Rex Murphy: The root causes of root causes
---
7 American service members killed in Afghanistan
---
After Sandy's destruction, Verizon switches to all-wireless service in Mantoloking, New Jersey
---
What's a Kentucky Derby without Penny Chenery? The owner of legendary Secretariat, the horse that changed the world 40 years ago, will be watching from afar, recovering from an illness
---
Calm, moist air aids fight against huge California wildfire that has burned 43 square miles north of Los Angeles
---
Boston Herald: U.S. student visa vulnerability exposed by case of Tsarnaev buddy who hid evidence
---
Massachusetts race to replace Senator Kerry shows new Republican strength in candidate Gabriel Gomez, a former U.S. Navy SEAL upagainst career Democrat Edward Markey
---
Boston Herald: Protesters don't want Tsarnaev buried in U.S.; "put him on a boat and drop him in the ocean with Osama bin Laden"
---
Feds apply pressure to Tsarnaev widow; what else does she know?
---
Three 'tweenagers' arrested after plotting to blow up Florida school; two girls and a boy, aged 12 and 13
---
AP: Boston-area cemeteries don't want Tamerlan Tsarnaev
---
New security checks ordered for foreign students as it's revealed that one of Boston bomber's friends was able to get back into the U.S. on an expired visa
---
UK Independence Party 'clowns' have last laugh: Anti-Europe party surges
---
Did lightning cause USAF KC-135 air tanker to blow up with 70 tonnes of fuel on board? Search goes on in Kyrgyzstan for possible survivors
---
U.S. leaders exploiting tragedy of mass shootings to limit freedoms, Sarah Palin says
---
Charles Krauthammer: Six months after re-election, Obama's presidency is dead in the water
---
How does the U.S. State Department's professional liar, Victoria Nuland, sleep at night?
---
Stephen F. Hayes: The Benghazi talking points; did "senior administration officials engage in a wholesale rewriting of intelligence assessments about Benghazi in order to mislead the public?"
---
The camera in your next smartphone could have 16 lenses, almost magical powers
---
Boston Herald: Tamerlan Tsarnaev had ties to two slain jihadis; why did FBI give him green light?
---
Wildfires threaten suburban LA homes in Glendale, California [video]
---
NY Times: Shakedown in Albany as federal police wire two elected officials to ensnare others
---
Did thieves start deadly fire at West, Texas fertilizer depot?
---
Bangladesh official: 500-dead disaster not 'really serious'
---
Cuba-hiding cop killer is first woman on FBI most wanted terror list
---
Witnesses in Kyrgyzstan say U.S. military KC-135 tanker plane broke apart mid-air; parachutes seen, but survivors not yet found
---
Massachusetts teen charged with making 'terror' threats mentioning Boston Marathon on Facebook
---
California wildfire consumes 8,000 acres in five hours
---
More Americans now die from suicide than car accidents, as rates rise
---
Chad: N'Djamena deaths as coup d'etat foiled
---
Kazakhstan says working with U.S. on Boston bomb probe
---
Minnesota has already set snowfall record for month of May
---
Tsarnaev laptop could be a goldmine for prosecutors and investigators, and sources say FBI has it
---
The most hated man in Bangladesh sees crooked empire crumble with factory building collapse
---
Profiling or the profile? 30 of the FBI's 31 most wanted terrorists are Muslim; other one is an eco-terrorist
---
UMass Dartmouth suspends latest student charged in connection with Boston Marathon attacks
---
Rocks in the coal trains threaten India with power black-outs
---
Foreign doctors in Germany need no longer be taxi drivers
---
Finally, eyewitnesses to Benghazi attack to testify before House of Representatives panel
---
Six months later, FBI posts photos of 3 suspects in Benghazi attack that killed Ambassador and other Americans
---
Russian investigation and warnings about Tamerlan Tsarnaev were sparked by interrogation of now-dead Canadian jihadi William Plotnikov in Dagestan in 2011; scary jihadist video shows their cold-blooded disregard for non-Islamists [video]
---
Obama on Obamacare disaster: 'This is as good as it gets'
---
Six plead guilty to terror plot that failed when would-be bombers arrived too late to targeted event of the English Defence League
---
Ricin suspect's discarded dust mask tests positive for toxin
---
Russians had Tamerlan Tsarnaev under surveillance until Canadian jihadi pal William Plotnikov was killed, then lost his trail and scrambled to find him again
---
The global 'happiness index' that reveals our emotional state - and how Twitter reacted to the Boston bombings ~ the day of the Boston Marathon was the saddest day for five years
---
AP: U.S. newspapers now count subscribers multiple times, inflating circulation claims; "the same person's paid usage on multiple outlets, such as a paper newspaper, a website and a tablet computer" are counted as multiple subscriptions
---
World's first website restored, can be viewed again
---
Viet Nam MIA/POW claim proved to be a cruel fake
---
Boston Herald: Coalition of prosthetics industry groups steps up, Coalition To Run & Walk Again pledges to provide first artificial device for each needy Marathon bombing patient
---
For the sixth year Obama promises to close down Guantanamo Bay; does anyone believe him?
---
Boston Herald: Doesn't get it: Obama defends FBI's failed probe of Tamerlan Tsarnaev
---
Biting the hand: Tamerlan Tsarnaev given $5,566 in college aid grants
---
iPhone 6 not coming until June 2014: Misek
---
Otto Reich: A Boston bombings lesson
---
The non-denial answer: Obama: 'I'm not familiar' with Benghazi whistleblowers being threatened
---
German unemployment up slightly on longer winter: data
---
NY Times: After Boston Bombing, American ties with Russia improve
---
WCVB: Public benefits provided to Tsarnaev family of bombing suspects likely exceeded $100k
---
U.S. soldier who fled to Canada to avoid Iraq war gets 10 months in jail
---
Prominent death penalty lawyer tries to join defence team for Dzhokhar Tsarnaev
---
Obama administration officials threatened whistle-blowers on Benghazi, lawyer says
---
Will fusion power change the world as we know it? Project in France supported by 34 nations edges forward to demonstrate a new kind of nuclear reactor capable of producing unlimited supplies of cheap, clean, safe and sustainable electricity
---
Virgin Galactic takes supersonic step
---
Canada's Loblaws pledges compensation for dead Bangladesh garment workers
---
'Missiles fired at' Russian plane with 159 passengers on board flying over Syria
---
Boston Herald: 500 pages of welfare records handed over on Tsarnaevs
---
Chrysler net profit drops by 65%
---
Boeing confirms part Of plane found near Ground Zero over a decade after 9/11 came from 767
---
Obama spent twice as much time on vacation/golf as economy: GAI
---
Surveillance cameras sought by cities after Boston bombs
---
Feds eye AP hoax 'profits'
---
WSJ: Exempting Congress from ObamaCare
---
Germany charges 4 with sending Iran reactor parts
---
Gunmen keep Libyan foreign ministry under siege
---
No more survivors likely in Bangladesh tragedy; at least 381 dead, hundreds said missing
---
Powerful blast in Czech capital damages downtown building, up to 40 injured; natural gas suspected
---
Syria says Prime Minister survives Damascus bomb attack
---
Gunmen surround Libyan foreign ministry
---
Tupelo crazy? Home of ricin case: 'Just look around you ...This place is crazy'
---
Bangladesh building collapse death toll nears 350
---
Armed drones in Afghanistan flown from UK for first time
---
---
Links formerly right here, now at http://www.newswatchcanada.ca/oldnews2013-1.html
---
---
---
---

---
Moore 'monster' Monday tornado now confirmed as an EF-5,
the most powerful on scale, with sustained winds over 200 mph;
final tolls set at 24 dead and 237 injured, both mirculously low;
no survivors or victims found since Monday night
---
Tunisia announces 3 cases of coronavirus and
one death following visits to Saudi Arabia
---
Reuters Live coverage:
Medical Examiner reduces official death toll to 24 from 51;
rescue workers & supplies pouring in from neighbouring towns & states
---
Reuters: Moore survivor search finds good and bad news


Searchers dig through rubble overnight at levelled Towers Plaza elementary school. ~ Reuters
---
WaPo Live coverage: Moore death toll said expected to hit 91;
101 survivors found overnight in buried storm shelters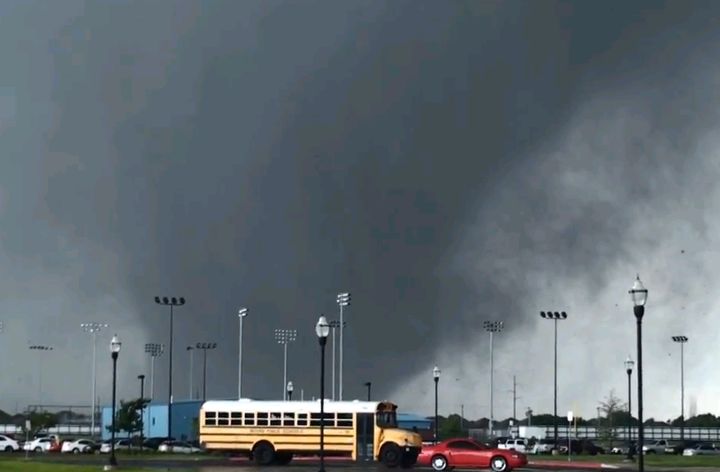 The Moore tornado blasted through everything in its path. ~ Facebook.com/basehunters
---
BBC: Tornado's damage "unlike anything that I've ever seen
before," said Rick Smith of the National Weather Service
---
Most expensive tornado in history? Went from clear sky to EF5 in 1 hour


A fire chief coordinates rescue workers at Briarwood Elementary school after a tornado
destroyed the school near SW 149th and Hudson. ~ Paul Hellstern The Oklahoman


No building in direct path of the 20-mile-long killer twister survived. ~ The Oklahoman


Resident Kim Schwab looks over her destroyed home in south OKC Oklahoma City, OK, Monday,
May 20, 2013. Near SW 149th and Hudson. ~ Paul Hellstern The Oklahoman
---
Reuters: Moore death toll expected to rise, medical examiner says
---
WATCH LIVE TV coverage from Moore, OK on FOX 25
---
USA Today: Moore death toll reduced to 24 after lists checked, hundreds injured
---
Fox News: At least 24 confirmed dead in Moore, OK; teachers found
covering their students; one with a car on top, inside school
---
KFOR chopper pilot: driveways & sod pulled up by Moore, OK twister
---
WATCH LIVE TV coverage from Moore, OK on KFOR
---
Monster Moore, OK tornado two miles wide, destroys 30 square miles,
may have spun at over 250 mph; massive devastation, many deaths;
hospital, 2 schools, theater, blocks & blocks of homes totally obliterated;
dozens of children feared dead in school, reporters breaking up on-air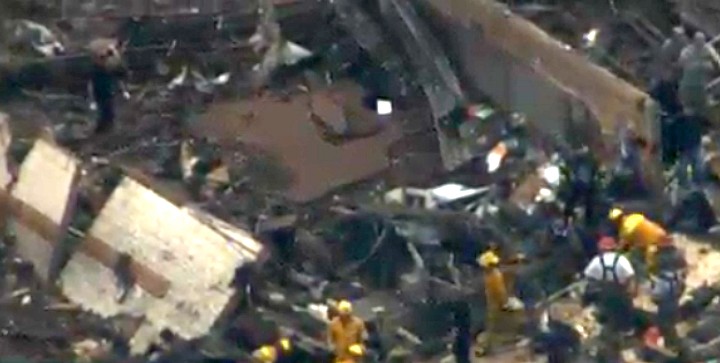 Plaza Towers elementary school sustained direct hit and has been 100% destroyed. Only two survivors found. ~ KFOR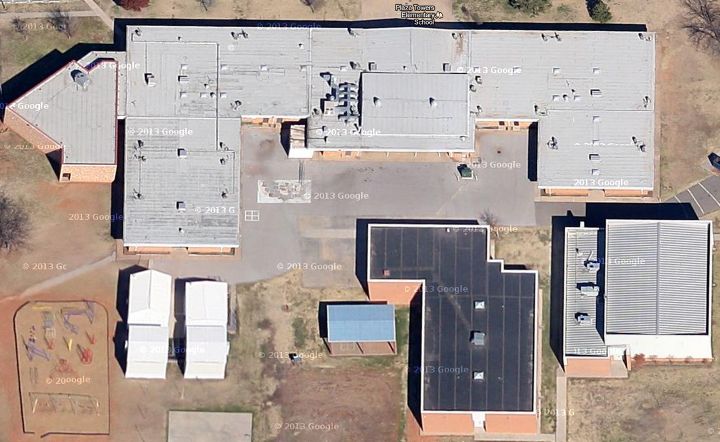 This was Plaza Towers elementary school before the storm. It has been 100% levelled.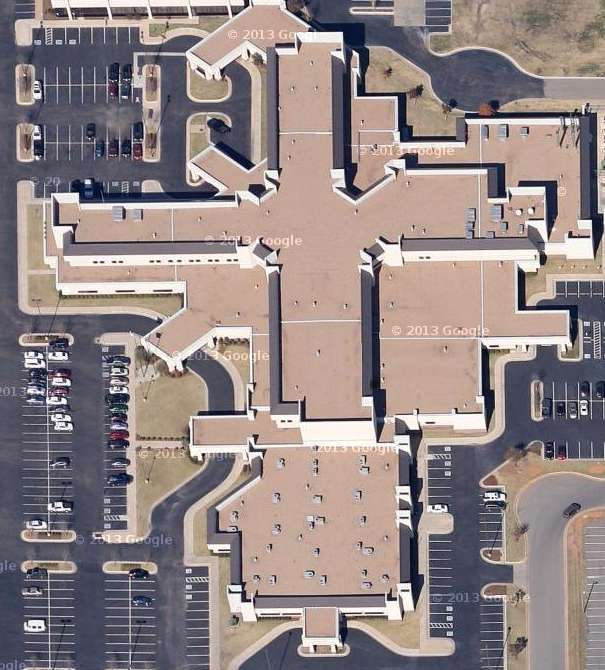 Moore Medical Center: this hospital almost 100% destroyed.
---
2 Moore, OK schools take direct hit after tornado touches down;
children reportedly trapped in debris
---
With power knocked out, Oklahoma's Lincoln County to use
police and fire sirens to warn of violent weather
---
Huge tornado churns through Moore, an Oklahoma City suburb,
as twister hits for second day in a row; massive damage


Parents race toward Briarwood Elementary School, which sustained direct hit from tornado. ~ News9.com Press
---
NY Times: North Korea launches missiles for 3rd straight day
---
Deadly twisters hit Oklahoma, Kansas, Iowa


A tornado touches down near Wichita, Kansas, cutting power to 7,500 homes
and businesses. ~ Travis Heying Associated Press
---
Bob Woodward: Obama Administration didn't tell truth on Benghazi [video]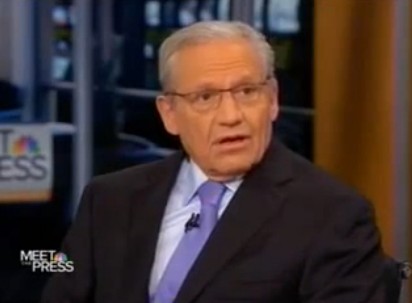 Woodward has compared the Benghazi scandal to Watergate. Movie 'All the President's Men' was about how Woodward and partner Carl Bernstein uncovered Watergate scandal which led to removal of President Nixon from office in 1974.
---
Driver apologizes on Facebook after woman killed in Jeep stunt
---
Woman, 20, killed at Edmonton Food Bank fundraiser as
Jeep demonstration goes disastrously wrong


Edmonton police investigate the scene after a fatality during a stunt demonstration. ~ John Lucas Edmonton Journal
---
North Korea launches three short-range guided
missiles into sea off east coast; fell in own waters
---
At least 60 injured after two trains derail, collide near Fairfield, CT;
accident or terrorist tampering with rails or switches? NTSB on way
---
Victoria Day holiday weekend - celebrated in Canada since
before Queen Victoria created Dominion of Canada in 1867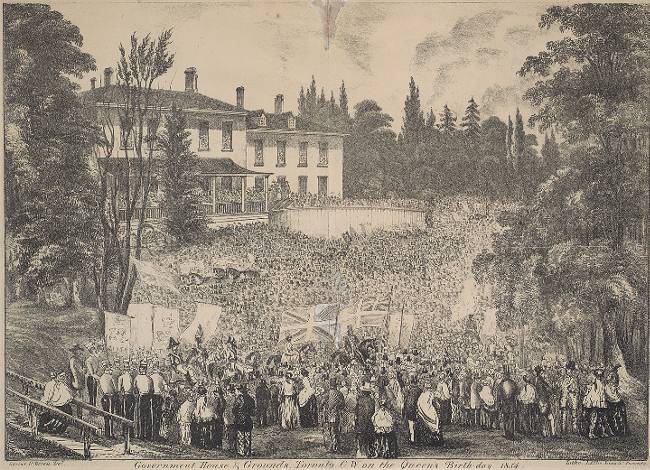 Victoria Day, 1854; crowds gather outside Government House in Toronto, Canada West (now province of Ontario).
---
breaking: IRS plants question to get ahead of scandal
---
Tables turned on IRS, lawmakers grill agency at heated hearing
---
"I owe her my life" Wisconsin woman who can't load shotgun,
uses it to club bear attacking husband; will get lessons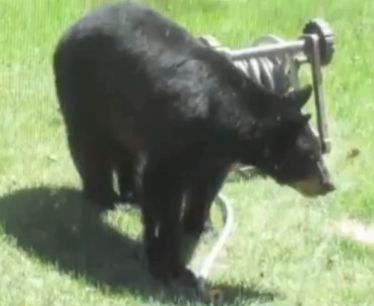 The attacking bear hung around after rescue until a deputy later shot it. ~ Marie Ninnemann
---
Porsche 918 Spyder: Like a torque-rich Prius that goes 211 mph?


Porsche 918 Spyder ~ Porsche
---
Fired IRS Commissioner says targeting conservative groups "not illegal" [video]
---
Shallow 5.1M quake centred north of Ottawa felt hundreds of miles away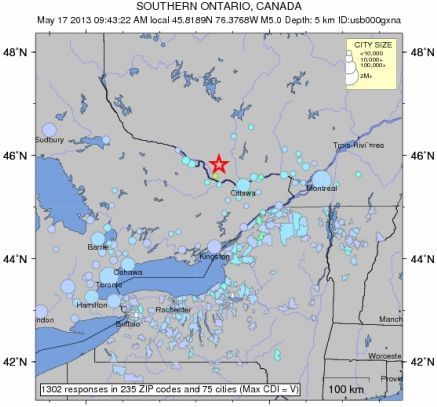 The 9:43 am quake hit just north of Ottawa and could be felt across Southern
Ontario, Quebec, and northern New York and Ohio states. ~ USGS
---
Globe and Mail: Toronto Mayor Rob Ford denies drug-video allegations
---
Can Toronto's Teflon Mayor Rob Ford survive bombshell allegations?
---
Gawker: Somali video peddler claims he sells cocaine to a range of
high-profile Torontonians, including "a prominent hockey analyst"
---
Toronto Bombshell: Self-proclaimed Somali drug dealer tells Toronto Star
he has sold cocaine to Mayor Rob Ford and wants "6 figures" for a video
he claims shows Ford smoking crack cocaine; two senior reporters say
they have seen video 3 times on a smartphone and it appears to be Ford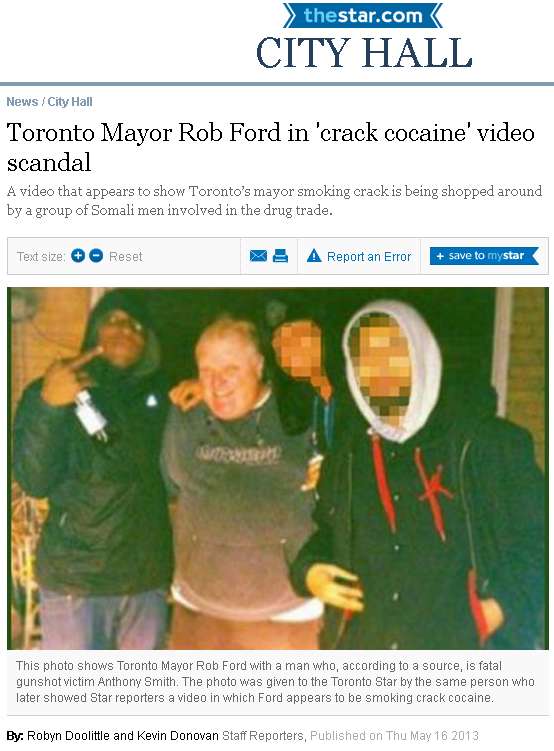 This is the Toronto Star story which reports on drug allegations against Toronto Mayor Rob Ford.
---
Big Brother Government ~ IRS official Ingram in charge during
Tea Party targeting now runs Obamacare enforcement office: ABC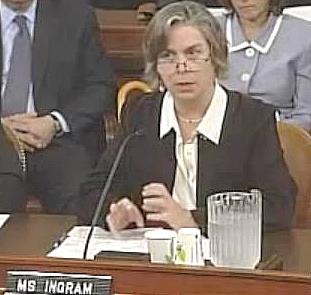 Incompetent or insidious? Sarah Hall Ingram was the Internal Revenue Service official in charge of
tax-exempt organizations at the time when the unit specifically targeted Tea Party and other conservative
groups. She now runs the IRS office responsible for Obamacare penalties. ~ Twitter
---
Low-tornado year, but killer Texas twister may have hit 200 mph: NWS
---
Daily Mail: Map shows world's most racist countries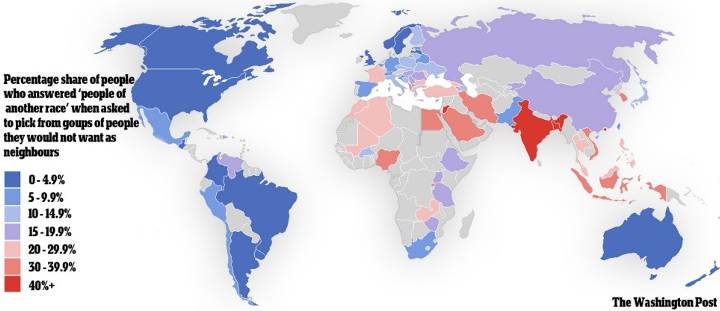 U.S., Canada, Britain and South America countries are among the least racist countries in the world according to World
Value Survey, while Hong Kong, Bangladesh, Jordan and India are named least tolerant.
---
Stephen F. Hayes: Benghazi emails directly contradict White House claims
---
One New Orleans Mother's Day parade shooter arrested, a second sought
---
updated: At least 6 dead, 14 missing, many
injured after 3 twisters slam Hood County, Texas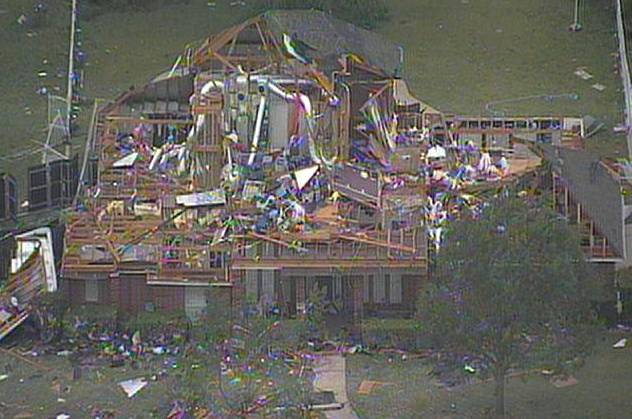 A swarm of tornadoes unleashed on North Texas, devastating two neighbourhoods in southern
Granbury and a neighborhood in nearby Cleburne. ~ NBCDFW
---
Deadly Texas tornadoes hit multiple places in Dallas area
---
Obama caves, White House releases Benghazi e-mails, show State Dept had
heavy hand in changing 'storyline'; put more effort in cover-up than security
---
Liberals pull off stunning BC win, form majority government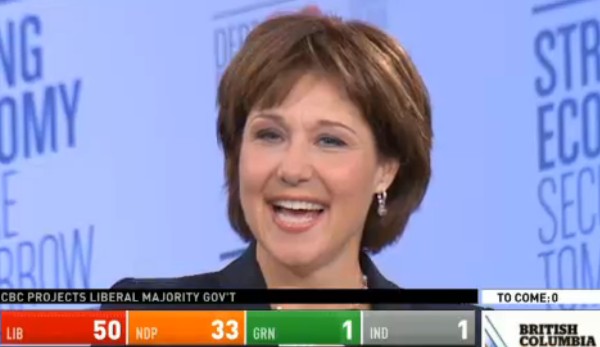 Premier Christy Clark thanks supporters and all candidates in victory speech. ~ CBC
---
The three biggest solar flares of the year
all happened in a 24-hour period yesterday


The sun erupted with an X1.7-class solar flare on May 12, 2013. This is a blend of two images
of the flare from NASA's Solar Dynamics Observatory: One image shows light in the 171-angstrom
wavelength, the other in 131 angstroms. ~ NASA/SDO/AIA
---
Obama White House in damage control mode as scandals pile up
---
Striking CCTV images capture New Orleans Mother's Day shooter [video]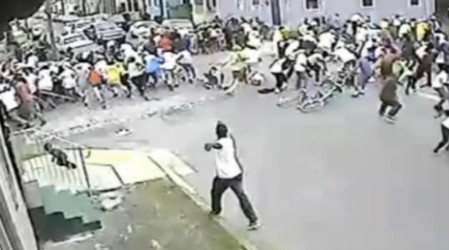 New Orleans: 19 people were injured as gunman (foreground)
appeared to randomly fire into Mother's Day parade crowd. Police
are seeking 19 year-old suspect Aiken Scott. ~ Reuters
---
Commander Chris Hadfield and the secret of the world [video]
---
Stephen F. Hayes: The Benghazi scandal grows; The State Department,
the CIA, the White House . . .admits misled White House press corps
---
Obama scandal week: Benghazigate and IRSgate show pattern of
political interference followed by playing fast and loose with facts
---
A final triumph: Cmdr Chris Hadfield connects earth and space with
spectacular video re-make of David Bowie's 'Space Oddity' [video]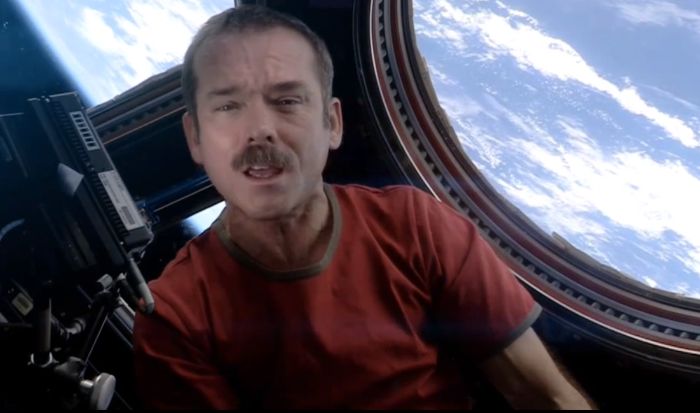 A day before he heads home from commanding International Space Station, Chris Hadfield
delivers ultimate space song in its ultimate version. This will go viral. ~ Youtube
---
France confirms 2nd case of new SARS-related virus
---
Carney nose grows: admits misled White House press corps
---
ABC News exclusive: Benghazi talking points underwent 12 revisions;
scrubbed of terror reference; Obama spokesman Carney lied to public
---
Third man: Tunisian train plotter arrested in NYC didn't arrive via Canada;
had been denied re-entry to Canada, arrived in U.S. directly from Tunisia
---
17 days: Woman pulled alive from rubble of Bangladesh factory


Rescue workers carry a woman from the rubble of the collapsed
Rana Plaza building in Savar, May 10, 2013. ~ Sanaul Huq Reuters
---
'Third man' pushed bacteria plot to kill '100,000 people'
---
Hezbollah says getting "game-changing" weapons from Syria
---
Third terror train suspect arrested -- by FBI in New York
Tunisian man had lived in Canada, was trying to scam U.S. work visa
---
Ariel Castro now the 'captive,' Cleveland prosecutor says at bail hearing;
sets bail at $2M per charge, $8M in total
---
transcript: Whistle-blower Hicks' account of 9/11 Libya terror attack
---
Benghazi hearing - Hicks on Rice video excuse:
'I was stunned. My jaw dropped. And I was embarrassed.'
---
Benghazi Live blog: Hicks: "I got an angry phone call from a top Clinton
aide after State Dept lawyer was excluded from briefing with Rep. Jason
Chaffetz (R-Utah)" -- yet, it was unprecedented to have a lawyer present
---
Benghazi hearing: Request for special ops team in Benghazi denied;
Democrats defend Obama and attack cover-up testimony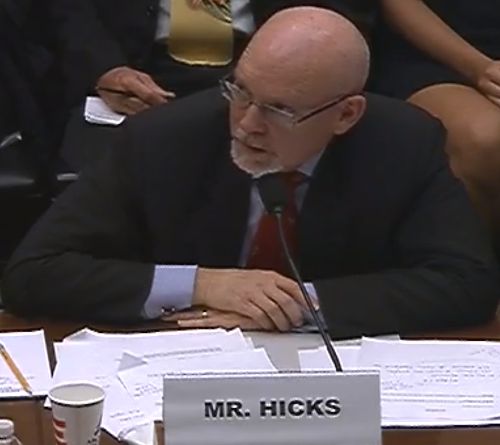 Gregory Hicks, the deputy chief of mission in Libya during the September 11, 2012
attacks testified that he was frustrated when the U.S. military turned down a
request to dispatch four Special Operations troops from Tripoli to Benghazi.
---
Ottawa Evacuation: Suspicious package at National Defence HQ
contained 'elements' of improvised explosive device
---
LIVE TV feed: Benghazi hearing
U.S. House - Committee on Oversight and Government Reform
---
Mother of murdered Benghazi victim tears into Hillary Clinton
during emotional CNN interview: 'I blame her'


Pat Smith, mother of Benghazi-slain diplomatic service information management officer Sean Smith ~ CNN
---
Tempe, AZ: 18 yr-old high school student arrested
for IED possession after maid took a live IED to police
---
USA Today: Accounts of vigilant neighbors calling police adding up along
with revelations that abuse at Cleveland house of horrors wasn't all indoors
---
Daily Mail: Pictures inside Cleveland house show padlock on basement door;
Ariel Castro wouldn't let his kids go in locked basement, attic or garage
---
AP: Cleveland Police under fire; were called by neighbours about
hostage house more than once, showed up, but didn't go inside
---
Cleveland police press conference: victims are traumatized, request
for public help, many questions, request media to back off, investigation
to take at least a month, police were crying last night
---
Hero neighbour Charles Ramsey heard screams,
kicked in door to let captives escape, called 911 [video]
---
Daily Mail: Cleveland captives were chained; friends, neighbours euphoric
---
Surprise good news story - 3 women found alive in Cleveland
had been kidnapped a decade ago; 3 brothers arrested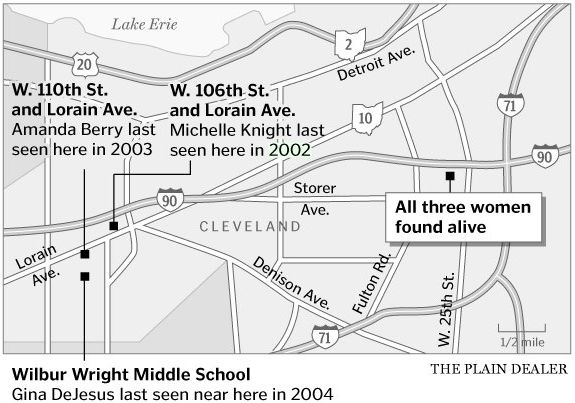 ---
Benghazi witness: U.S. military response could have
'scared' off attackers, prevented deadly mortar strike
---
NBC: Special Forces operatives were ready to fly from Tripoli
to Benghazi on 9/11 but were "not authorized" -- so lives lost
---
"Benghazi will drive Obama from office" --
"more serious than Watergate" - Huckabee
---
BENGHAZI BOMBSHELL
Sharyl Attkisson - CBS: Diplomat says U.S. Special Forces
told "you can't go" to Benghazi during 9/11/2012 attacks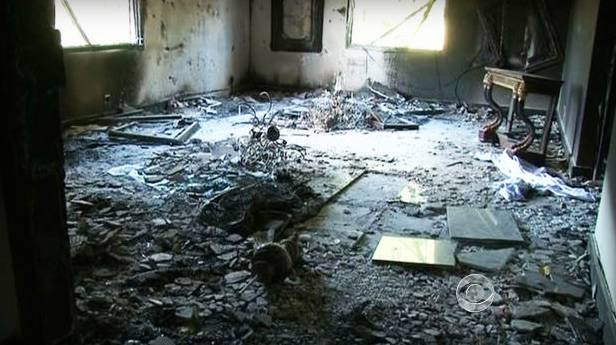 U.S. Ambassador Chris Stevens and three other Americans were killed in consulate attack
in Benghazi, Libya on Sept. 11, 2012. ~ CBS News
---
Israel's airstrike on Syrian military complex killed
at least 42 soldiers say anti-regime activists


In this photo released by the Syrian official news agency SANA, damaged buildings wrecked
by an Israeli airstrike are seen in Damascus, Syria, Sunday, May 5, 2013.
---
CNN: Syria says Sunday morning attack on military
facility was a 'declaration of war' by Israel
---
Syrian rebels welcome Israel weakening Assad's weaponry
---
BBC: Tremor preceding blasts suggests bunker busters used by Israel;
journalist says attacks likely inflicted heavy casualties on Syrian army
---
Haaretz: Multiple Syria targets hit; Israeli leaders remain tight-lipped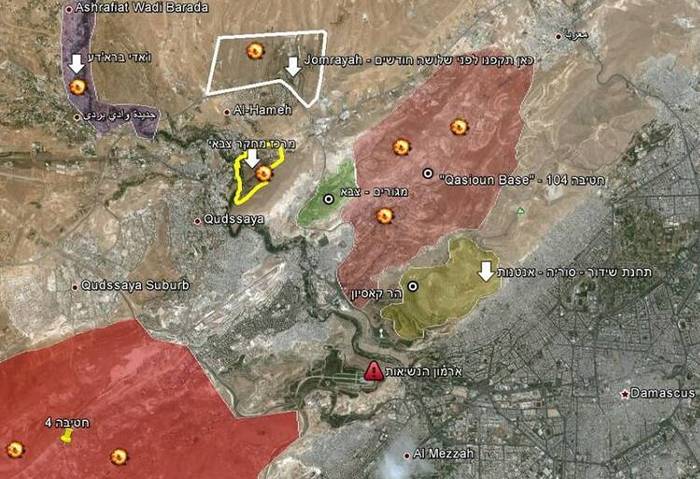 This map purports to show where multiple Israel missile attacks hit Sunday morning NW of Damascus.
---
DEBKA: Israel targeted Scud D and Fateh-110 missiles at
Jamraya military research center just north of Damascus
---
No confirmation that Syria has declared war on Israel; just a rumour?
sources: Mount Qassioun home to "over 10,000" ultra-loyal Assad soldiers
---
Syria claims Israel trying to raise morale of rebels
by hitting strategic Mount Qassioun base
---
Video shows explosions on Mount Qassioun military base above Damascus
as Israel pounds Syrian military targets with warplane-fired missiles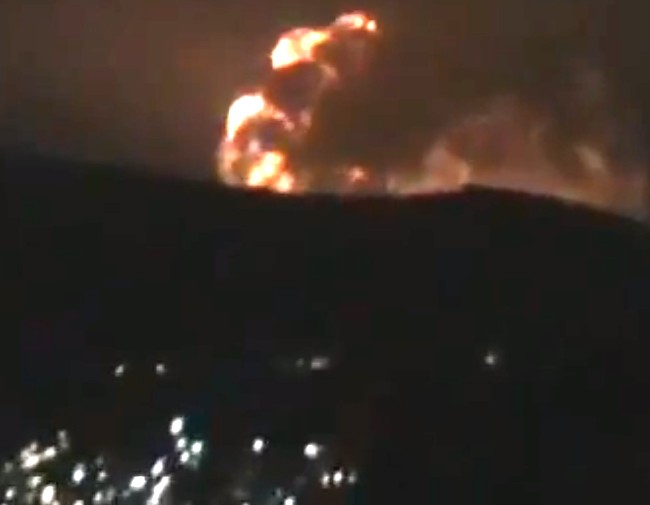 The video, apparently shot by rebels, shows huge explosions on Mount Qassioun attributed to Israeli strikes.
The new attack came hours after U.S., Israeli and Lebanese officials said Israeli warplanes had struck a
shipment of missiles destined for Lebanon's Hezbollah movement at Damascus International Airport.
---
AP: Israel strikes Syria again; initial report says military
research center near Damascus hit - large explosions reported
---
Secretariat: 40 years ago 'Big Red' made history that still seems unreal;
Not just the greatest horse ever, he remains the standard for all 3 yr olds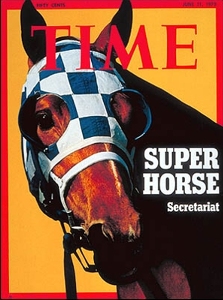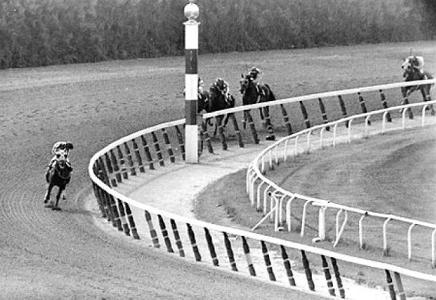 Secretariat won the Triple Crown going away, taking the 1973 Belmont Stakes by a legendary 31 lengths,
storming around the final turn and accelerating away from the pack. ~ NY Daily News.


Held close to the heart by two countries: Secretariat was American-born and owned,
while trained and jockeyed by Canadians Lucien Laurin and Ron Turcotte.
---
Why aren't Kentucky Derby horses getting faster?
No horse has broken Secretariat's 1973 record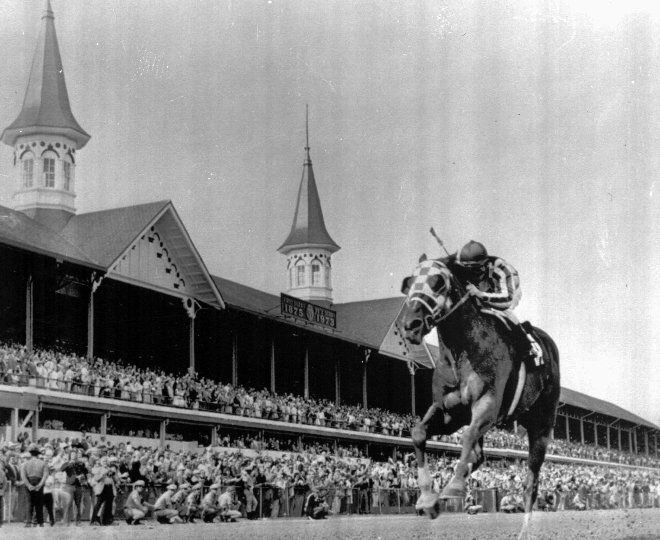 Secretariat set the still-record 1:59 2/5 at the 1973 Kentucky Derby. ~ AP
---
NY Times: Israel hit warehouse of Iranian Fateh-110 missiles; stand-off attack
---
Israel confirms Syria strike, says hit Hezbollah-bound missiles
---
DEBKA: Israel targeted chemical weapons convoy headed to Lebanon;
also possibly Damascus arms depot; 16 warplanes involved
---
NBC: Israelis launch airstrikes into Syria, possibly targeting
delivery systems for chemical weapons, U.S. officials say
---
Malibu 'Springs Fire' burns 18,000 acres; only 20% contained [video]
---
Boston Herald: Tamerlan Tamersaev died of bullet wounds,
trauma to head from car dragging: death certificate
---
FIRE! Homes threatened north of LA as 'monster'
stretches from 101 Freeway to Pacific Coast Highway [video]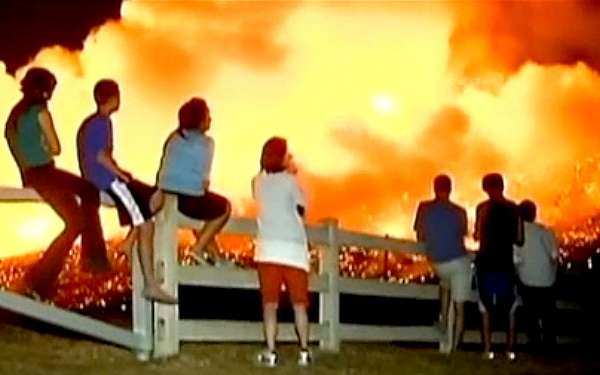 Newbury Park: Safe to watch when the flames are miles away, but they're moving quickly. ~ NBC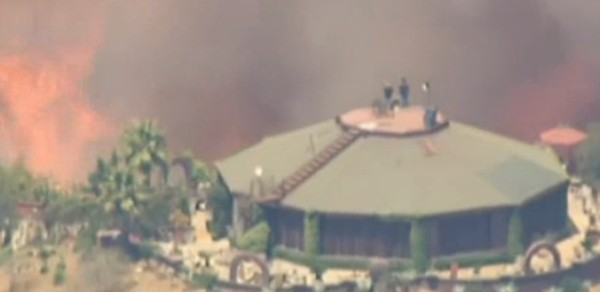 Homes are threatened and airborne and roof-based firefighters are busy. ~ NBC
---
Canada accuses Qatar of trying to buy UN civil aviation agency
---
Boston Herald: The deadly sound silence can make
---
Accuweather: Historic snowstorm hits Plains to Upper Midwest


While snow is not unheard of away from the Rockies and northern tier states during May, it is the
amount of snow and the extent of that snow that is so unusual. Snowstorms during May in the
Midwest are typically highly localized. ~ Accuweather
---
The Boston bomb plot had originally been set for July 4th: official
Host of one of the premiere July 4 celebrations, it includes major fireworks
---
Cmdr. Hadfield helps unveil Canadarm at Ottawa museum from space [video]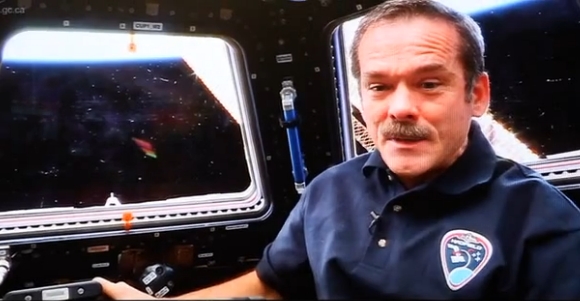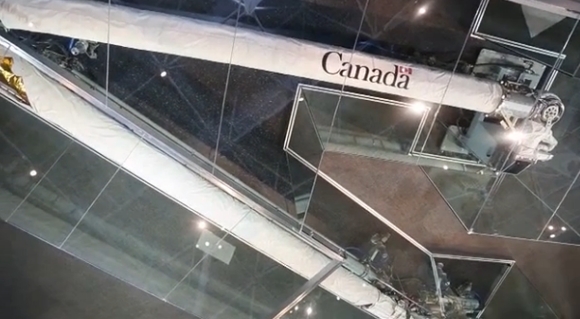 Cmdr. Chris Hadfield sent the Canadarm its final command from the international space station,
which he currently commands. After travelling 624 million km and logging 944 work days in space
aboard Space Shuttle Endeavor, this veteran Canadarm is now home, permanently on display at
the Canada Aviation and Space Museum in Ottawa.
---
updated: Dr. Stephen Poloz named new Governor of the Bank of Canada;
Flaherty stuns Bay Street, chooses head of Export Development Canada
---
Mice with 2 parents grow healthier brains: Calgary researchers


Researchers say they found mice with two parents tended to perform better
both socially and physically in their environment.
---
19 km inside border: Chinese incursion leaves India on verge of crisis
---
Boston bombings: 3 arrested today may have cost life of MIT's Collier
by not contacting police about the bombing suspect they recognized


Hunting for clues: The students allegedly disposed of Tsarnaev belongings, including laptop computer,
backpack of fireworks and tub of vaseline in garbage at their house, which was transported to Crapo
Hill landfill (above), nine miles from UMass-Dartmouth campus. Vaseline may have been used to seal
multiple pressure cooker bombs.
---
Feds: Dzhokhar Tsarnaev told his friends a month before
Boston Marathon attacks that he knew how to make a bomb
---
Wired: Tsarnaev responded 'LOL' when told by friends
he resembled bomber in FBI photos
---
LIVE CBS TV coverage from Boston
---
'Terrorista#1' license plate of charged Tsarnaev friends
was 'a joke about partying' - claims their lawyer
---
Boston bombings: Text of criminal complaint against
Azamat Tazhayakov and Dias Kadyrbayev


Silver spoon terrorists? This BMW belongs to charged friends of Dzhokhar Tsarnaev. ~ Daily Mail
---
Boston bombings: Text of criminal complaint against Robel Phillipos
---
CBS Boston: Two suspects, Azamat Tazhayakov and Dias Kadyrbayev,
charged with "conspiracy to obstruct justice" and the third suspect, Robel
Phillipos, charged with "willfully making materially false statements to
federal law enforcement officials during a terrorism investigation"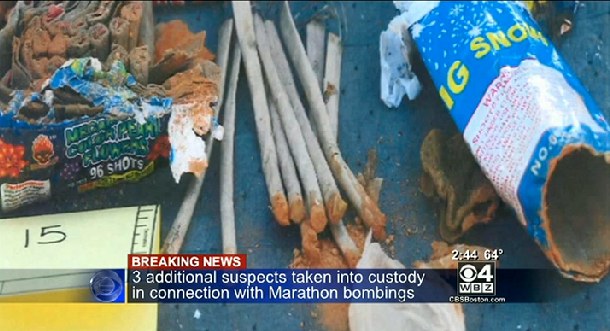 Fireworks evidence that 3 newly charged suspects are charged with disposing of and/or lying about.
---
updated: Boston police announce 3 new suspects in custody;
college roommates of Dzhokhar Tsarnaev, charged with obstruction
disposed of Tsarnaev's laptop computer, backpack containing fireworks


Arrested: Dias Kadyrbayev, center, and Azamat Tazhayakov, left, came to
America from the Central Asian nation to study at the University of
Massachusetts at Dartmouth, where Dzhokhar Tsarnaev, right, was also
enrolled. Shown here in Times Square, New York in November 2012.
---
Keystone Kops: How did Watertown 'dragnet' literally miss the boat?
No weapons, explosives found inside; destroyed by police gunfire;
whose heads should roll? FBI, CIA, Boston Police, White House?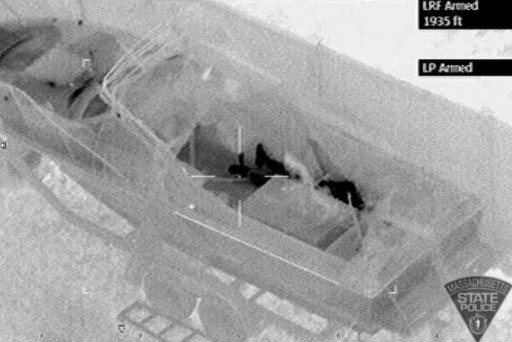 Infra-red shot from Massachusetts State Police chopper shows Dzhokhar Tsarnaev
hiding in boat. Police now giving conflicting cover-up accounts of salient facts
---
---
Dramatic: Boeing 747 crash at Bagram in Afghanistan kills 7 [video]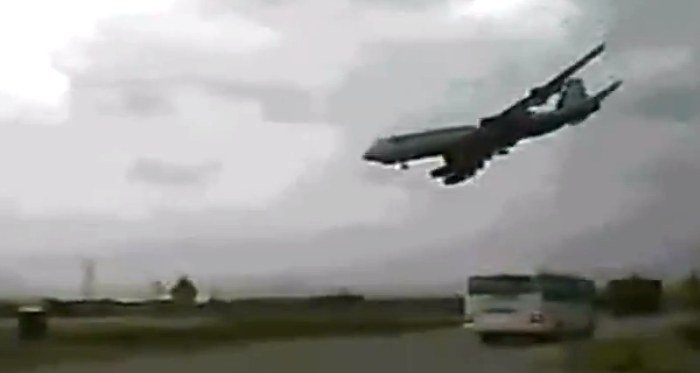 Down: 747-400 freighter stalls on take-off, drops like rock, just missing busy roadway.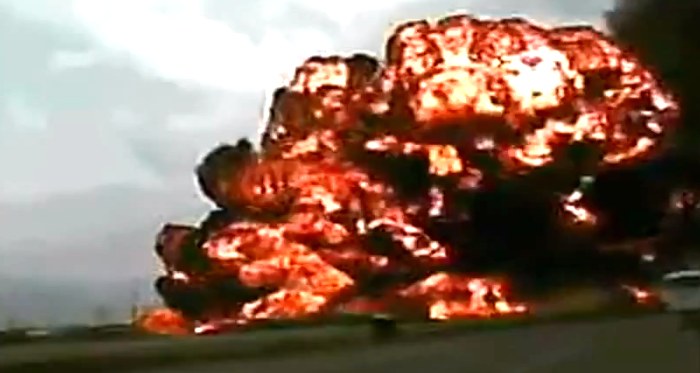 Up: huge explosion as Dubai-bound plane erupts, killing crew of 7.
---
Cmdr. Chris Hadfield introduces Canada's new $5 & $10 bills from space


Sir John A. Macdonald (top), Canada's founding Prime Minister, and Sir Wildrid Laurier (bottom), PM from
1896 to 1911 get new, younger portraits on new polymer bills.
---
Russia's Pulkovo Observatory: "we could be in for a cooling
period that lasts 200-250 years" due to changes in sun
---
Joe Bastardi: "Remarkably cold weather" will push back planting [video]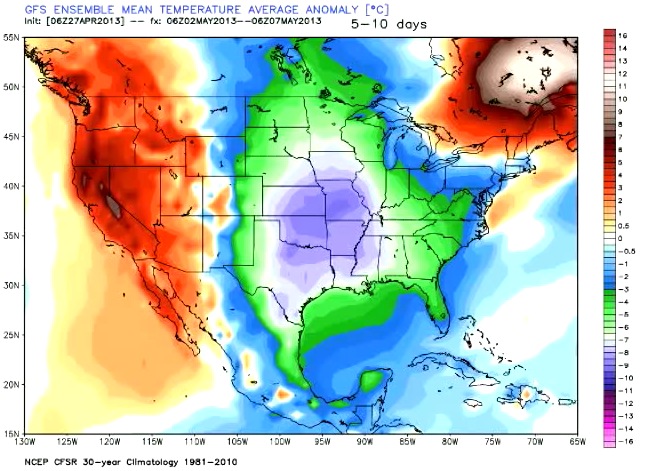 Snow can be expected this week as far south as Tennessee says
veteran meteorologist Joe Bastardi. ~ Weatherbell
---
sources: Female DNA found on Boston bomb fragment;
is it proof of conspiracy? will DNA quality enable ID?


Katherine Russell, widow of suspected Boston Marathon bomber Tamerlan Tsarnaev, leaves the house where he lived in
Cambridge, Massachusetts, the day after Tsarnaev was killed following a shootout with police. ~ William Farrington Polaris
---
FBI agents reconstruct Tamerlan Tsarnaev's 2012 trip to Russia
---
Canadian boxer linked with Tamerlan Tsarnaev: Moscow newspaper
---
Iraq suspends satellite channels as death toll reaches 220
---
Two children, three adults killed in Surrey, BC car crash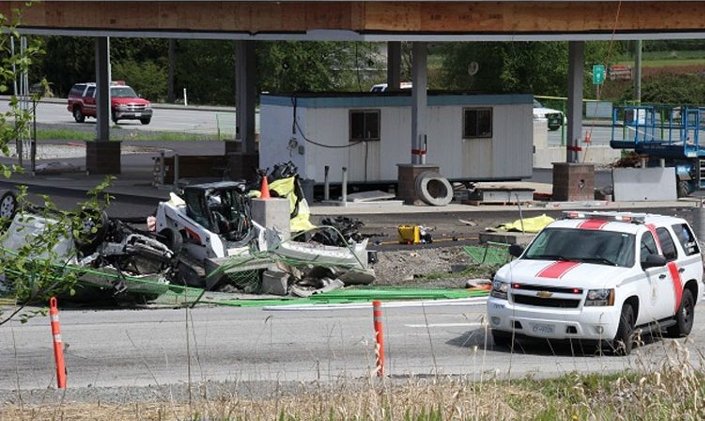 RCMP Sgt. Dale Carr said it appears the westbound travelling Dodge Caravan sped through red light at intersection
and collided with the mid-sized vehicle. Police say the deceased were all occupants of the mid-size car. ~ CTV
---
Russia caught Tamerlan Tsarnaev on wiretap
---
Hero bombing victim Bauman on bright side: "he's dead and I'm still here"
---
'A spectacle of hypocrisy and farce': North Korea, Iran
attack Canada's human rights record at UN forum
---
Jersey City man's secret charges April 5th & April 7th: "recklessly
creating widespread risk of injury or damage to a building by constructing
the devices" and transporting via public transit; what is rest of the story?
---
updated: New Jersey man charged with IEDs on NJ-NY transit train
April 7th, day of Marathon bombings; arrest and charges by FBI-led
Joint Terrorism Task Force and Port Authority Police not made public
---
Bomber Tsarnaev recovering, moved to prison hospital west of Boston
---
BBC: Earth's core 1,000 ℃ hotter than previously thought


The Earth's solid inner core is surrounded by a fast-moving liquid core, giving rise to the planet's magnetic field.
---
The banality of evil: The Tsarnaev simpletons: undone by an
empty gas tank, cash-only pumps, and a heroic hostage


The Escape that Saved Lives: The Tsarnaevs and their hostage 'Danny' pulled up at the Shell gas station
(left) but the pumps were 'cash only'. This separated the brothers and gave 'Danny' his chance to escape
to the Mobil gas station across the street (right). Police were on the scene, and on the trail, in minutes.
---
Boston Globe: Chinese hero carjack victim 'Danny' fills in
details on how he was grabbed by Tamerlan Tsarnaev, and
how he bravely got away and called 911, foiling the bomber brothers'
deadly plan to wreak havoc again in Times Square
---
Reuters: Canadian train plot suspects caused unease with extreme views
---
Chicago Tribune: Fund for boat hero Dave Henneberry reaches $50K


Investigators shown in Dave Henneberry's destroyed boat where Dzhokhar Tsarnaev was apprehended
after a Friday firefight, in Watertown, Massachusetts. ~ Darren McCollester Getty Images
---
One Toronto train terror suspect previously jailed; 2nd travelled to Iran
---
Terror suspect Chiheb Esseghaier met with Al Qaeda operative abroad;
Recent "change in behaviour" triggered police to arrest
Esseghaier & Jaser Monday, not political expediency or Boston bombing
---
Rosie DiManno: Terror suspect bluntly rejects our values
---
Liberals soft on crime? Toronto terror train plot suspect
was ordered deported in 1998, arrested in 2004, but released
---
Terror incidents should spark anti-crime response,
not "sociology," says Canadian PM Harper
---
Charges pending? Katherine Russell Tsarnaeva, wife of Tamerlan,
called and warned husband FBI was looking for him, says Dzokhar
---
Big Apple dodged bullet: Boston bombers were headed to New York
to 'blow up Times Square' with remaining explosives cache
---
Canada lambasts UN official for saying Boston bombings
caused by 'American global domination project'
---
Boston bombing suspect admitted responsibility,
FBI says, but confession may not be legal
---
Boston bombing shows West's mistake
in supporting Chechnya, Putin says
---
40 survivors located in debris of collapsed Bangladesh factory
---
Rescuers scour rubble as Bangladesh building collapse toll now 244
---
Toronto terror suspect Raed Jaser fled Germany after family claimed
'terrorized' by anti-immigrant groups and given refugee status in Canada
---
CBC: Does al-Qaeda have a network in Canada?
---
Local reaction swift as LNG barges start exploding in Mobile Bay
---
updated: 6th explosion as LNG fuel barges light sky in Mobile, Alabama
liquified natural gas explosions "feel like bombs going off"
3 victims in hospital in serious condition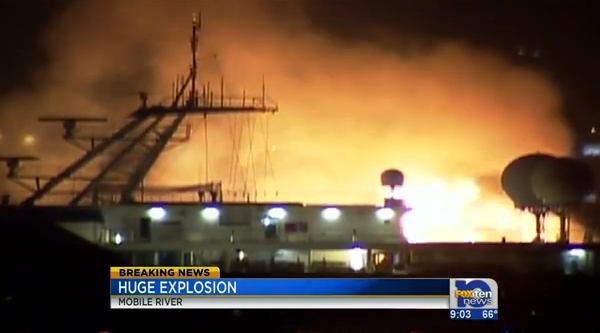 The Mobile Fire and Rescue Department said three were injured when two barges earlier loaded
with liquid natural gas exploded and caught fire on the east side of Mobile River.
---
Will new OPOC motor really deliver 20 to 50% better fuel economy?


The EcoMotors OPOC two-stroke engine is a markedly different concept than four-stroke engines fitted to most
modern automobiles. With opposed pistons, no valves or cylinder heads, fewer moving parts and a higher power
density, the Michigan-designed engines will be built in China. The concept is more than a century old, with new fuel
efficiency needs driving innovation to fix old limitations. ~ EcoMotors
---
Tunisian train terror suspect from Montreal shows hand,
denies legitimacy of Canadian justice system to judge:
Terror charges don't matter, "not based on holy book"
---
National Post: U.S. & Canada watching additional suspects in
VIA Rail/Amtrak terror train plot say sources on both sides of border
---
Canadian families spend more on tax than basic necessities: study
---
'Train' suspects led vastly different lives, but allegedly shared same goal
---
LA Times: Boston Bomber bought reloadable mortar-shell
fireworks in New Hampshire in February
---
updated - CTV: Two people under FBI surveillance in New York City
area are additional suspects in Toronto terror train plot
---
Boston Globe: Russia contacted FBI 'multiple'
times about Tamerlan Tsarnaev
---
Toronto terrorism suspect Raed Jaser
had 2001 death threat conviction pardoned


Raed Jaser appears in court in Toronto on Tuesday, April 23, 2013 in this artist's sketch. ~ Mike Falle National Post
---
More arrests expected in Canadian terror train plot;
police were investigating duo before tip from imam
---
'You have nothing to do with our faith': Canadian
Muslim leaders renounce planned terror plot
---
Conservative Public Safety Minister Toews: Canadian "Muslim community
very instrumental in providing very crucial information" to police in terror
train plot; compares role to way Bostonians helped find bombers
---
NOT news: Toronto imam who came forward with concerns
about al-Qaeda-linked terror plot wants to stay anonymous
---
Formal charges reveal details of deadly Monday and Thursday last week
---
AP: Relatives say gullible Tamerlan Tsarnaev seduced
by mysterious Armenian named 'Misha'-- went radical
---
Montreal terror suspect says charges against him
are trumped up, dismisses lawyer



Charges against Tunisian Chiheb Esseghaier of Montreal.
---
Canadians' false sense of security gone after RCMP arrests: DiManno
---
Dzhokhar Tsarnaev admits guilt to FBI:
says he and brother behind the Marathon bombings
---
Power of Twitter shown by @AP hack; entertainment account clears air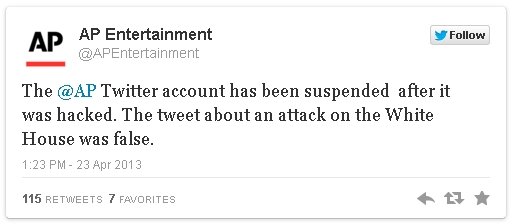 ---
Lawrence Martin: Round 1: Kid Trudeau stings like a pillow
---
AP Twitter feed hacked -- no attack at White House;
stock market and social media go wild, briefly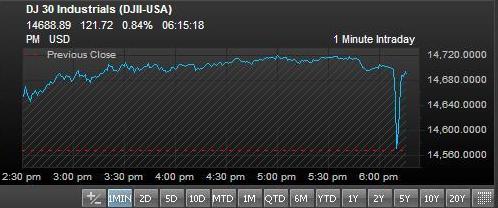 The stock market dropped precipitously when the fake AP tweet hit hard.
---
Tunisian terror train suspect ironically arrested in Montreal train station;
flown to Toronto yesterday, back to Montreal today, Toronto tomorrow
---
Train bombing suspects plead innocence, shock at court appearances in
Toronto & Montreal; police searches "at a number of homes" in both cities
---
Anna Nemtsova: The Caucasus Connection: At a radical mosque
in Dagestan, Marathon bomber Tamerlan Tsarnaev is remembered
by many worshippers — and the secret police
---
FLASHBACK Salman Rushdie: Yes, This IS about Islam
---
Dzhokhar Tsarnaev blames older brother; says he "organized
the plot because he wanted to defend Islam from attack"
---
Tip from Toronto imam ultimately led police to 'first known
al-Qaeda plan of attack that we've experienced'
---
Chiheb Esseghaier, Montreal suspect in Via Rail plot, had "diabolical
ideas"; man who spoke with him at mosque says he was angry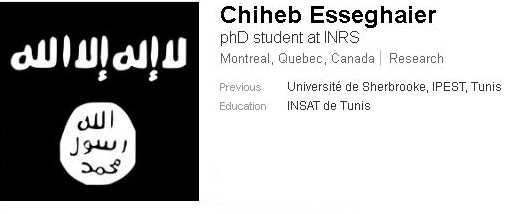 Esseghaier's 'Linked in' profile page includes the al Qaeda in Syria flag.
---
13 worst predictions made on Earth Day, 1970 by the shysters and
fraudsters who started it to scare us - and line their own pockets
---
Two 'religiously strict' men behind foiled al-Qaeda terror train plot
---
G&M editorial: Why Canada needs to remain vigilant on terrorism
---
Putting Canada on the map: pioneering 16th-century
globe to be auctioned in UK; first to say 'Canada'


'Canada' on Cartaro's terrestrial globe — earliest known instance of country's name appearing on a globe.
---
Ontario communities hit by flooding hope worst now over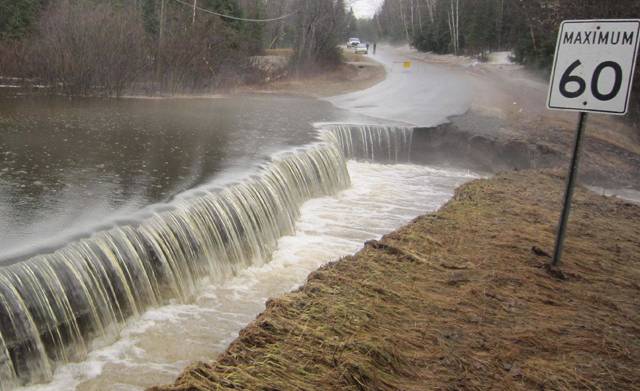 Part of washed-out South Waseosa Lake Road in Huntsville, Friday. ~ Julie Bul The Canadian Press
---
RCMP briefed Muslim community leaders today before the public;
Tip came from Canadian Muslims; suspects from Tunisia and UAE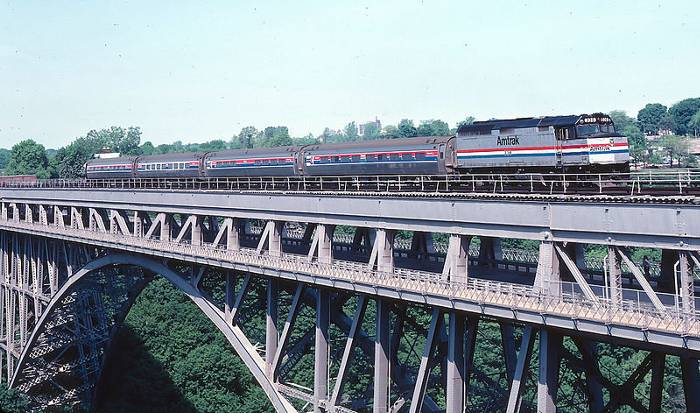 The arrested terrorists targeted this Niagara River railway/roadway bridge, says RCMP.
---
Canadian terror train suspects are from
Tunisia and United Arab Emirates: report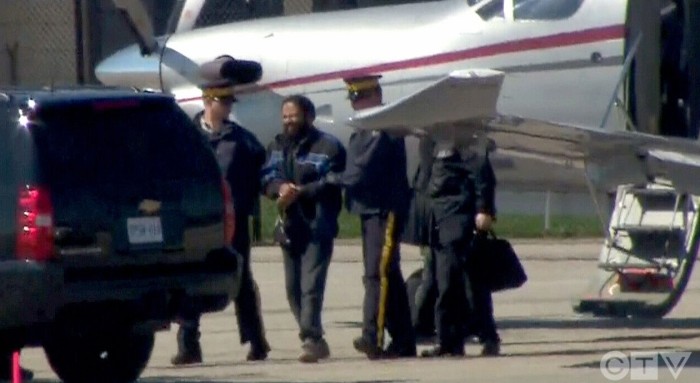 Terror suspect Chiheb Esseghaier of Montreal is led off plane by RCMP officers in Toronto area,
Monday, April 22, 2013. ~ Tom Podolec CTV News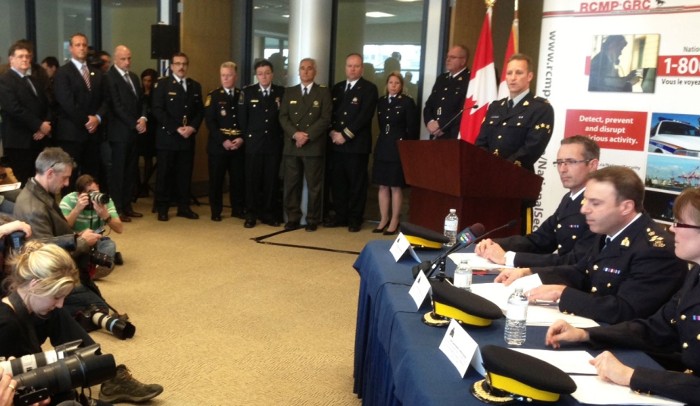 RCMP announce arrest of two people in connection with terror plot to derail a New York-Toronto VIA Rail
passenger train. ~ Byron Auburn CTV Toronto
---
Terror train target was rail bridge at Niagara Falls: source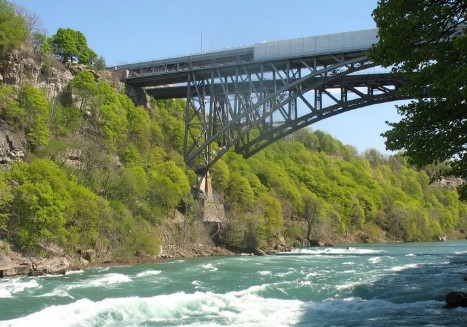 This is the Amtrak-VIA Rail bridge over the Canada-U.S. border at Niagara River
north of Niagara Falls allegedly targeted by al-Qaeda-supported terrorists arrested
in Toronto and Montreal. ~ © Arkur Jaiswal
---
Foreign Policy: Iran and al Qaeda relationship goes back years
---
Reuters: Canada thwarts plot to derail VIA Rail/Amtrak train
on Canada-U.S.route from Toronto to New York City


VIA Rail and Amtrak jointly operate international passenger
rail train between Toronto and New York City. ~ CBC
---
Mounties: "guidance and direction" from "al-Qaeda elements in Iran"
Two terrorists targeted VIA Rail train in Toronto area;
arrested: Chiheb Esseghaier of Montreal, Raed Jaser of Toronto;
police raids underway today so more detail not currently available;
is Iran the link between Boston bombings and Toronto terror train plot?
---
LIVE Link - Canadian Mounties hold press conference on terror arrests
---
Links formerly right here, now at http://www.newswatchcanada.ca/oldnews2013-1.html
---
For full news link archives since December 7, 2009
follow page links from
NWC Old News



Welcome to Worldwide Visitors
since September 2011


SELL locally and to the entire World!

~ ears, blocks, dedicated ad pages available ~
---
---
Sandy Crux: Political scandals in Canada made worse by media & partisan nastiness
---
Children driven around too much, Canadian report suggests
---
NDP's Horwath says will support Wynne Liberals after blackmail
---
Ezra Levant: Mulcair's best-kept secret: Opposition leader could have blown the whistle on Laval mayor, but didn't. Why?
---
Wynne spends lots of money in her first 100 days; pretends she's not spendthrift McGuinty
---
Central Newfoundland digs out from freak snowfall
---
Police find possible additional human remains on or or near Dellen Millard's farm; he has been linked to at least one missing persons case
---
Michael Taube: The loss of Nigel Wright is also Canada's loss
---
Christina Blizzard: Paul Godfrey firing disgraceful
---
PM's chief of staff Nigel Wright resigns in wake of Duffy controversy
---
One fisherman dead, two still missing off New Brunswick coast
---
Now you can 'ping' without a BlackBerry
---
Stabbing leaves six hospitalized after fight in west-end Toronto park
---
NASA reports giant moon explosion after meteor slams into surface
---
Conrad Black: Why the Liberal win in B.C. is a terrible omen for Mulcair
---
Christy Clark's big win wasn't a surprise to her pollster; Dimitri Pantazopoulos used tried-and-true methods
---
Police finally probe link between Bosma suspect, drugs and missing woman
---
Russia slammed by U.S. for sending anti-ship missiles to Syria
---
Canada trying to lure Silicon Valley tech workers frustrated by U.S. visa policies northward
---
Latest Vancouver arson: Anarchists torch Vancouver home being built on site of condemned house
---
Senator Mike Duffy quits Conservative caucus over expenses
---
Firing OLG chair Godfrey shows Liberals in 'disarray': Hudak
---
Tim Bosma: Ancaster man was killed inside truck, source says
---
Another Ontario Liberal failure: Much-vaunted $5B+ Toronto transit non-subway tunnel route still unstarted one year late
---
Ontario budget: Premier Wynne caves in to one of Horwath's three demands to avert election, but refuses to give Ombudsman health system oversight or re-think tolls for carpool lanes
---
Canada's inflation at just 0.4%, slowest since 2009
---
Never do a Liberal a favour
---
Globe and Mail: Mulcair changes story, now says he refused envelope of cash from former Laval mayor charged with corruption
---
LCBO strike averted hours ahead of deadline
---
Wynne fires Paul Godfrey from OLG chair after he led major clean-up and turnaround of formerly corrupt organization; won't tell him or media why former metro Chair was fired; OLG Board resigns in protest; $$ billions at stake, government-initiated plans for cash cow now in disarray after 3-year turnaround brings in record revenues
---
Ontario cabinet ministers told to smooth out wind turbine conflicts
---
Kincardine questions wind turbine plans at airport, including how they will affect pilots and future plans
---
Six undocumented foreign workers nabbed in Kingsville raid
---
Pinewood Studios turned down by local UK officials on $300M plan to expand iconic James Bond studios and add 3,100 jobs
---
Pollsters continue hand-wringing and excuse-making after blowing third provincial election in a row; blame last-minute mind changes, bad methodology, etc.
---
Outdated mammography equipment may have missed breast cancers; hospital equipment spending freeze had impact while Ontario Govt spent freely in other areas; Minister says "get another test"
---
National Post: have miners deep underground in northern Ontario really found the "oldest water ever known"? water gurgling beneath Canadian Shield may be 2.6 billion years old
---
Ontario wants a $585M refund, not a late, crocodile-tear apology for cancelled gas plants: Hudak
---
WSJ: Retailers troll social media for their products being used by 'real' people; work better than models for some
---
Bangladesh orders evacuation of 1 million as Cyclone Mahasen starts coming ashore, with deaths already reported; UN says 4.1 million threatened; 2008 Cyclone Nargis killed 140,000
---
Éric Grenier: Polling industry dealt major blow in B.C. election?
---
How Canada is winning race in recruiting skilled immigrants while U.S. lags behind
---
Man dribbling soccer ball from Seattle to Brazil for World Cup hit by truck in Oregon, dies
---
Kady O'Malley: NDP collapse in BC could put Mulcair on the defensive in Toronto
---
B.C. election surprise puts 'outdated' Thomas Mulcair on notice over anti-oil rhetoric
---
The company helping movie studios sue you for illegal downloading has been using images without permission
---
Christy Clark shocker shows value of good data over bad and a well-planned election campaign with a strong leader; only fly in ointment is losing her own seat
---
'Look what he did the first time': Fear for public safety as police hunt for more suspects in Tim Bosma kidnapping/murder
---
Man with no legs making 300-km journey through Alberta to raise funds for African water initiative
---
Six-figure salaries no draw as young workers shun Canada's oil and gas sector for 'sexier' industries
---
CBC: Christy Clark leads Liberals to upset majority in British Columbia; left-wing NDP support collapses after huge lead in polls
---
BC election - 11:20 pm PT:
National Post - live results - Christy Clark wins majority; leading or elected: L - 50; NDP - 33;
Green - 1; Indy - 1
---
BC election - 9:30 pm PT:
CBC - Christy Clark takes lead in British Columbia election; leading or elected with 24% of vote counted: L - 51; NDP - 32
---
Ontario Liberal Premier Wynne finally apologizes for blowing $585M tax dollars on approved, then cancelled gas plants after TV host drags it out of her; had refused to give apology in Legislative Assembly
---
EI changes don't target Atlantic Canada's seasonal workers, they try to cut need for foreign workers when jobs available
---
Ford owners sue in U.S. federal court, saying V6 EcoBoost engine is defective
---
Christie Blatchford: Fallen Canadian soldier inspires Montreal school to 'adopt' Edmonton regiment and make a difference
---
NY Times: No benefit in sharply restricting salt, panel finds
---
new book: Tiger babies bite back
---
Cat wars break out in New Zealand
---
BlackBerry unveils new Q5 smartphone aimed at emerging markets
---
Man who beheaded and cannibalized bus passenger should be allowed to visit the beach: doctor
---
Matt Gurney: Ontario NDP's slo-mo slide from victory to incompetence
---
Ontario junking dozens of mammography machines not as effective as thought
---
BlackBerry taking BBM cross-platform, launching on iOS and Android this summer
---
updated: Missing man Tim Bosma dead, say Hamilton police; recover charred remains; Millard to be charged with 1st degree murder, at least two others sought
---
Iatrogenesis: How dangerous are hospitals to public health?
---
Deskercise! 33 ways to exercise at work
---
Chris Hadfield's next mission: Intensive rehab to recover from physical effects of space
---
1 in 12 Canadian adults in hospital have superbug; survey of 176 acute-care hospitals looked at MRSA, VRE and C. difficile
---
Liberal Yvonne Jones wins Labrador byelection, recaptures Grit bastion from Penashue
---
Marchese threatens Windsor hospital with defamation suit; hospital defiant, risks public funds
---
McDonald's adding 3 new Quarter Pounders to menu, dropping Angus burgers as price & value become focus
---
After 26-year legal fight, Canada finally deports Palestinian terrorist convicted of attack on Israeli plane
---
BC Election Tuesday: Party leaders in final election push
---
Anti-piracy firm targeting Canadians who download illegally
---
Student-designed car will travel 1,527 km on one litre of gas
---
Canadian 'snowbirds' would gain 58 more days in U.S. in rules change; formerly 182 days, now 240 days
---
Toronto Star: Legendary journalist Peter Worthington dead at 86
---
Peter Worthington, 1927-2013
---
Man arrested in missing Ancaster man case, truck found
---
UK smells coffee, see problems in supply, reliability and cost with Green Plan, starts to turn away
---
Bob McDonald: Chris Hadfield's fall from space
---
Why should BC dump Victoria as provincial capital? The whys are counted off...
---
Rex Murphy: How is it that some Canadians still think Al Gore is relevant?
---
Conrad Black: Mulcair an insult to history's real federalists
---
---
Below added more than 24 hours ago
---
---
Canadian mobsters killed in 'old-fashioned' Sicilian mafia hit near Palermo
---
Senator Doug Finley dies from cancer at age 66
---
Accuweather: Unusual cold wave, frost, freeze heading for Midwest, East this weekend
---
Canada immigration: Welfare costs prompt tougher rules for immigrating parents
---
Flying car crashes in Vernon, BC; two injured
---
Jack Mintz: Canada unfairly Gored; We outperform the U.S. in carbon emissions reductions
---
Via Rail now looking at whether to check passenger IDs
---
Canadian dollar to sink to 90 cents by early 2014: TD
---
Mark Fraser out of Leafs line-up with cranial fracture after stopping slapshot; second Toronto pro athlete in two nights hit in head, suffers fracture; Blue Jays' Happ hit by liner Tuesday
---
Cleveland's level-headed Charles Ramsey remains a pop hero offering levity in a gruesome story even as he becomes target for some
---
Post-leadership poll bump for Trudeau Liberals not as good as it looks; would tie Tories for seats, steal 31 from NDP if it held, which Dion and Ignatieff can tell you it doesn't
---
Ex-Laval mayor among 37 arrested in Quebec anti-corruption sweep
---
Canada may take EU to WTO over oil sands dispute
---
Another Bangladesh clothing factory destroyed by fire: 8 dead; death toll in collapsed factory now over 900
---
Jonathan Kay: Aboriginals pose Canada's biggest assimilation challenge, not immigrants
---
Danny Eisen: Qatar drops Canada from dubious rank of friends
---
Cleveland Plain Dealer: Initial police report: Ariel Castro offered women rides home, then abducted, beat and raped them for a decade
---
Kelly McParland: It's never too late to see the back of Dalton McGuinty
---
Blue Jays' pitcher J.A. Happ released from hospital after line-drive hit
---
'Big Three' metro areas lose lustre as Canadian newcomers opt for smaller cities
---
Death toll from Bangladesh building collapse reaches 761, as disbursement of lost wages begins
---
breakthrough: Antibiotics could cure 40% of chronic back pain patients; medical innovation one spinal surgeon says is worthy of a Nobel prize
---
Mark Bourrie: Canadian politicians were once world-class boozehounds
---
National Research Council gets practical focus, becoming a 'research and technology organization' serving industry with a goal of jobs creation; will undertake "large-scale research projects that are directed by and for Canadian business"
---
McGuinty claims he was clueless, didn't know cost of cancelling gas power plants his government had approved
---
Dalton McGuinty testifies it was his decision to kill gas plants at cost of $585M
---
Canadian kids sing along with Chris Hadfield in space station in his last video chat as he prepares to return to Earth
---
BC election: Did Dix's quandary hand the BC Liberals a potential victory?
---
Microsoft's Windows Blue to be available later this year; successor, replacement or upgrade to radical Windows 8?
---
Queen to miss Sri Lanka Commonwealth summit as long haul travel reviewed
---
Andrew Coyne: Tory initiative could have figured out who started the myth Canadian history is boring
---
Abacus Data BC Election poll: Black and white and gray all over; who has the best pulse of voters?
---
Robert Fulford: The twilight of public broadcasting
---
Jonathan Kay: The Queen of the North tragedy exemplifies everything we hate about unions
---
Communication breakdown: Diluted chemo drugs administered to Ontario patients didn't accurately describe saline 'overfill'
---
BC Election: Christy Clark says parents know best -- not NDP
---
CRTC tells Bell to prove case again that $3.4B purchase of Astral is in public interest
---
Christie Blatchford: Ontario to finally require care homes to install sprinkler systems
---
Mark Bourrie: The war that made Canada
---
Federal Liberals claim 'sucker born every minute' as donations up with Trudeau in his cargo shorts 'leading' party
---
Study shows young crooks use social media to brag of criminal exploits
---
Kelly McParland: Liberals hope Pinocchio McGuinty can save them from gas plant debacle they'd like you to believe he alone caused
---
Kodak loss was a big blow to Toronto neighbourhood which put generations to work; devastated community hoping new jobs from rapid transit infrastructure replacing it
---
Toronto school board diverts $100M a year of targeted funding for neediest students to other uses: report
---
Blackberry Q10 flying off the shelves in UK and Canada; described as one of our "fastest-selling consumer electronics product ever" by Selfridges in UK
---
Industry Canada wants to tap basement inventors for new consumer products
---
Vancouver committee debates paying for transit by taxing First Nations
---
Justin Bieber attacked from behind while performing onstage at piano in Dubai
---
RCAF to take second look at search-and-rescue airworthiness of used U.S. Presidential choppers purchased last year from Pentagon
---
Conrad Black: Public-sector unions are a blight on our society
---
Via Rail terror plot arrests helped ease Canadian fears after Boston bombing, poll finds
---
Ken Gray: Spendthrift City of Ottawa spent an extra $1M to get light rail wrong
---
updated: Baird clears up media's misinterpretation about whether Canada is open to air support for Syrian rebels
---
Rising temperatures lead to flood alerts in Ontario
---
Insiders not securing top job at G7 banks; Bank of Canada bypasses deputy for third time; Bernanke?
---
Tories, PQ join forces to block Qatar from stripping Montreal of key UN agency
---
Christie Blatchford: The long delay in getting to trial has lost its charm
---
'The system is sick': Canada's courts are choking on an increase in evidence
---
Surging B.C. Liberals press NDP to mount more aggressive campaign
---
Should unprofessional Canadian diplomats picketing Washington embassy over labour negotiations be fired?
---
Brian Hutchinson: Christy Clark has turned an unwinnable election into a close race
---
David Frum: Qatar's bid to relocate the civil-aviation headquarters is a story that should never have taken flight
---
Angus Reid BC election poll: Christy Clark Liberals now only 7 points behind Adrian Dix NDP
---
New Bank of Canada Governor Poloz has two ears and has been using them; change of direction ahead?
---
Harper tells Quebec City audience he's 'fed up' with old constitutional battles
---
Two of Canada's best-known TV hosts heading south of the border; joining Fox Sports?
---
Kelly McParland: Unaccustomed to winning, Ontario NDP is left unnerved by victory over the Liberals
---
Cheap American flights threaten Canadian airport business
---
3 Toronto pastors charged in $8.6M Ponzi scheme
---
Quebec election night shooting suspect gives judge a list of requests and questions
---
Charbonneau Commission: Quebec Superior Court judge named in political fraud
---
Former judge charged after citizenship tests given to immigration consultant
---
Wynne's budget proposes taking lanes away from regular drivers to create 'high-occupancy toll lanes' on Toronto highways to fund regional transit plan
---
Ontario Liberals make debt servicing the biggest item in budget as spending jumps; debt goes up by $23.8B, welfare goes up, new road fees
---
Ontario Budget packed with proposals to woo NDP, but Horwath will 'talk to Ontarians' before deciding on support
---
Cancer drug Avastin linked to cases of flesh-eating disease: Health Canada
---
MacKay announces 'quadrennial' review of search-and-rescue system, more money
---
Canada records surprise trade surplus in March
---
Only the naive: Nearly 500 arrested in Montreal as protesters use Charbonneau testimony as excuse for anarchists and communists to launch violent attacks
---
Ontario's wise rethinking of Toronto region's $34B transit plan mocked by monolithic Metrolinx: "We think we have it about right"
---
ORNGE sells two unneeded new helicopters at a loss for $20M
---
Andrew Coyne: The real question that the AG report raises but nobody will ask
---
GM, Ford and Chrysler gain market share in April on strength of pickups, crossovers in best overall April since 2008
---
'Chinkasaurus' comment makes B.C. NDP candidate latest poster child for dubious conduct in B.C. election
---
India demands justice as spy Sarabjit Singh dies in Pakistan jail
---
Could America provide the answer to Germany's beer problem?
---
Dairy farmers, restaurant owners, say 'cheese' with new class of mozzarella that cuts tariff and gives Canadian producers a huge market at a lower price
---
USGS didn't locate more oil in Bakken, just identified more that was recoverable due to new technologies
---
Companies line up to drill after survey shows Montana, Dakota oil, gas fields in Bakken and Three Forks formations far bigger than thought
---
PQ Transport ministry insider wanted $100,000 bribe in 2001, witness tells Charbonneau Commission into Quebec corruption
---
CTV: Elections Canada report says it fouled up 2011 election and has put electoral process at "serious risk" due to rampant procedural errors made by polling officials; serious errors found in 12% of voter registration paperwork and 42% of vouching paperwork
---
Harper tightening the reins on CBC, Via Rail and Canada Post
---
Researchers adding up the evidence: Is high-fructose corn syrup a link to worldwide die-off of honey bees?
---
Ending 'caged pork' not an overnight transition; what if producers just shut down?
---
IJC predicts big algae bloom for Lake Erie, fingers farmers after April rains flush their fields
---
Who should pay $310M for cancelling power plant? The Oakvillians who rejected it? The Ontario Power Authority who sought and approved it? The residents of Ontario? Or the Liberal Government which cancelled it and repeatedly misled the public about those costs?
---
'We feel like she's reborn': Toddler born without windpipe gets new one grown from her own stem cells
---
Matt Gurney: The CBC's 'no whites' policy is a mistake, but no accident
---
Agency withdraws casting call for CBC show that specified 'any race except Caucasian'; but agency still doesn't get it, says: "We were asked to seek a cast of diversity. We mistakenly took that to mean that the production was not seeking Caucasian actors. This was a mistake that was made entirely by the casting company."
---
Ontario gas plant cancellation bill climbs to $585M, not $235M claimed by Liberals
---
Ontario Premier Wynne admits under oath that her Liberal gov't misled public on true cost of politically-cancelled power plant in Oakville: "People of Ontario didn't get the full story"
---
Ontario police bust operation selling counterfeit DVD box sets worldwide
---
'The water is coming': State of emergency near Saskatoon as floods snarl traffic near Regina
---
Abacus poll: B.C. election gap down to 10 points
---
Les Leyne: B.C. leaders' debate akin to watching parents argue
---
B.C. election campaign hits midway point following debates
---
The next big thing? Using computers to match rides and ride needers: Uber getting funding at $1B valuation
---
Stéphane Dion takes NDP to woodshed over demand for 1982 constitutional documents; no more buddy-buddy
---
Scrapped Oakville power plant to cost $310M - 7 times higher than claimed by Ontario Liberals
---
Chantal Hébert: Thomas Mulcair and the NDP are far from dead in Quebec
---
Manitoba farmers block Portage Diversion Channel, demand compensation for past flood losses and a future plan to stop annual destruction of their lands
---
Some employers fume as Ottawa tightens foreign worker rules
---
Foreign worker program tightened, pilot projects ended, abuse addressed
---
Why is Twitter opening up a Canadian office, anyhow?
---
Passenger train derails near Togo, Saskatchewan, no one injured
---
Down to minus 45: Freezing spring reignites climate debate
---
Courthouse workers join jail guards in Alberta wildcat walkout
---
Burundi students win $25K for developing anti-malaria soap
---
Ottawa set to unveil sweeping changes to foreign workers program
---
Canada's trade talks with Japan focus on car plants
---
Proposed U.S. border fee 'not going to happen,' says U.S. Congressman
---
Daily Mail: 'I have nightmares thinking about Neverland': Michael Jackson's ex-maid claims singer was found 'dead' twice in 90s as she calls singer a 'messed-up, depraved junkie'
---
Detroit News: Automakers tuning out traditional in-car radios
---
Beef industry asking Ottawa to approve irradiation to kill dangerous E. coli
---
Nanticoke steel workers signing death warrant?
---
NDP would consider selling BC Lions' BC Place home to get stadium off province's books: NDP leader Adrian Dix
---
---
Links formerly right here, now at http://www.newswatchcanada.ca/oldnews2013-1.html
---
---
---