IJC: Lake Ontario level up again; outflow cutback in early 2017 led to flooding
that cost U.S. and Canadian individuals, businesses and govts $$ millions in damages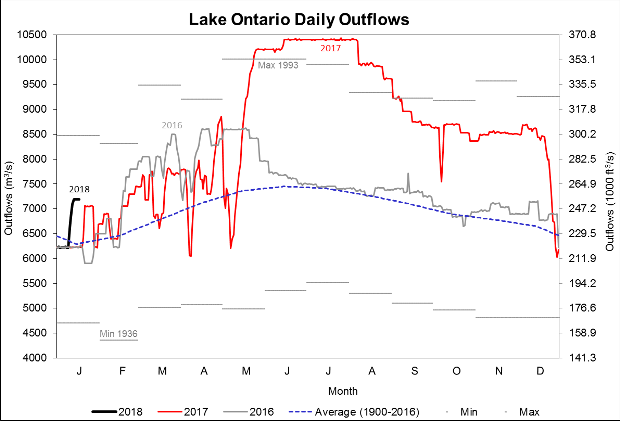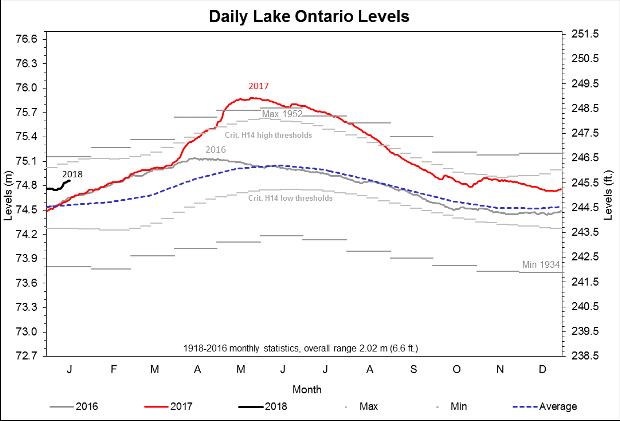 Lake Ontario outflow volumes are up in 2018, but so is the lake level, even higher than 2017 when it flooded for 4 months causing massive damage. The reduced outflow volumes in 2017, due to a controversial International Joint Commission policy enacted after predictions of flooding, indeed led to mass flooding that continued from May until August, with Lake Ontario levels remaining higher than usual into October. The previous policy, from the opening of the St. Lawrence Seaway in 1959, had seen mild flooding in only 1993, and only briefly, in June of that year. Some of the information on the graphs above is misleading, because until the Seaway opened in 1959 there was only limited control over the lake level. By letting out more water in January to April period, the lake can more easily handle high run-off volumes and increased precipitation, as it did prior to 2017. The information on the lower graph shows the potential for flooding again if higher outflows aren't instituted due to higher than usual January lake level.